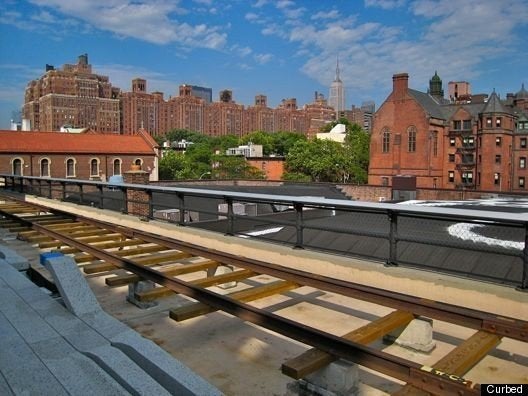 It's year-end list-o-mania time and the email carpet-bombing of "best," "worst" and "top 10" lists, etc. is straining global server capacity. The architecture community's seemingly endless thematic round ups include buildings that are green, nature-inspired and spooky, along with free-range, macrobiotic and gluten-free.
OK, I made up those last three.
What about landscape architecture? Any year-end lists of gardens, parks, plazas and land reclamation projects? That would be a "no." (And if I'm wrong, please let me know.)
So, I submit this list of 10 notable developments in the world of landscape architecture to reflect on including new designs, significant transformations and influential publications (because if we do not write about landscape, it will not endure -- publish or perish):
1. Lincoln Park SoundScape, New World Symphony Campus, Miami Beach, Fla. Miami is two for two in the new design arena. Last year Raymond Jungles brilliantly recrafted the 1100 block of Lincoln Road, and this year West 8's New World Symphony Campus design -- a park plaza -- wowed critics (and everyone else) with its winning trapezoidal pergolas and lacey palms.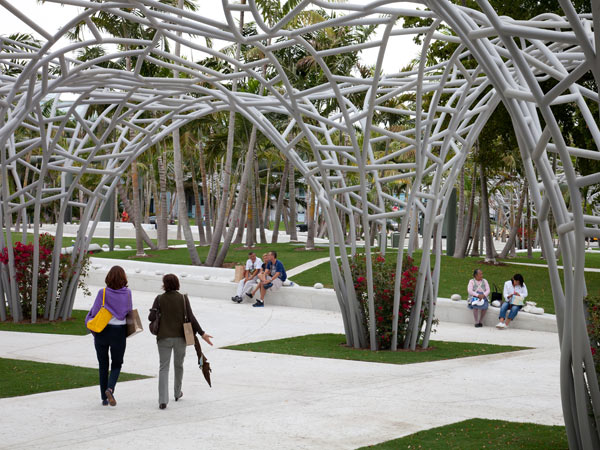 Lincoln Park SoundScape, New World Symphony Campus, Miami Beach, Fla. Photo by Robin Hill for West 8. Courtesy West 8 urban design & landscape architecture p.c.
2. Christian Science Center, Boston, Mass. Boston and modernism have an uneasy co-existence, so Christian Science Center's designation as a Boston City Landmark marks a major milestone in the recognition of Post War landscape architecture's importance and cultural significance. The enormous central open space of the First Church of Christ, Scientist, world headquarters echos the massive plazas and piazzas adjacent to Europe's largest cathedrals. Arnaldo Cossutta of I.M. Pei Associates created the 25- acre campus' masterplan, in close collaboration with the Boston Redevelopment Authority, with the landscape architecture by Sasaki Associates. The Center opened in 1971 and features a great plaza with circular spray fountain 80-feet in diameter, an arching grove of nearly 200 linden trees, and a 686-foot long rectangular reflecting pool.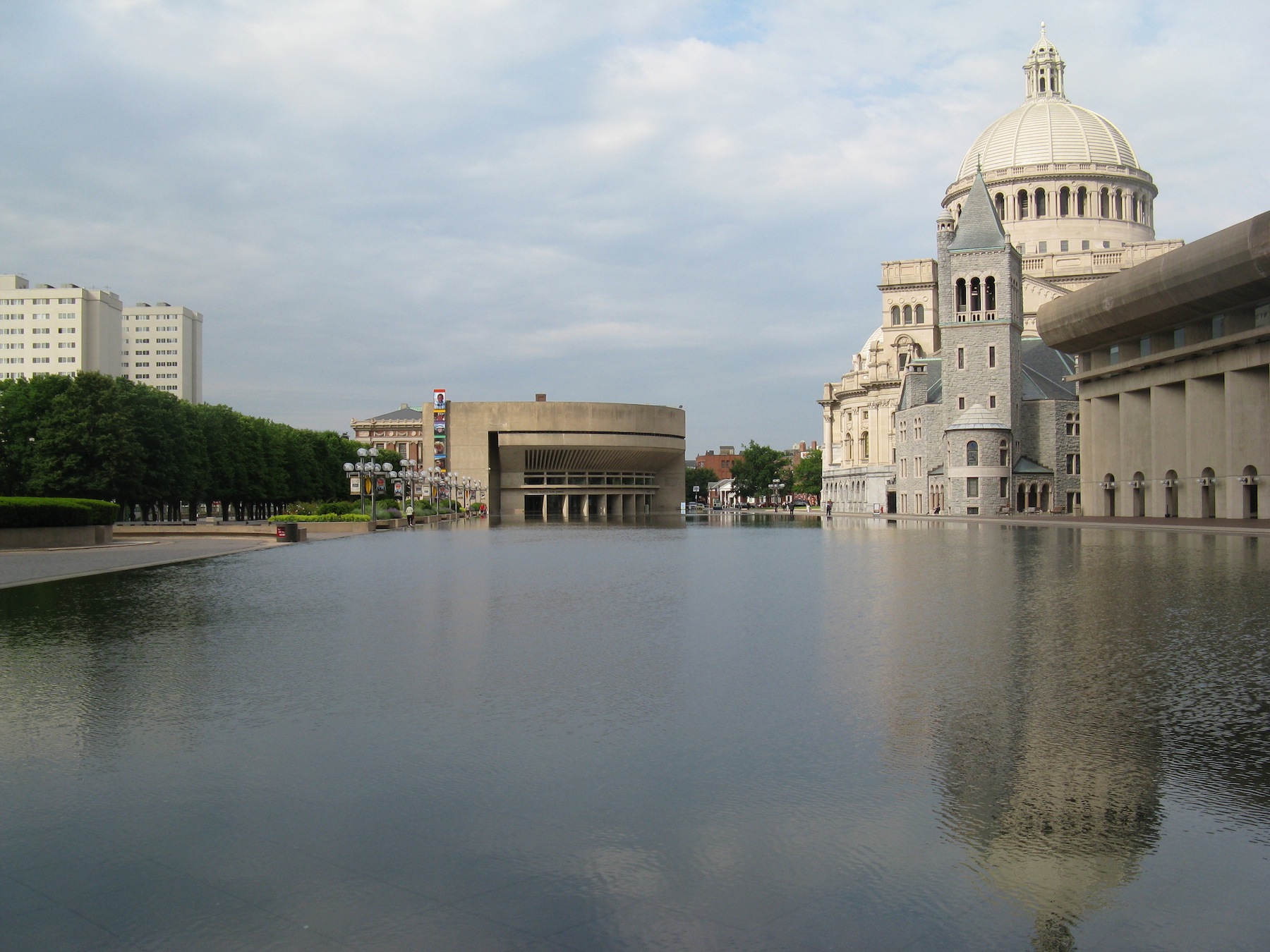 Christian Science Center, Boston, Mass. Photograph courtesy The Cultural Landscape Foundation.
3. Landscape Architecture magazine gets a facelift. Landscape Architecture magazine, better known as LAM, began in 1910 as the staid "official communication organ" of the American Society of Landscape Architects (ASLA). This past January, a newly redesigned monthly LAM, under recently appointed editor-in-chief Bradford McKee and publisher ASLA, authoritatively, intelligently and thoughtfully demonstrated the scope, breadth and leadership of contemporary landscape architecture and its practitioners. Insightful, well written and beautifully illustrated, LAM is ready for prime time.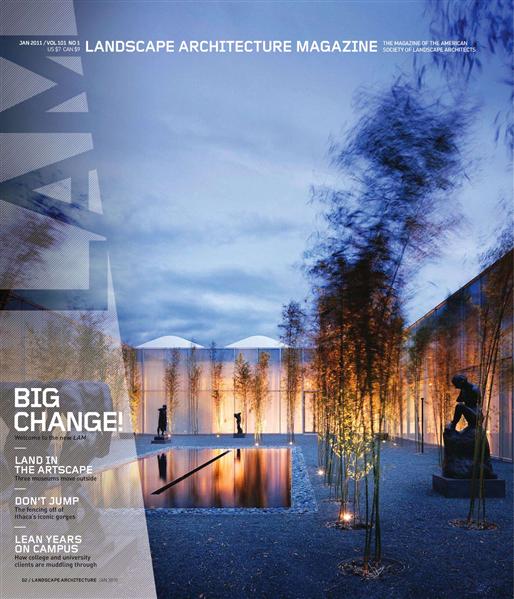 Photograph courtesy The Cultural Landscape Foundation.
4. Miller House and Garden, Columbus, Ind. Irwin and Xenia Miller of Columbus, Ind. were major patrons of mid-century Modernism and their home -- a unified design created between 1953 and 1957 by landscape architect Dan Kiley, architects Eero Saarinan and Kevin Roche, with interior design by Alexander Girard -- is a period masterpiece. This 13-acre National Historic Landmark was taken over by the Indianapolis Museum of Art and this year opened to the public.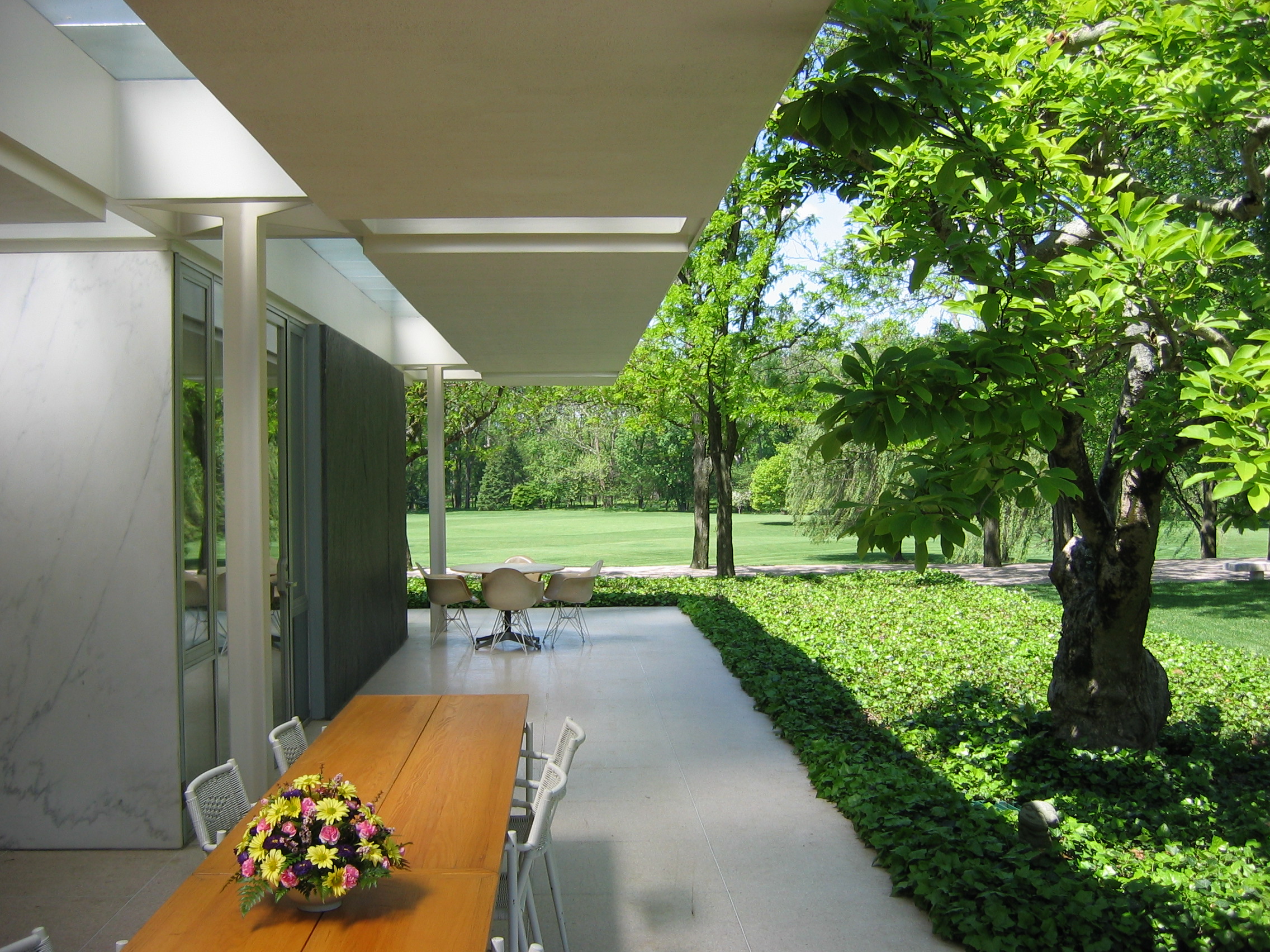 Miller House and Garden, Columbus, Ind. Photograph courtesy The Cultural Landscape Foundation.
5. Lawrence Halprin's A Life Spent Changing Places. The life of Lawrence Halprin is notable for wondrous design achievements, phoenix-like career reinventions, and the decades-long partnership with his wife Anna, the influential choreographer. He spent the last 10 years of his life, in part, working on this new title published by the Penn Studies in Landscape Architecture series. Richly illustrated with hundreds of never before published photos and sketches, this deeply reflective book by Halprin covers the personal and professional, and in the process sheds light on how the maverick designer helped give places life, while they did the very same for him. In the process, Halprin illustrates how he helped to change the perception and practice of landscape architecture.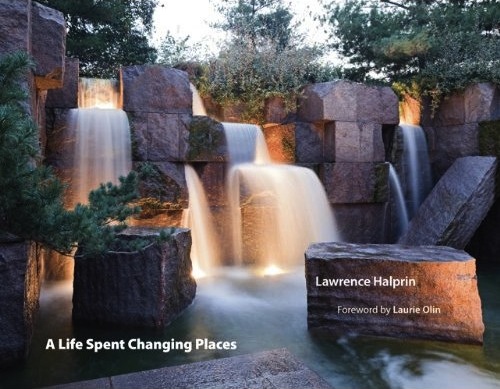 Photograph courtesy The Cultural Landscape Foundation.
6. High Line Phase 2, New York City, N.Y.. The High Line, a once abandoned elevated railway on Manhattan's west side, has become an international urban design sensation. And, like many good blockbusters, this one has a sequel: Phase 2, which runs between West 20th and 30th Streets, bisecting 10th and 11th Avenues. The High Line, now a mile long, was designed by landscape architects James Corner Field Operations, architects Diller, Scofidio & Renfro, and horticulturalist Piet Oudolf. The second phase's expanded vocabulary moves beyond wildflower fields predominant in the first phase to include a great lawn, a beguiling dense thicket, as well as richer and denser planting compositions of small trees and flowering shrubs. Unexpected grade changes (an extended elevated metal walkway rises eight feet) and "viewing spurs" that cantilever visitors into the fabric of the city heighten the experience. Not since the restoration of Central Park's Bethesda Terrace have I seen so many happy people in New York City in one place.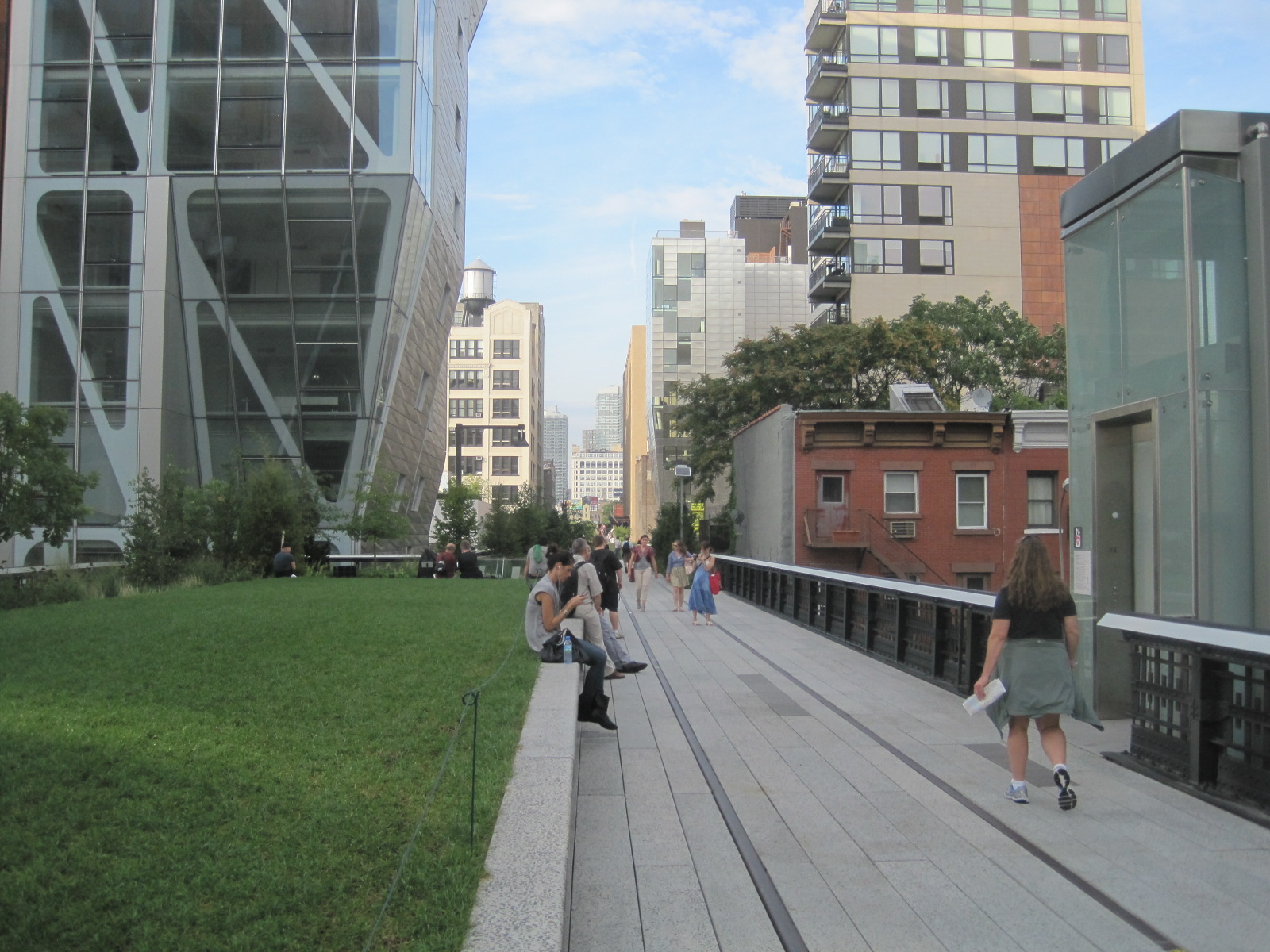 High Line Phase 2, New York City, N.Y.. Photograph courtesy The Cultural Landscape Foundation.
7. Five by Reed Hilderbrand. On the outskirts of Boston, Watertown, Mass.-based landscape architecture practice Reed Hilderbrand is one of today's most influential design firms. This past year saw the unveiling of five distinct and significant public spaces: Kaufmann Center for the Performing Arts, Kansas City (with Moshe Safdie architect), the design leverages the site's 60' elevation change weaving in terraces and slopes that connect to neighboring communities; Chazen Museum of Art, University of Wisconsin, Madison, (Machado + Silvetti Associates, architects), a two-block extension provides a new Arts Piazza while creating a site for an expanded outdoor sculpture program; Clyfford Still Museum, Denver, Co., a new urban park--in the form of an earthen plinth that grounds the building and provides a respite from the downtown; Poetry Foundation, Chicago, Ill. (John Ronan Architects), located within a new two-story translucent frame headquarters, the garden has been designed to host intimate poetry readings and small gatherings, while accommodating easy movement through the courtyard and into the building; and the Center for Advancement of Public Action, Bennington Campus, Vt. (Todd Williams Billie Tsien Architects) which integrates this contemporary center into the campus by embracing its rich landscape palimpsest: the hedgerows that mark 19th century field patterns and the meadow and pond surviving from the early 20th century estate era which today form the heart of the college.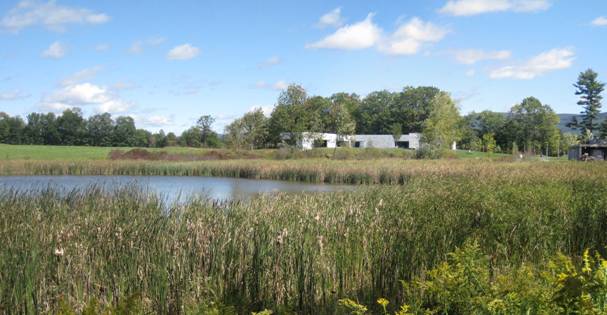 Center for Advancement of Public Action, Bennington Campus, Vt. Photograph courtesy Reed Hilderbrand.
8. Philadelphia's Stewardship Story. As I've previously written, Philadelphia is taking a leadership role in the design and management of its public open space. OLIN's revitalization of the Rodin Museum's landscape -- elegant homage to its earlier designers, Jacques Gréber and Paul Cret -- and James Corner Field Operations' finger-like Race Street Pier promenade, an excellent example of how the city is reclaiming its river edge, are two examples. Perhaps most revolutionary is the role of steward being played out at these public landscapes by the Pennsylvania Horticulture Society, empowered with generous support from the Pew Charitable Trusts, the William Penn Foundation and the Knight Foundation. As a result, the 184-year old organization is becoming a 21st century juggernaut managing the city's shared landscape heritage -- from parks and parkways to piers and plazas.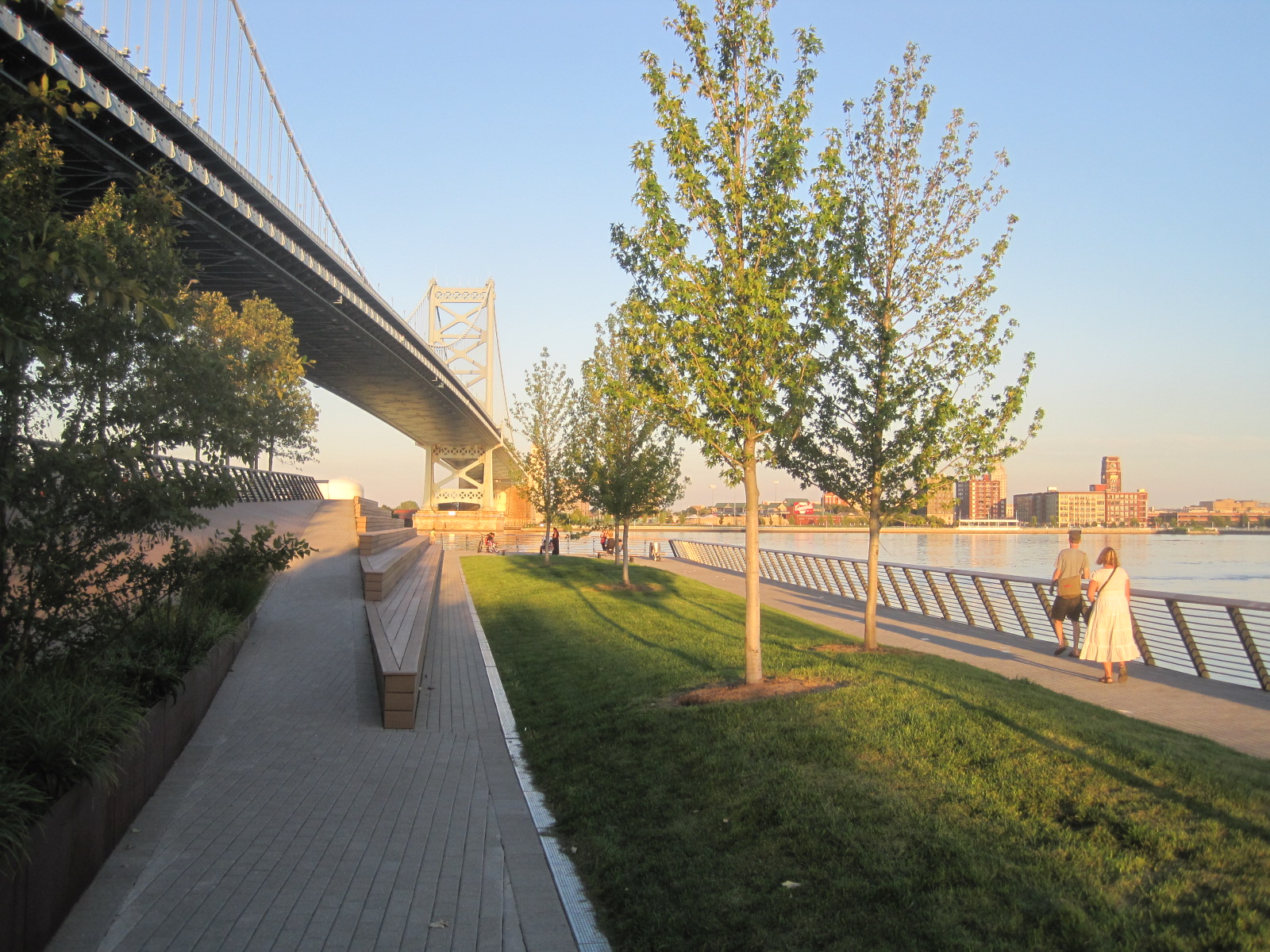 Race Street Pier, Philadelphia, PA. Photograph courtesy The Cultural Landscape Foundation.
The final two entries focus on Modernism, which had an iffy year in 2011 -- the developments at Christian Science Plaza and the Miller House and Garden are very positive, but the future of public spaces in Fresno, Calif., and Minneapolis, Minn., is up for grabs.
9. Fulton Mall, Fresno, Calif. In 1964, the six-block Fulton Mall, designed by Garrett Eckbo as a consultant to the architectural and planning firm of Victor Gruen opened to the public. Eckbo's widely hailed design echoed the rippled groundplane of the nearby San Joaquin Valley and featured stained concrete construction, curvilinear and angular ribbons of concrete aggregate, a pioneering use of outdoor sculpture, brightly colored seating areas of various sizes and configurations, plus play spaces, pools, fountains and an 80-foot right of way. The site is being re-examined and this past October three options for remaking the mall (narrowed down from 10) were unveiled -- two could significantly destroy the character of the mall by opening it up to cars with a traditional street or inserting two lanes of road and curbs weaving them through some of the outdoor "vignettes" while demolishing others. The third, complete restoration, is most likely not economically viable. The one really sensible solution -- keeping four of the six streets closed to cars while opening many of the cross streets, a realistic compromise balancing design, historic preservation and economics -- inexplicably seems to have been abandoned.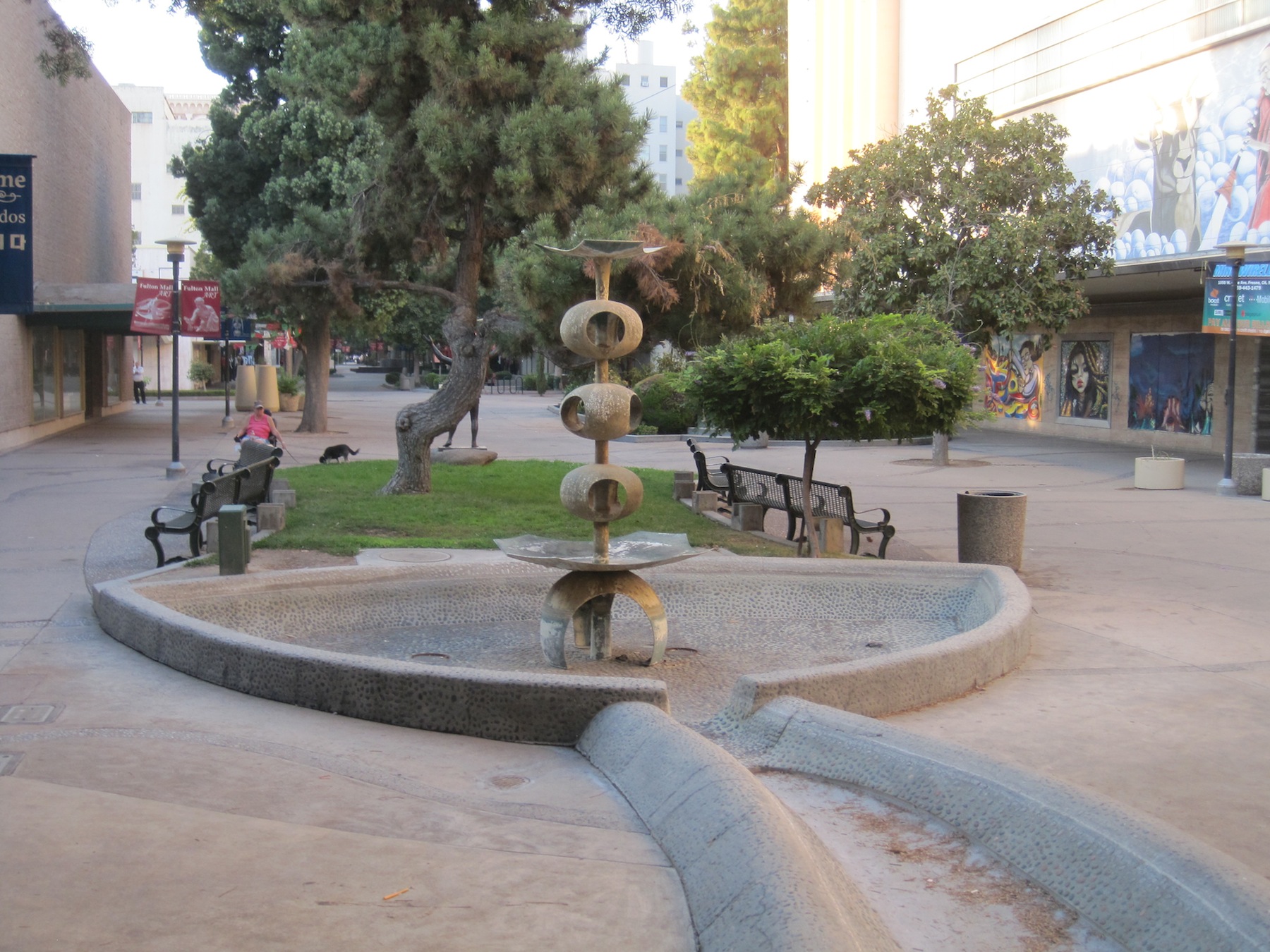 Fulton Mall, Fresno, Calif. Photograph courtesy The Cultural Landscape Foundation.
10. Peavey Plaza, Minneapolis, Minn. In the pantheon of great - and extant - modernist design is M. Paul Friedberg's Peavey Plaza, the first ever park plaza that, as Freidberg notes, combines "American green space and European hard space." The inventive design vocabulary includes amphitheater-style seating oriented around the sunken plaza/pool basin (filled with water during the summer or frozen in winter for skating), cascading and spraying fountains to animate the space, lawn terraces, many sculptural objects, and ample opportunities for large- and small-scale gatherings. Initial talk of developing several options for rehabilitating Peavey -- addressing accessibility and other issues while preserving signature elements such as the inverted ziggurat-shaped fountain -- has given way to a single proposed redesign that would essentially eliminate Peavey's unique and character defining elements.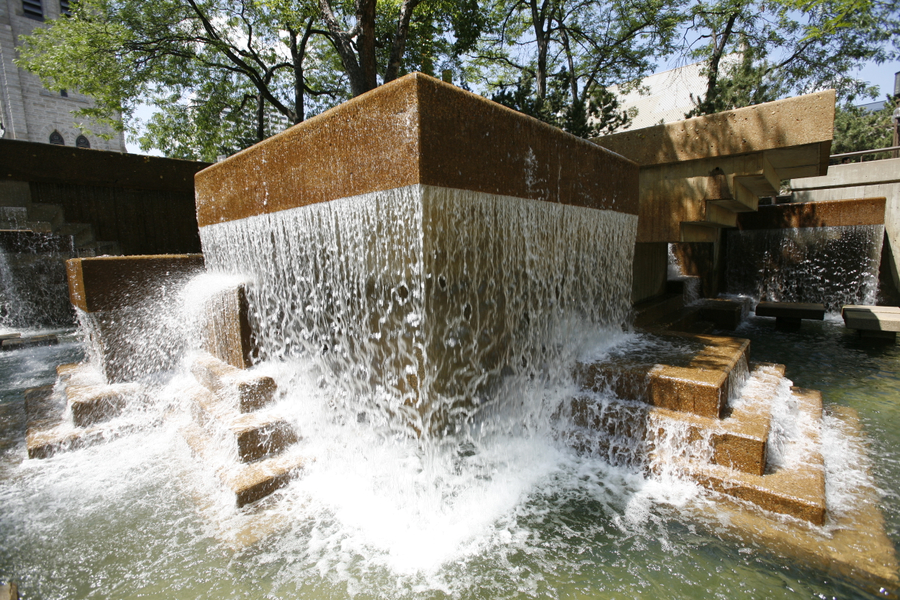 Peavey Plaza, Minneapolis, Minn. Photograph courtesy The Cultural Landscape Foundation.
The import and renown of landscape architecture and its practitioners continues to grow, coveted by some and celebrated by many. Landscapes, however, are uniquely ephemeral parts of the built environment and require proper maintenance and stewardship. Few would argue with the need, for example, to replace a building's roof or attend to other basic upkeep issues, so why are landscapes treated differently? Fulton and Peavey suffer from lack of maintenance and that allows for some to claim they're broken and need to be replaced or substantially altered. This intransigent and false "either/or" scenario ignores opportunities to meld design, preservation and stewardship and imperils our irreplaceable landscape legacy.
As we reflect on and celebrate this legacy, let's commit ourselves to safeguarding its future.
Related
Popular in the Community