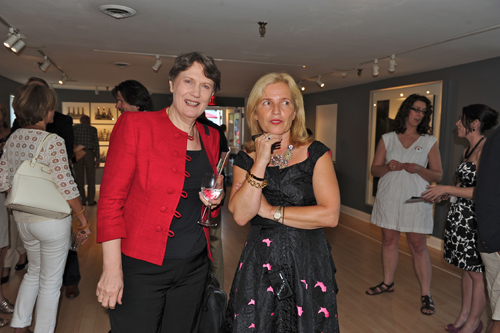 Helen Clark, Administrator of the United Nations Development Programme, and past Prime Minister of New Zealand (1999 - 2008), and Director of Visual Arts The Westport Arts Center, and Curator of "Landscape: scene/re-seen," Helen Klisser During attending the opening. Courtesy of the Westport Arts Center.
By design, "Landscape: scene/re-seen" is not an homage to the majestic beauty of nature, nor it is a proclamation of our inevitable doom. It, as Andy Hall, the collector whose works we see here so eloquently puts it, is "the world we live in." Given that, Curator Helen Klisser During's selections from the Hall collection shows us various examples where sometimes, the improbable can lead to the impossible and result in something quite incredible.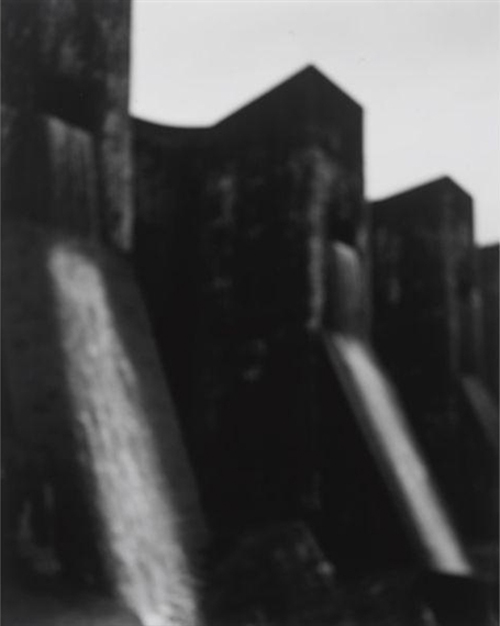 Hiroshi Sugimoto, "Honen Dam -- Tohjiro Sano"
The greatest visceral effect in the exhibition is achieved by Hiroshi Sugimoto's "Honen Dam -- Tohjiro Sano," a black and white photograph from 2001 that has an imposing, monolithic presence with its soft focus and stark sky punctuated by the gear-tooth-like edge of the dam. One can not help feeling a rush of uneasiness as this presentation of such an ominous and potent structure runs right through you like the water that is so beautifully and majestically releases from its walls.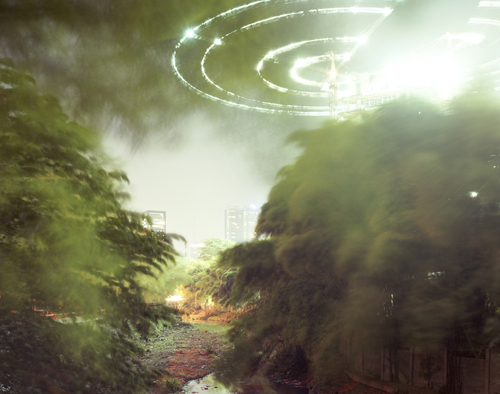 Peter Bialobrzeski, "Paradise Now #18." Courtesy of Laurence Miller Gallery.
Peter Bialobrzeski's "Paradise Now #18," a C-print dated 2008 immediately brings to mind the 1977 film Close Encounters of the Third Kind. Using a slow shutter speed and an unflinching will to capture something multi-dimensional and magical, Bialobrzeski balances the lighted path of a slow moving arm of a construction crane as it travels through a smoky sky, with centuries old trees that stand just below it as they shutter and shake in a failed attempt to awaken their resident fairies to both delight in the light and calculate their demise.
"Cairo," a 1992 c-print diptych by Andreas Gursky documents concepts of forceful human control within the chaos of a busy, heavily trafficked, free-wheeling intersection. At first glance, most will note a change in traffic flow whereby one line of moving vehicles on the left panel, yields to another group comprised of mostly buses in the panel on the right, which have an invasive southerly trajectory. Upon more careful inspection, you might notice the three tattered and torn umbrellas that the fruit and vegetable vendors are using for shade on the far right of both panels are positioned differently in each photograph. If you consider the almost exact same shadow positions of the people and vehicles in both photographs, one would have to conclude that these two images were captured on two different days, or, those three street vend0rs like to move their umbrellas around a lot.
Edward Burtynsky's 2004 digital C-print titled "SOCAR Oil Fields #6, Azerbaijan," holds quite a bit of fascination for me as I constantly wonder what it must be like to live and work on such an unnatural looking structure -- an offshore water world where ungodliness is next to unseemliness, and profits easily and forcefully trump humanity. Similarly, the didactic duo of Bernd and Hilla Becher presents "Lime Kilns, 1963-1994," a carefully placed and gridded, nine piece installation that documents a series of depressingly haunting structures. Yet, there is magnetism to the work that is informed by the similarities of the shapes, the time of day, weather conditions, and the purpose or function of the factory-like structures. The amount of patience, research and dedication, combined with a unique, and now world-renowned aesthetic these two artists employ, results in an overwhelmingly informative and influential contemporary art form.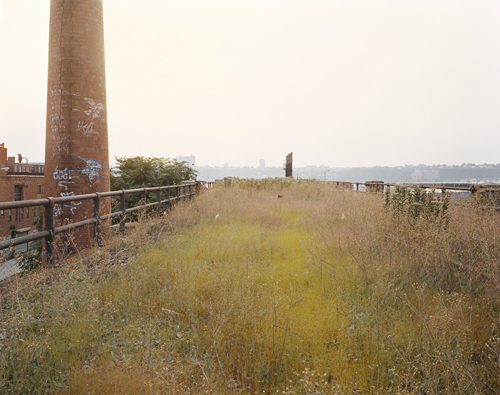 Joel Sternfeld, "Looking West on 30th Street on a September Evening, 2000." Courtesy of the artist and Luhring Augustine, New York.
If you happen to be familiar with the High Line in New York City, you will be fascinated by Joel Sternfeld's "Looking West on 30th Street on a September Evening, 2000," a Digital C-print that shows the destined to be great elevated walkway prior to its restoration, covered with an insipid, albeit indigenous offering of wild grasses, weeds and an occasional spent beer bottle. Another digital C-print by Sternfeld titled "Coeburn, Virginia, April 1981" depicts an endless line of coal-filled train cars passing through an otherwise non-descript rural town. I find the total absence of color in the coal gives an overall feeling of lifelessness to the cargo. It looks as though the color has been carefully and completely removed from the coal portion of the photograph with some sort of computer program -- a very strange reality.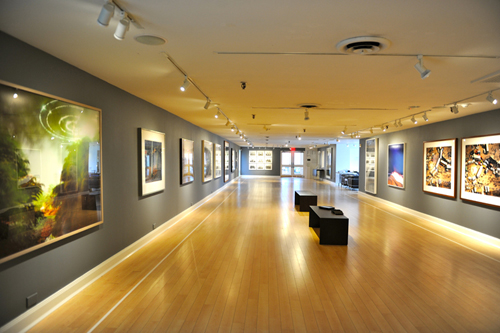 Landscape: Scene/Re-Seen, installation view. Courtesy of the Westport Arts Center.
You have most of the rest of the summer to see "Landscape: scene/re-seen," so try not to miss it. It closes September 2nd.
Popular in the Community