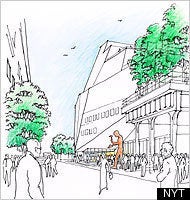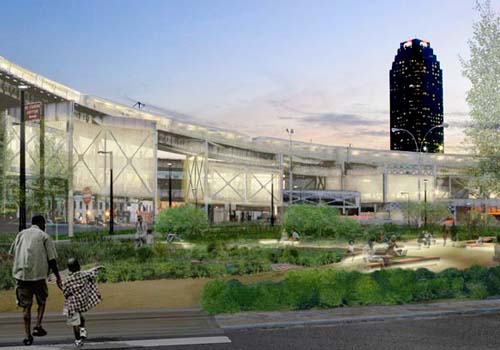 Urban vs. rural, architecture vs. landscape, man vs. nature -- these design dichotomies seem to have served professionals well. They are not only useful intellectual constructs dating back to Adam and Eve but also effective regulatory tools. By defining realms of authority in an understandable way, they allow complex projects to be funded, approved and built in an orderly fashion.
Practitioners of landscape urbanism, however, question whether these distinctions remain meaningful in an era of limited resources and environmental threats, suggesting we can devise more sustainable approaches to development by emphasizing the inter-relationships of ecological systems and urban construction. And they say no one is better equipped to distill a design direction from these fluid patterns than landscape architects. Recognizing environmental interconnections, however, challenges not only the usual architect-on-top hierarchy but also the property lines and regulatory sectors that define how we design and build.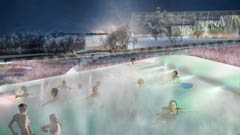 Stoss Landscape Urbanism's Botanic Overlook on the Minneapolis riverfront uses waste heat from a nearby power plant to heat a series of communal pools, greenhouses and community facilities.
Chris Reed, founder of Boston-based Stoss Landscape Urbanism, says there is no choice. "We need to do more with less. Cities and public agencies are hungry for proposals that move multiple agendas forward. Flexible and productive open spaces that cleanse water, generate energy, structure development, create new habitat and adapt to climate change will be the only way to go for cash-strapped administrators." But, he acknowledges, turning bold ideas into buildable realities requires a commitment to research and experimentation, and a governance structure that will support ambitious proposals.


Beneath the fluid forms and pastoral landscapes of Diller Scofidio + Renfro/James Corner Field Operations' High Line are a vast array of drains, pipes, cables and beams that are engineered to make it all work.
To get traction within and beyond academia, landscape urbanism has developed an evocative language to convey its aspirations. And like most design "-isms," it uses a family of forms to metaphorically suggest how those aspirations can be implemented. Sweeping curves, continuous ribbons and folded planes represent the kind of dynamic systems that landscape urbanists are trying to channel, with iconic projects such as Manhattan's High Line (a park in New York City's West Side that was formerly an elevated railroad track) offering tantalizing visuals. But without the High Line's endless influx of high-society financing, can the landscape-urbanist principles of integrated design survive in a sliced-and-diced world?
Shauna Gillies-Smith ASLA of Ground Inc., a Somerville landscape practice, says a series of incremental improvements can add up to make meaningful changes -- especially in dense urban environments. "With enough green-roof or groundwater-recharge projects done by individual landowners, we can make our cities more comfortable to live in and more compatible with the ecosystems they are part of." But, she adds, it may take zoning incentives or monetary subsidies to reach a critical threshold where we can provide a public return on private-sector investment.
For better or worse, vast bureaucracies stand between even the most-benevolent vision and its realization. In a democracy, public support is required for economic or development initiatives, and the public hardly speaks with a unified voice. Regulatory agencies moderate the debates and try to find common ground.
Ben Lynch, program chief for the Massachusetts Department of Environmental Protection's Waterways Regulation Program, deals daily with the state's forward-looking requirements for waterfront development. "Regulations and incentives are blunt instruments at best," he admits. "If the public sector wants the private sector to pay for infrastructure improvements and the private players are trying not to lose their shirts, it will be a challenge to stay true to a landscape-urbanist agenda because there are so many agendas to balance."
Although this agenda is at the cutting edge of land-use policy, many of its aspirations are firmly embedded in standard practice for engineers and bureaucrats. Fred Yalouris, director of architecture and urban design for Boston's Central Artery/Tunnel Project, or "Big Dig," says that the massive highway-burial project was in tune with the precepts of landscape urbanism, even if it plays down didactic ambitions. "A fifth of the project's $15 billion was mitigation, ranging from the creation of 46 parks to over a billion for mass transit. We got rid of the rusting hulk of overhead highway and planted over 20,000 trees, and acres and acres of lawns and gardens. Rain gardens and urban agriculture can always be added as the icing on a pretty sustainable cake."
Landscape urbanism's inspiring rhetoric and compelling forms provide a strong, poetic evocation of a more sustainable way to build. But if both the formal and practical ideals are to be implemented, they need to be harnessed to a more prosaic set of tools, such as building codes, zoning ordinances and engineering calculations. Designers will need to team up with scientists, sociologists and engineers -- and bureaucrats and bean counters, too -- if sustainable design solutions are to be pushed beyond the commonplace. The tendency to let poetic forms become stand-alone statements risks ceding the prosaic work of making real change to others.
Top image: Lighting, landscaping and pedestrian passageways are woven through an existing transportation infrastructure at the Queens Plaza Improvement Project by Wallace Roberts Todd, Margie Ruddick Landscape and Marpillero Pollak Architects.
This post was originally published by the Boston Society of Architects.
REAL LIFE. REAL NEWS. REAL VOICES.
Help us tell more of the stories that matter from voices that too often remain unheard.