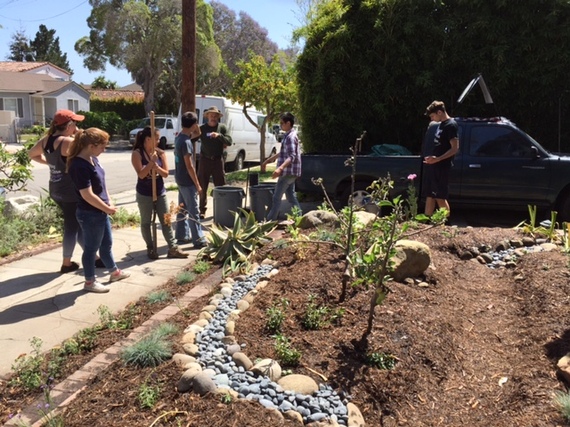 After five years of watching the drought in California get worse and worse, I like everyone else, have given up hope of rain. This has prompted me to take on the project of re-landscaping my home to make it drought tolerant.
In order to prepare for the uncertain future, it required me to rethink how and what was planted in my yard so as to maximize what little rainfall there is. Rainwater harvesting should be the first thought, not an afterthought.
While I know enough about water conservation and sustainability to know the importance of the choices of shrubbery and how everything is supposed to be laid out, I was feeling overwhelmed and knew I needed help. So, I reached out to my good friend Scout who is a landscape designer and owner of Lush Leaf Landscape Design and is now pursuing her dream and degree in Environmental Horticulture at Santa Barbara City College.
Scout is the type of woman who can handle anything with ease and grace all the while looking like she just stepped out of the pages of a New York fashion magazine. Her trademark style is unmistakable and effortlessly executed whether it's a dinner she's cooking or designing a garden.

Within an hour of walking around our yard, she had me looking at the project much differently and convinced me it was indeed possible to transform the gray hard-packed soil of our property into something that was once again beautiful as well as environmentally friendly. She recommended that we build the yard landscape around rain water.
The first step was to bring in Fred Hunter from Dreamscape, a landscape design, installation, and maintenance company that specializes in green landscape design and sustainable, organic gardening.
Fred received his degree in Environment, Population and Organismic Biology from the University of Colorado in Boulder. He told me that it was in learning to garden in the severe drought of the eighties that his passion was born that inspired him to study permaculture design at Santa Barbara City College later. It was there he decided that the focus of Dreamscape would be on greywater and rainwater harvesting. Today he is one of the founders of the Sweetwater Collaborative, a non-profit dedicated to raising awareness of water-wise landscaping practices and is considered one of the leading experts in drought tolerant landscapes.
Fred began to educate me as to how to create water beds in the garden that store rainwater and release it as it is needed. While some trees need supplemental water, if the infrastructure is created a mature tree can capture rainwater in the aquifer. Shaded landscapes retain soil moisture, so trees with greater canopies are better choices. Some like the Silver Dollar Gum Eucalyptus are more resilient and use less water.
A water-wise rain garden can stimulate beneficial insect populations through habitat and plant biodiversity. Rain gardens that include an artfully constructed creek bed can move water from gutter downspouts into rainwater infiltration systems. By leveraging our personal watersheds around the home such as rooftops, a meager annual rainfall can sustain a drought tolerant garden. The result is aesthetically pleasing at the same time as it facilitates biodiversity and habitat creation. As Andy Lipkis, President and Founder of Tree People suggest, we need to take actions that work with nature both in the short term and long term.
Going through this process has taught me more than how to design a green and sustainable landscape. In the conversations with Fred and Scout and in my research, I realized that the way we were talking about designing in the garden was really a metaphor for life.
We live on a planet with almost 7.5 billion people. We have limited land that can be used to farm. We have limited access to water we can drink and have pushed the boundaries of clean air. It is imperative that we learn to work with the resources that we have and develop new technologies to maximize and value their efficiencies so that we can not only sustain ourselves, but thrive as a planet and together grow our community of green hearts.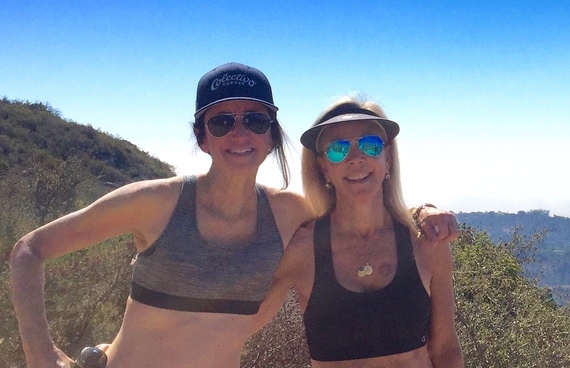 Scout and I taking a hike ;)
Calling all HuffPost superfans!
Sign up for membership to become a founding member and help shape HuffPost's next chapter