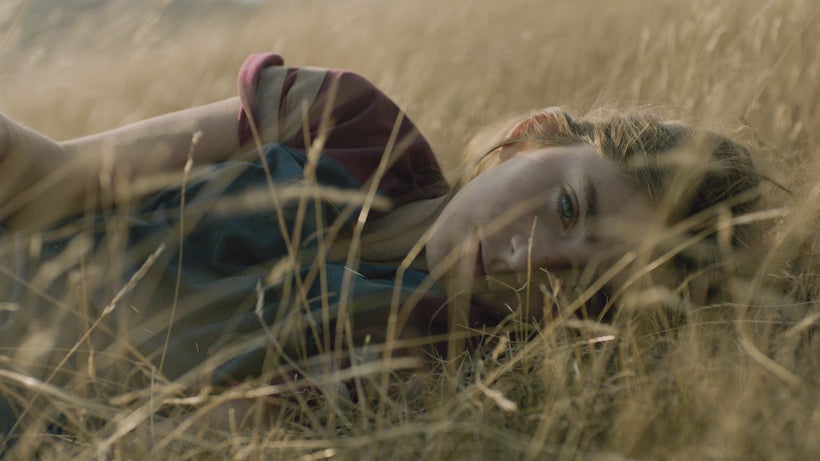 One of the best indie features this year is SJ Chiro's exquisite coming of age drama Lane 1974. The film is based on Clane Hayward's memoir The Hypocrisy of Disco and inspired by Chiro's own childhood and adolescence growing up on Northern California communes. Unlike most films set in the 1970s, Lane 1974 captures the era authentically but without calling too much attention to itself. The film's young star, Sophia Mitri Schloss, has a riveting screen presence and gives a beautifully understated performance as the title character, Lane. The film was gorgeously shot by Sebastien Scandiuzzi and also stars Katherine Moennig (of The L-Word and Ray Donovan). Lane 1974 had its premiere at SXSW and later won the Grand Jury Prize for New American Cinema Competition at the Seattle International Film Festival. I sat down with director, SJ Chiro, to chat about her enchanting first feature:
WH: How did you get such perfect performances out of your young actors?
SJ Chiro: Thank you for the compliment! The kids were amazing. Each one of them came to the film with a different level of experience. Sophia Mitri Schloss ("Lane"), and Sarah-Eve Gazitt ("Sky"), at 12 and 11 both had quite a bit of acting experience. But Harry K. Curtis ("Jamie") had never even thought of being an actor. And Ronin West ("Berry") was only 7 at the time. His parents are both in the industry, so he had been on sets before, but this was his first major role as an actor. Shayla Timbermoon ("Shayla") was 3 years old, so that was an entirely different kettle of fish. That one actually involved an occasional marshmallow bribe. Sophia carries the entire film, and I was thankful that she was the kind of actress who really wanted to dig in and understand Lane inside out. She also understood that it would take great deal of preparation. She read the book multiple times and took copious notes. We spent hours talking and listening to music, and watching videos from the era. Every time we met she had more questions for me. By the time we got to set, her understanding of Lane and her world was vast and deep and she was ready to fully inhabit Lane. Harry and Ronin bonded and were completely amazing on set. Filmmaking can be incredibly boring and tedious, but these kids kept each other engaged and were able to pick it right up when it was time to shoot. They were both good at listening and keeping their behavior fresh and natural. This was of utmost importance to me. I tailored the characters to fit the young actors personalities and to make the most of their natural gifts.
WH: What were the unique challenges of making a period film on a small indie budget?
SJ Chiro: I knew my designers would have to be innovative and creative. Ron Leamon, who designed all the costumes, had, as I had, lived though the '70s and remembered the clothes very well. He's a well respected icon in the world of costuming and had built such a stellar reputation that he had access to numerous collections. The pieces we couldn't borrow he figured out how to buy on a budget. In the case of the final dress, he designed and sewed it by hand. Cassie Miggins, who was the production designer for the California unit, and Erin O. Kay, who designed the Washington unit, were too young to remember 1974, but both were nimble and creative and quick studies. They understood the indie ethos very well, and really went the extra mile to give me the odd things I asked for (a water pipe in the shape of George Washington's head, for example). We were very fortunate that Erin actually owned a pay phone and we installed the same phone into two different booths in two different states. The two period busses were a difficult search, but in the end, we found gorgeous ones. It isn't easy making a period piece on an indie budget, but with flexibility, creativity and ingenuity, it's possible. I'm very pleased with the end result.
WH: Have you gotten any responses to the film that really surprised you?
SJC: Yes! I thought children of the '70s counter culture would be happy for the genuine telling of this emotionally true and historically accurate story. I was also hopeful that teen age girls would appreciate a story that takes them seriously (which has been borne out), but I was not prepared for the demographic that has been incredibly moved by the film: men. Specifically fathers with daughters aged 8-17. Grown men are deeply moved by Sophia's tender portrayal of a girl betrayed by parents who choose their own lives over hers. That modern fathers feel so deeply for their daughters gives me a lot of hope.
WH: What's next for you and the film?
SJC: Lane 1974 was picked up for distribution by The Orchard! Pre-sale for DVD and SVOD begin September 12th for a September 26th delivery. We are hoping people jump in and order early, as this affects the rest of the rollout, and is super important for an indie film like ours. There are also screenings coming up in theaters in Seattle and San Francisco: https://www.lane1974film.com/screenings
Calling all HuffPost superfans!
Sign up for membership to become a founding member and help shape HuffPost's next chapter
This post was published on the now-closed HuffPost Contributor platform. Contributors control their own work and posted freely to our site. If you need to flag this entry as abusive,
send us an email
.