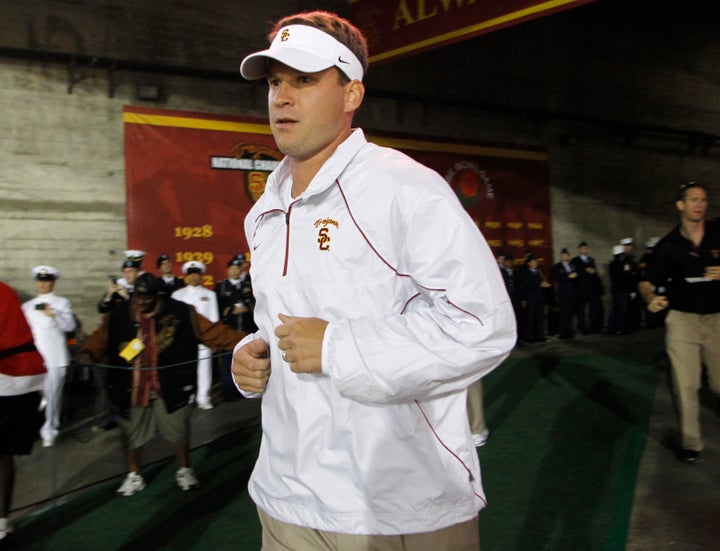 Lane Kiffin was once seen as an earnest and bright young coach. He is handsome and well spoken -- the perfect guy to send into a recruit's home. His lineage, thanks to legendary father Monte Kiffin and the famed "Tampa 2" defense, is pristine. Yet, Lane Kiffin has not won.
He didn't win in the NFL with Oakland. He didn't win at Tennessee. And now, after a middling season under NCAA sanctions, he has an above-average USC team despite having elite talent all across the field.
To understand Kiffin, you have to first understand what and where he came from. From the start, he was groomed to be a football coach. While he played backup quarterback at Fresno St., he skipped his senior year to become a student assistant coach. There, he worked under current California head coach Jeff Tedford, who has a reputation for being the premier quarterback's coach in the country. Fast forward just a few years, and by the time he was 26, Kiffin had a legitimate job with Pete Carroll and then dominant USC. He later flourished as the offensive coordinator for the Trojans, leading them to school records by averaging over 49 points per game and nearly 580 yards. But, as is seemingly always the case around Kiffin, there were questions. Even then, the play-calling duties were shared with quarterbacks coach Steve Sarkisian, leading many to believe Sarkisian was the real mastermind of that offense.
Sarkisian, who is now in his third year as the head coach at Washington, has completely transformed a once moribund program that went winless just four seasons ago. More impressively, he is the one calling the offensive plays. UW, with a first year starting quarterback, is 5-1 and has one of the best aerial attacks in the country. Keith Price has 21 touchdown passes ... which is three more than Stanford QB Andrew Luck.
Kiffin meanwhile, has led mediocre teams at every stop. He was 5-15 with the Raiders, 7-6 at Tennessee and has lost six games in a year and a half at USC. To be sure, a losing season in Oakland is nothing to be ashamed of. The Raiders would win 5 games the following season after his departure. Tennessee lacked the premier talent that made it a national title contender every season under Phillip Fulmer. Expectations were tempered following a 5-7 season but even still, 7-6 at Tennessee is a losing season.
Still, after one disappointment after another, Kiffin seemed to be a young coach that failed, but failed upwards. But what is forgotten between his natural charisma and ability to command a room of reporters is that the number one quality of any head coach is for his players to trust him.
When Kiffin took the Tennessee job in 2009, he infamously said that he looked forward to "singing Rocky Top all night long after we beat Florida next year." But that never happened.
Later in the year, he called out then Florida head coach Urban Meyer for being a cheat.
"As Nu'Keese (Richardson) was here on campus, his phone keeps ringing," Kiffin said, according to ESPN. "And so one of our coaches is sitting in the meeting with him and says, 'Who is that?' And he looks at the phone and says, 'Urban Meyer.' "
"Just so you know, you can't call a recruit on another campus. But I love the fact that Urban had to cheat and still didn't get him," he continued.
Meyer was never booked by the NCAA. Kiffin though, twice broke NCAA secondary recruiting rules by discussing recruits publicly and even asked Richardson to fax his national letter-of-intent from a secret location. It was Kiffin who reportedly told current South Carolina wide receiver Alshon Jeffery that he'd end up "pumping gas" if he signed there. (To be fair, accusing other coaches of breaking NCAA rules isn't a rare event in the college football. Alabama's Nick Saban has made it a common occurrence to criticize other coaches and programs.)
How can his players trust him though? Kiffin went to one of the best programs in the country ... only to leave a year later. He made promises to recruits. He went into their homes and told them he would be there for their four years. He had a six-year contract!
As great of a recruiter as many deem Kiffin, he has apparently lost out on blue chip offensive lineman Arik Armstead, who rescinded his verbal commitment -- and is now reportedly considering, among others, Washington.
Armstead's older brother, Armond, plays for USC, and this is a pretty clear cut case of the family backing out for how Kiffin has treated the elder Armstead. As a whole, Kiffin has struggled to get upper echelon commits. Part of this is due to the NCAA sanctions, but his 2012 class features zero 5-star recruits and is the first USC class not to rank in a decade.
On paper, the 2011 Trojans appear headed on the up. They are 5-1 and junior quarterback Matt Barkley has shown flashes of becoming a top 10 pick. Robert Woods is the best receiver in the country not named Justin Blackmon.
But there are a lot of problems.
Under Kiffin's guidance, the Trojans have regressed into relative anonymity. For the first time ever, a 5-1 USC team is not nationally ranked. They are 10-point underdogs against an average Notre Dame team. For a program as proud as USC, it has looked eerily average in a down BCS conference. Last season, it lost to Washington and was obliterated by Oregon St. For the first time in nine years, the Trojans lost the one game it cannot afford to lose: Notre Dame. Even worse, it ended the season unranked for the first time in nearly a decade.
In an embarrassingly close win, USC beat Minnesota at home by two points. That is the same Gophers team that lost 58-0 to Michigan, got blown out by a miserable Purdue team and lost to FCS opponent North Dakota St. by two touchdowns. USC ranks 50th in points scored and 46th in points against. It allowed a whopping 41 points to an Arizona team whose only win has come against Northern Arizona.
In Pete Carroll's second season, he led Southern Cal to an 11-2 record and Orange Bowl win. Clearly, the monopoly that the Trojans once had on the Pac-12 is over. While Kiffin is not to blame for that, he is to blame for a downward trajectory. With the upcoming road game in South Bend, coupled with home battles against Stanford and vastly improved Washington, it is feasible they will lose four of the final six games to finish an abysmal 7-5.
If that happens, as I expect it will, we'll see how poorly Kiffin coaches a losing team. Make no mistake, he is a fine offensive mind and gifted coordinator, but a head coach needs to instill belief and trust. He needs to rally his players together, especially when things go wrong. The proof that Kiffin isn't the leading man is already there.
After the first game of the season, he said "We have two good players" on offense, disrespecting everyone else on the team. While Pete Carroll inspired confidence and allowed his players to have fun with his rah-rah approach, Kiffin evokes the opposite.
His arrogance on the field also hurts the team. Kiffin insists on random two-point conversions, despite a zero percent success rate this season. Despite the 5-1 record and the current holding pattern of not being bowl-eligible, USC super fans such as @uscpsycho can't stand him, constantly calling for his head. When Kiffin does go for the normal PAT after touchdowns, the Coliseum crowd sarcastically applauds.
As is always the case with Kiffin, another failure is already in the works. It has been a tumultuous time in the land of Troy over the past few years. Reggie Bush forfeited his Heisman Trophy and the program was forced to vacate its 2005 national championship.
Kiffin was never going to be the answer, and it's clear he still isn't. This is the second and final year of USC's ineligibility (although they do remain with scholarship limitations), and its time to move on. Pete Carroll clearly had his fair share of issues, but one thing he could do was lead.
Lane Kiffin, on the other hand, cannot.
Email me at jordan.schultz@huffingtonpost.com or ask me questions about anything sports-related @206Child for my upcoming mailbag.
Plus, check out my new HuffPost sports blog, The Schultz Report, for a fresh and daily outlook on all things sports and listen to our weekly radio show, Sports Blitz Now.
Calling all HuffPost superfans!
Sign up for membership to become a founding member and help shape HuffPost's next chapter