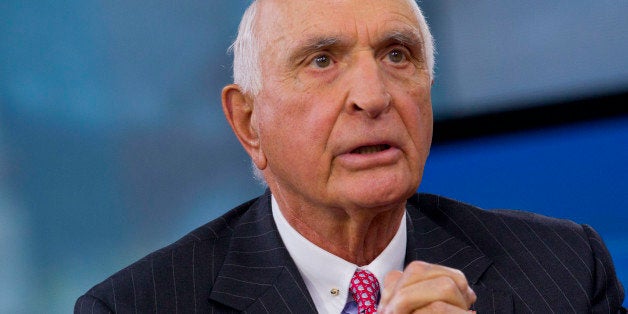 "My remarks were intended to discourage pitting one group against another group in a society," he said in a statement published on several outlets. "If my choice of words was inappropriate – and they well may have been that – I extend my profound apologies to anyone and everyone who I may have offended."
Langone drew criticism after an interview with Politico published earlier on Tuesday. The Home Depot co-founder and Republican megadonor said a GOP pivot toward the sort of class-based populism that has fueled the presidential ambitions of Kentucky Sen. Rand Paul and Texas Sen. Ted Cruz would mirror the rise of Adolf Hitler.
"I hope it's not working," Langone said of broad political appeals to the working class. "Because if you go back to 1933, with different words, this is what Hitler was saying in Germany. You don't survive as a society if you encourage and thrive on envy or jealousy."
He's not alone in this view.
But Perkins' message rang true with other wealthy, white men.
Sam Zell, the billionaire real estate tycoon, said Perkins was right, "the 1 percent is being pummeled because it's politically convenient to do so."
"The problem is that the world and this country should not talk about envy of the 1 percent," the Equity Investments Group chairman said in an interview with Bloomberg TV's Betty Liu. "The 1 percent work harder. The 1 percent are much bigger factors in all forms of our society."
A week later, billionaire investor Wilbur Ross chimed in during a similar appearance on Bloomberg TV, in which he insisted the poor could improve their lot by going to college.
"The 1 percent is being picked on for political reasons," he said. "Education is the way that people get out of the ghetto and into, if not the 1 percent, something close to it."
Later that month, Napster co-founder Sean Parker went on a rant comparing the Gawker Media founder Nick Denton to Joseph Goebbels' lapdog, and the Rupert Murdoch-owned New York Post to his pack of the Nazi propagandist's attack dogs.
What prompted this hyperbolic reaction? Both outlets reported stories about Parker creating "a total clusterfuck" for everyone on a Manhattan street so he could have Verizon FiOS installed in a $20 million apartment he no longer occupies.
So, why the constant comparisons to one of the 20th Century's darkest chapters?
Dacher Keltner, a psychology professor at the University of California-Berkeley, told The Huffington Post last month that extreme wealth is linked to decreased ability to relate to the plight of others.
"Extreme wealth in our lab makes people less compassionate, they care less about the suffering of others, they're less empathetic," he said in an interview. "They tend to think that they have their tons of money because they have a stronger genetic profile. You put that together, and you get jackasses."

Popular in the Community