Coming into land on the south coast of France always brings with it a welcome sense of anticipation: Your eyes behold the sparkling crystal coast and plush green countryside while your mind wanders to the fine wines and food you'll soon indulge in, under its year-round sunshine.
This time my descent into Carcassone (closest to the Spanish border I've been on the French side) alludes to a serious emphasis on the former.
From the plane, there's a panoramic view of tightly-packed fields as far as the eye can see, patch-worked with countless rows of Picpoul Blanc, Chardonnay and Merlot grapes hanging heavily on their vines. But not for long. The annual wine harvest is about to start, where 30,000 producers will embark on their busiest time of year, and I'm going to join them.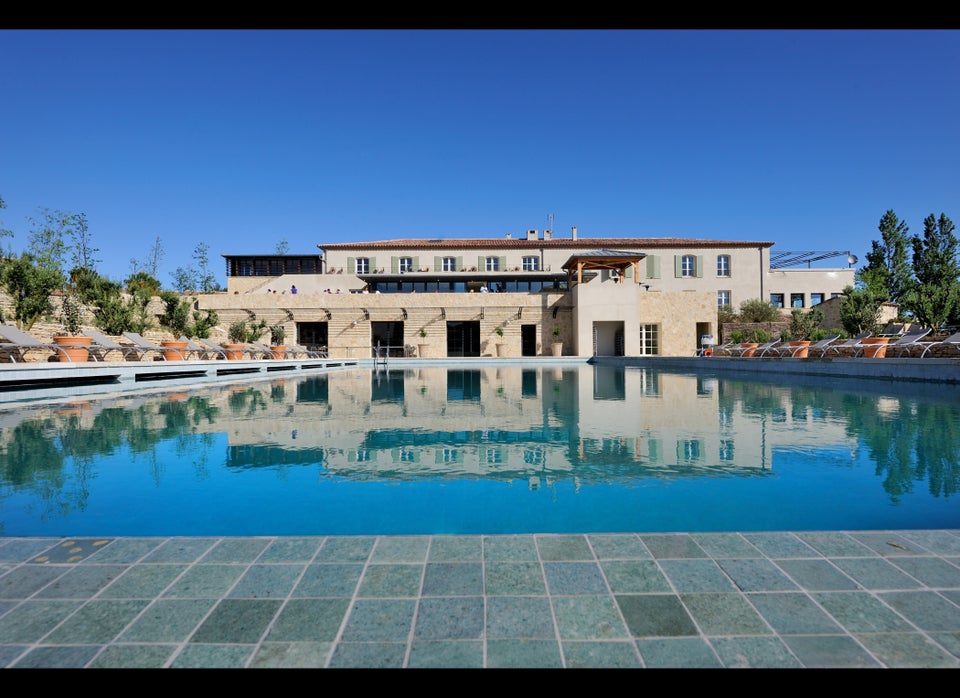 Carcassonne is the largest medieval citadel in Europe - a breathtaking UNESCO World Cultural Heritage site less than three hours' flight from London in the heart of the Languedoc-Roussillon - and a crossroads between the Atlantic Ocean and the Mediterranean, with the Pyrenees just a blue haze in the distance.
Just 30 minutes drive from the airport and I'm at my hotel, the award-winning spa retreat, Les Jardins de Saint-Benoît. It's set within 20 acres of its own verdant vineyards and boasts its very own prize-winning house wine, the Château de Caraguilhes AOC Corbières Rouge Cuvée Prestige 2007.
The food making up many of the dishes served in their covered terrace restaurant, including their lamb, chicken and beef as well as their vegetables, is produced in the immediate area, some to be found as locally as the end of their medieval gardens.
The hotel and property group behind Les Jardins is Garrigae, a three-time winner of the Bentley-CNBC award for best development project. Its CEO Miguel Espada, a native of the Languedoc region and from a family active in wine-growing and construction for several generations, insisted his £68m development had to be approved by the locals. Consequently, its 190 rustic-looking, self-catering guesthouses fit the style of the pretty neighboring village of Saint Laurent de la Cabrerisse perfectly; tastefully painted in muted taupes, blues and pale greens and complimented each by a little garden, planted with olive trees.
Another Garrigae hotel in the works near here, to be completed in 2012, is Le Chateau de la Redorte. It's a vineyard and spa retreat that aims to make a currently crumbling but soon-to-be renovated 200-year old mansion its centerpiece. With the same care and attention to its design and a similar desire for it to reflect its surroundings regardless of the higher costs, it looks set to become as much an addition to the landscape as its predecessor. For the speculating expat investor, some units in this development are still available to buy via lease-back or outright purchase, from €200,000.
Les Jardins de Saint-Benoît is a very smart riverside estate and an ideal rural retreat to sample the region's finest crus. It is located on the River Nielle in the Corbières area, at the heart of Cathar country, where the smell of wine hangs delicately in the air thanks to a close-by distillery. The perfumed atmosphere is particularly pleasant when you sit in its outdoor pool, admiring the charming old town across the valley and sipping a glass or two of the good stuff while you're working on your tan.
There is a provision for children at the hotel to be entertained too, for free during the Easter and Summer holidays: They have their own pool and staff run a range of activities for them in the surrounding countryside, so if you want peace and quiet to relax in, you can have it.
During my stay I took the opportunity to 'vendange dans la vigne' (harvest the grapes) and visit some surrounding wine houses including the Massamier La Mignarde - a vineyard and chateau whose land can be traced back to Roman times. Their wine, the Domus Maximus, is an award-winning favorite and I particularly liked their cool, underground cellar where visitors must duck to avoid the resident bats that dart around the enormous old oak casks.
To see where some of the region's finest wine is actually made, I visited Taverne Vigneronne in nearby Tournissan where fourth generation vigneron Didier Roux gave me a tour of his vineyard and distillery. He explained the process from start to finish in practical terms, offering me tastings at every stage. It was a unique experience ... and if you remember anything he has told you after the tour and several farewell Armagnacs, you're sure to impress someone at a wine tasting someday.
Back at Les Jardins, their modern spa and relaxing tailor-made treatments using 100% organic products made from local oils, fruits and botanicals was the perfect way to relax after a busy day's grape picking. A massage in one of their seven treatment rooms followed by an hour or two of lounging around their sumptuous indoor stone swimming pool was a fitting reward for a hard weekend working out in the field.
Prices start at $240/£155, room-only, for a one-bedroom village house to $630/£405 for a five-bedroom villa. Between August and February, you can even go wild boar hunting there, from $465/£300 for three days.