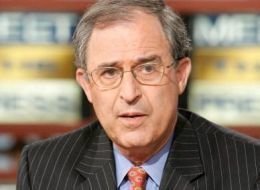 Ubiquitous Democratic spinmeister, Lanny Davis is defending himself against charges that he's become a hired gun for autocratic pols with a reputation for corruption.
The longtime Clinton hand and regular cable news presence told the Huffington Post on Tuesday that he agreed to a million-dollar-a-year contract to lobby on behalf of Equatorial Guinea President Teodoro Obiang Nguema Mbasogo primarily because the African leader expressed sincere hopes of modernizing his country and implementing major political reforms.
"A country wanting to change and become the like United States, inviting in Red Cross and NGOs to validate or help them improve, and publicly committing -- in front of [the] world's media at Fortune-Time Magazine-CNN forum -- to comprehensive reform, transparency, and democracy, is worth trying to help. I am listed in my FARA registration statement as a "technical adviser" to help them implement this program."
News of Davis's contract was broken on Tuesday morning by The New York Times, which noted that Obiang has been accused of, among other things, stashing his country's oil wealth in private bank accounts and rigging the country's supposedly democratic elections to allow him to win reelection with 95 percent or more of the vote. Davis, in the article, jokingly said he urged the Equatorial Guinea leader to "win by 51 percent than 98 percent."
In a statement to the Huffington Post, he was a bit more circumspect. "Now we will help make deeds follow words and invite journalists and NGOs to help report efforts to achieve these reforms," he said.
The announcement of Davis's latest client came during a speech by Obiang at a Monday conference sponsored by Time, Fortune and CNN. The president, in his remarks (pasted below), laid out his hopes to create "an atmosphere of peace, political stability, legal and administrative institutions, and transparency in government." Obiang pledged to ensure that his country's oil revenues will go directly to its populace, in part through the establishment of a "Social Development Fund." He promised to invite a delegation from the African Union to help review and continue reforms to his country's legal institutions. And he said he would bring in the International Red Cross to look into accusations of human rights violations -- all the while being advised by a well-connected D.C. consultant.
"I would also like to thank Lanny Davis for working with me in the cause of the reforms we have undertaken with enthusiasm for the people of Equatorial Guinea, following its uncertain path during the two centuries of colonial oppression and the repression of an eleven-year dictatorship," Obiang declared.
This is not Davis's first controversial client. He has been hired by the Honduran branch of CEAL (a pseudo-Chamber of Commerce in Latin America) to support the military removal of the country's democratically elected president. He also worked during the 1990s as a lobbyist for Patton Boggs, during which he successfully convinced the U.S. government to provide Pakistan a slate of F-16 jets the country had purchased but, because of its newly nuclear status, had not received.
As for his current gig, Davis said it would be his job, essentially, to help Obiang follow through on his promises and that in doing so he had the "full support" from President Obiang as well as the U.S. Ambassador to Equatorial Guinea, Alberto Fernandez. "I recognize the challenges are great," he added.
HERE ARE OBIANG'S FULL COMMENTS:
Support HuffPost
The Stakes Have Never Been Higher
Popular in the Community