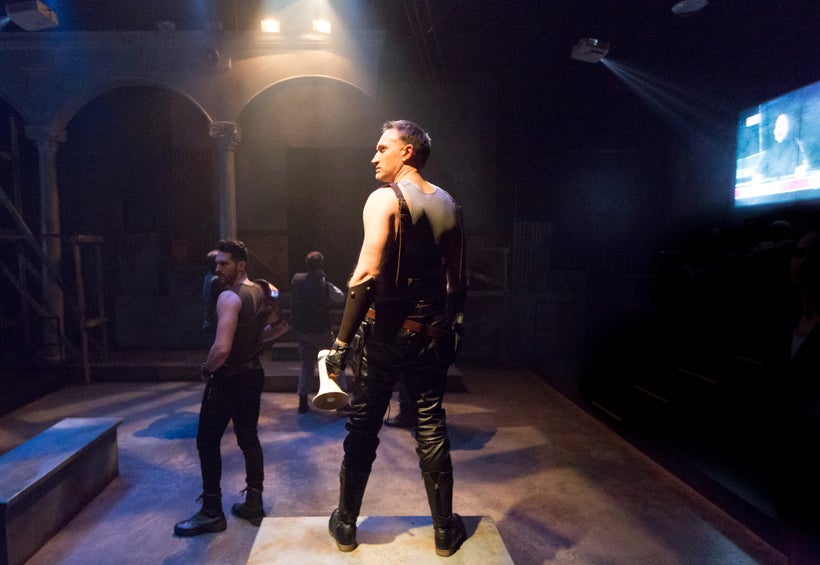 Shakespeare's Coriolanus is rarely staged because it is a monster of a play set in ancient Rome with two dozen characters, a plot that boils over with political intrigue, action and, most compellingly its theatrical eloquence as a soldier's story of timeless dimension.
Director Charles McMahon scales it to the intimate environs of the Lantern Theater, yet still is able to unleash its explosive dramatic power. Based on Plutarch history of 5th century BC Rome of wars between patricians and plebeians during a corn famine, Shakespeare drew parallels of catastrophic class divisions in Elizabethan England.
The sensibilities of ancient Rome are still in place, but in this production there are soldiers brandishing AKA rifles, street protesters demanding food are caught on live cable-news feeds along with the lofty speeches given by politicians. The din reaches a desperate pitch that we are all too familiar with now, but at least they are hurling Bardian lines, and the atmospherics makes us lean in to listen.
Roman warrior Calus Martius, rewarded with the exalted name Coriolanus, after his battles against outside insurgents led by Aufidius. Coriolanus's politically powerful mother, Volumnia holds court to herald his victory and manipulates him into running for office on Rome's governing council.
To win the election, he must first boast of his victory and beg for votes, even show his wounds as proof of his sacrifices in battle. Coriolanus finds the public ritual demoralizing and his support quickly fades, his motives questioned and he is accused of treason.
He spits out the words "the drops of blood/Shed for my thankless country are requited." And "The cruelty and envy of the people, permitted by our dastard nobles, who Have all forsook me, hath devoured the rest."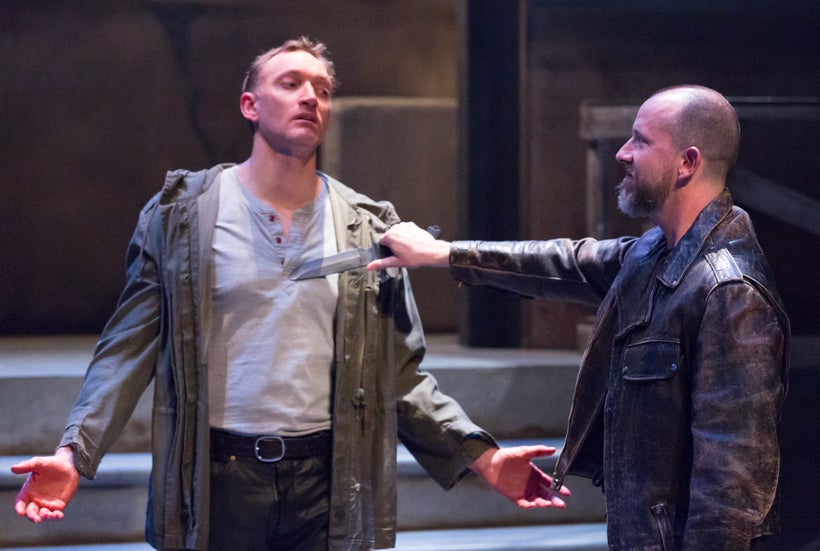 Coriolanus seethes and condemns himself to self-exile, and flees incognito. He seeks out his enemy Aufidius, where they were in hand to hand combat on the battlefield and now Coriolanus wants Aufidius to murder him. Instead they bond as enemy comrades and join forces against the self-serving politicos in Rome. Meanwhile, Volumnia goes to him and emotionally blackmails him to forge a treaty, which he refuses, but then relents under Volumnia's pleading prayers. Aufidius sees this as a betrayal and conspires against Coriolanus, sealing his fate.
This is a fine ensemble cast, all playing dual roles, except for leads Robert Lyons as Coriolanus and Tina Packer as Volumnia. Lyons is a New York based actor making his debut at the Lantern with a beautifully crafted, volcanic performance. His Coriolanus is a steeled warrior who soon recoils in emotional crisis and violent self-recrimination, unleashed when he tries to assimilate back into a scabrous and self-serving society.
Tina Packer is quite simply one of the finest classical actors on the planet. She performed for many years in Britain's Royal Shakespeare Company, was artistic director of Shakespeare & Company in Lenox, MA, which she founded in 1978 and is author of several books on theater including Women of Will: Following the Feminine in Shakespeare's Plays.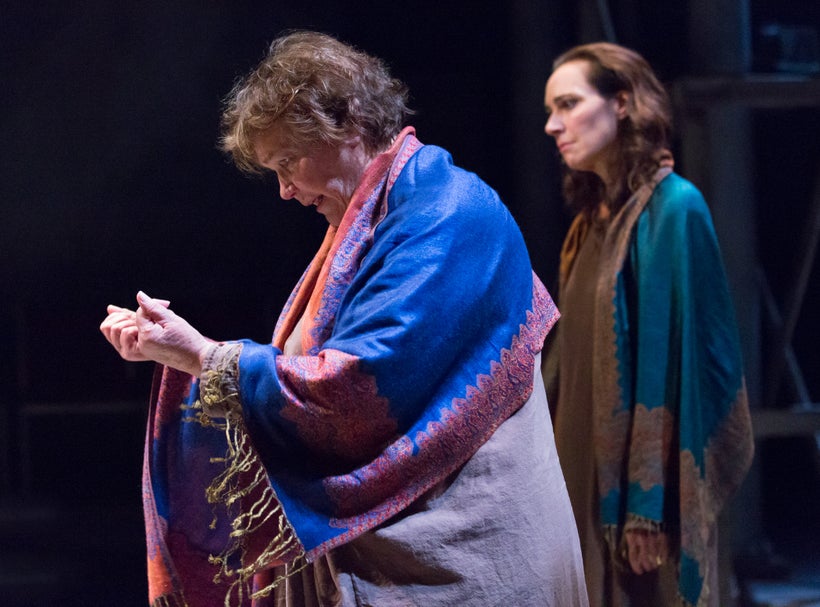 She is tender and loving to her son, when, that is, she is not being manipulative and ruthless when necessary. Packer delivers a magnificent classical performance for all seasons.
Some of the Lantern's most accomplished Shakespeareans are in the cast starting with Charles DelMarcelle's rowdy performance as Coriolanus' foil Aufidius. Kirk Wendell Brown is also in top form as the valiant Cominius, who doesn't abandon Coriolanus. David Bardeen and Leonard C. Hass as the politicos who have too many greased answers for every slippery move (sound familiar); Chris Anthony is the muscled, faithful aide de camp. Brock D. Vickers and Hannah Van Sciver are fearless resistance fighters and Adam Hammet is the dodgy Eastender with a most lyrical voice.
Fine production designs Janus Stefanowicz's costume design with skintight leather and metallic battle armor and some 60s Londoner mod looks that just keeps giving. Meghan Jones' inventive production design uses every inch of the Lantern theater and is given added dimension by Drew Billiau's nourish lighting design. Robert Kaplowitz's soundscape and musical interludes are cinematic in the best sense.
The play's full on battle scenes are staged, masterfully, by fight director J. Alex Cordaro, but the guts of this play are in the psychic impact of war and the exploitation of war by politicians tragically remains a universal truth. McMahon contrasts the elements of thrilling physical theater with scenes of such stillness, framing some of Shakespeare's most brilliant dialogue cycles and equally memorable (and largely forgotten) soliloquies. This is riveting theater.
Calling all HuffPost superfans!
Sign up for membership to become a founding member and help shape HuffPost's next chapter
This post was published on the now-closed HuffPost Contributor platform. Contributors control their own work and posted freely to our site. If you need to flag this entry as abusive,
send us an email
.