Los Angeles police fatally shot a homeless man on Sunday in a disturbing encounter that was caught on video.
According to the Los Angeles Times, the man, whom witnesses called "Africa," was pronounced dead at the hospital.
LAPD spokesman Sgt. Barry Montgomery said the officers were responding to a robbery call on the 500 block of San Pedro Street.
The video shows a confrontation in which the homeless man appears to throw a punch at police as officers try to contain him. One officer drops his nightstick, which a woman picks up off the ground. Two officers push her to the ground to restrain her. Meanwhile, several officers fight the man to the ground. At least one officer can be heard repeatedly shouting, "Drop the gun," after which five gunshots can be heard.
One witness, Yolanda Young, told CBS2 that the altercation occurred over an argument in a tent.
"Next thing I know, dude swung on a cop and the cop swung back. And they were hitting on him and then two other cop cars pulled up and they got out of the car and ran over there, and they had three Tasers out," Young said.
Africa had spent 10 years at a mental facility before settling into Skid Row four or five months ago, neighbor Ina Murphy told the LA Times. Another resident also said that police had asked Africa multiple times to dismantle his tent, in accordance with a court ruling that allows folks to sleep on Skid Row at night as long as they take down their tents during the day.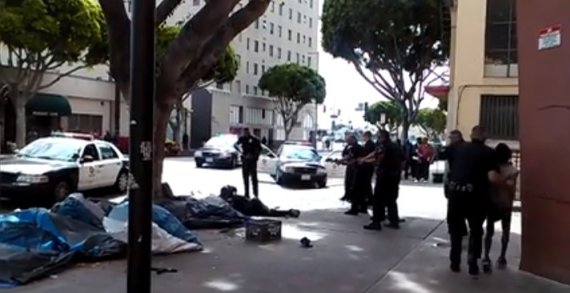 There will be an investigation to determine if the use of force was properly deployed. Investigators are looking for additional video that captured the incident, including footage from the body cameras some of the officers may have been wearing. At least one officer was wearing a body camera, Smith told the newspaper.
UPDATE 3/2: This story has been updated to reflect that the video has been removed from Facebook.
Support HuffPost
The Stakes Have Never Been Higher
Related
Popular in the Community