LOS ANGELES -- Police officers shot innocent people during the frenzied manhunt for Christopher Dorner, a former cop suspected of murdering 3 people and shooting several more.
Officers from the Los Angeles and Torrance police departments engaged in two separate shootings Thursday morning in Torrance, Calif., reports KTLA. They had come across two different vehicles that were similar to the description of Dorner's getaway car, a gray 2005 Nissan Titan pickup.
The first shooting incident happened at 5:20 a.m. Officers from the Hollywood division of the LAPD shot two people who turned out to have no connection to Dorner's crimes. They were transported to the hospital with gunshot injuries.
The second incident occurred 25 minutes later and involved Torrance police. While shots were fired, there were no reported injuries.
In a press conference Thursday morning, LAPD Chief Charlie Beck confirmed that police shot innocent bystanders during the hunt for Dorner. He detailed the two victims' gunshot wounds:
"One has a minor gunshot wound and is in the process of being released. The second person is in stable condition, with two gunshot wounds," said Chief Beck. "Tragically, we believe this was a case of mistaken identity by the officers."
Dorner, a former LAPD officer and Navy reservist, is suspected of fatally shooting Cal State Fullerton basketball coach Monica Quan and her fiance, USC security officer Keith Lawrence. When Quan and Lawrence were found in their car Sunday evening, authorities publicly stated they had no known motive or suspects.
That changed Wednesday, when Dorner published a multi-page manifesto on Facebook implicating himself in the murders of Quan and Lawrence.
"I will bring unconventional and asymmetrical warfare to those in LAPD uniform whether on or off duty," wrote Dorner on his Facebook profile. The former cop blamed the LAPD for his termination, listing people he believed were responsible for his dismissal.
One of the people on the list included Quan's father, retired LAPD captain Randal Quan. Cpt. Quan had represented Dorner during his dismissal hearing before the police Board of Rights, reports Associated Press.
During a press conference that night, Irvine police Chief David L. Maggard announced a manhunt for Dorner, warning the public that he was armed and dangerous.
Thursday morning, Dorner is believed to have resumed his shooting rampage. More, from AP:
Early Thursday, the first shooting occurred in Corona and involved two LAPD officers working a security detail, LAPD Sgt. Alex Baez. One officer was grazed.

Later, two officers on routine patrol in neighboring Riverside were ambushed at a stop light, said Riverside Lt. Guy Toussaint. One died and the other was in surgery. The officers shot were not actively looking for Dorner, Toussaint said.
Anyone with more information about Dorner's whereabouts is encouraged to call police at 213-486-5230. Reach the police during non-business hours at 877-LAPD-24-7.
This story is developing...
Learn more about the manhunt for former LAPD officer Christopher Dorner.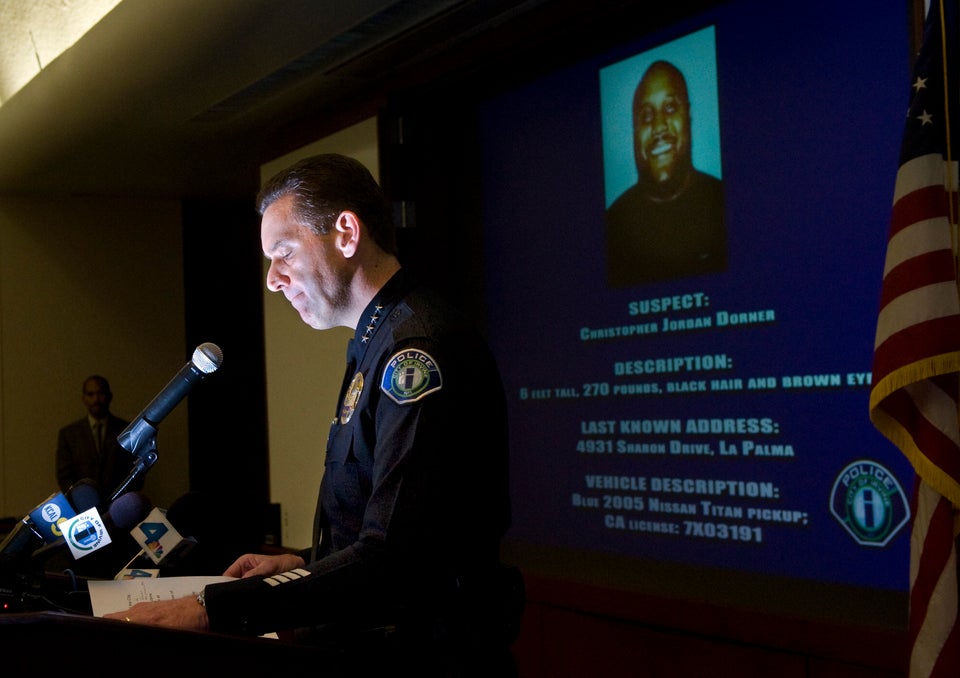 Manhunt For Christopher Dorner
Related
Popular in the Community