Laphonza Butler, who California Gov. Gavin Newsom (D) appointed Sunday to finish out the late Dianne Feinstein's Senate term, will make history when she's sworn in.
She will be the first Black, openly LGBTQ+ woman to serve in either chamber of Congress.
"Today she shatters a rainbow ceiling in becoming the first out Black LGBTQ+ U.S. senator and she will serve knowing her presence and impact will be felt in countless ways," Annise Parker, the president and CEO of LGBTQ+ Victory Institute, said in a statement Monday.
"Laphonza is a champion for building a more inclusive and representative government and will certainly be a champion for women, people of color and LGBTQ+ people," said Parker, a former mayor of Houston. "The U.S. Senate is our most prestigious legislative body, but also one where change is slow. Laphonza's appointment today is an exception to that rule, being a big step forward in our push for a more representative government."
"It is only right that a Black woman who has paved the way for countless others to lead is now given an opportunity to lead herself," said NAACP president and CEO Derrick Johnson. "The NAACP commends Governor Newsom for taking steps to fill the gaps in representation that currently exist within our Senate ... One thing is clear ― Black women are supreme."
Butler, 44, is currently the president of EMILY's List, a political action committee that backs Democratic female candidates who support abortion rights. She is a former longtime senior adviser to now-Vice President Kamala Harris, and for more than a decade, she was the president of SEIU Local 2015, the largest labor union in California.
"Her background and years of experience will bring a much-needed perspective to the Senate, which currently does not have any Black women," said Rep. Steven Horsford (D-Nev.), chairman of the Congressional Black Caucus. "As the first lesbian Black woman in the U.S. Senate, Laphonza will bring an important perspective to the upper house at a time when the rights of women and the LGBTQ+ community are under attack."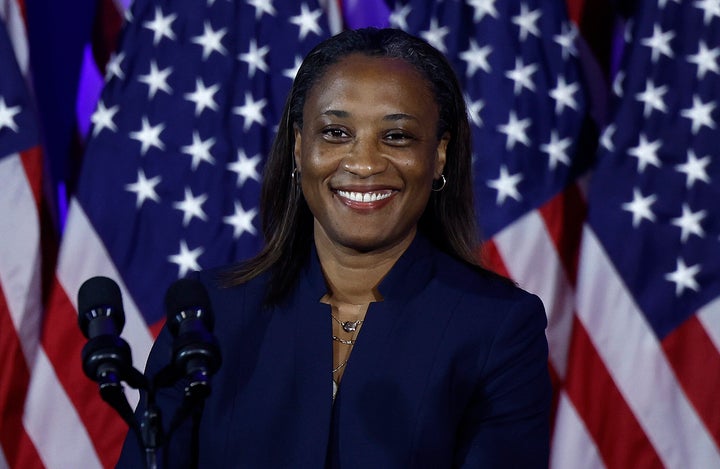 Harris is reportedly expected to swear Butler into the Senate on Wednesday.
Newsom had promised earlier to fill any Senate vacancy with a Black woman, but his decision to appoint Butler is particulary exciting for LGBTQ+ rights groups, too. She will be the first LGBTQ+ person to represent California in the Senate, and the third openly LGBTQ+ senator in U.S. history. The other two are Sens. Tammy Baldwin (D-Wis.) and Kyrsten Sinema (I-Ariz.).
Lisa Turner, the executive director of LPAC, a national organization dedicated to electing LGBTQ women and nonbinary people to public office, hailed Butler both as a historic pick and as someone with a rich background.
"As a leader in the labor movement, Butler has been an ally and advocate for working people in California," Turner said in a Monday statement. "More recently, she has been a champion for electing pro-choice women across the country. We look forward to seeing her good work for California and the nation."
Feinstein, who held the Senate seat for more than 20 years, died Friday at the age of 90. Newsom had to move fast to appoint someone to finish out her term, which ends in January 2025, given the razor-thin majority that Democrats hold in the Senate.
Without Feinstein, Democrats hold a 50-49 edge, which includes three independents who caucus with Democrats.