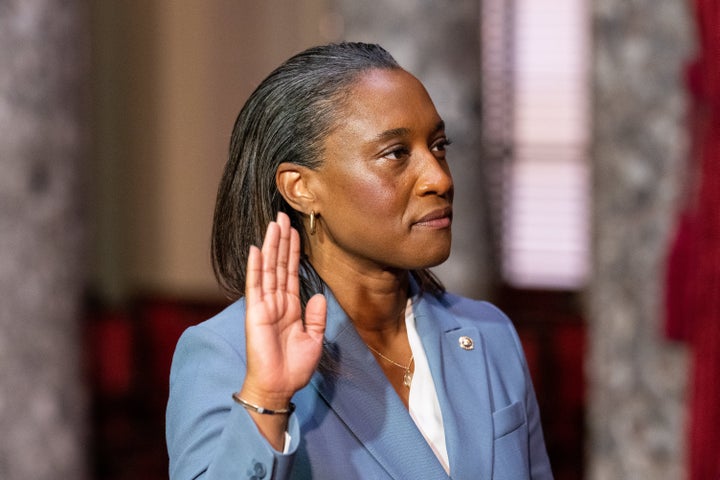 One of the last acts of incoming Sen. Laphonza Butler as president of EMILY's List was to lay off a handful of staffers, showing that even the powerhouse group was hit by a downturn in grassroots donations and generating internal frustration with the woman California Gov. Gavin Newsom (D) picked to fill the seat formerly held by the late Dianne Feinstein.
The California Democrat announced that EMILY's List, which works to elect Democratic women who support abortion rights, was laying off eight people on Sept. 12 ― less than three weeks to the day before Newsom tapped her for the Senate seat. EMILY's List had about 105 staff members at the time that the layoffs were announced.
To some people inside the organization, the announcement felt like a betrayal of Butler's history working for organized labor and her commitment to lifting up marginalized communities.
"It's funny that they're going all in on Laphonza as a labor leader while she was cutting junior staff," said someone close to employees affected by the layoffs.
EMILY's List defended the layoffs, arguing that they were necessary amid a drop in donations.
"Like many organizations with budgets based solely on donations, we have not been immune to the widespread drop in charitable, political, and non-profit low-dollar donations," Christina Reynolds, senior vice president of communications at EMILY's List, said in a statement. "At this time, we are prioritizing our resources to the efforts most central to the EMILYs List's mission: electing a diverse group Democratic pro-choice women in targeted seats. Those seats are key to protecting the White House and Senate, flipping the U.S. House and protecting abortion rights by maintaining or winning state legislative majorities."
Reynolds also defended the organization's record on diversity, equity and inclusion.
"Our organization's commitment to diversity and inclusion is critical and is not the responsibility of any one team," she said. "All of us who recruit and hire staff, who recruit, train, and support candidates, who sign contracts with consultants and vendors own and hold our commitment."
Butler, who is a lesbian, was sworn in to the Senate on Tuesday, making her the first openly LGBTQ person to represent California in the Senate. Should she choose to run for a full term, Butler will be competing in a crowded Democratic primary field that includes Reps. Barbara Lee, Adam Schiff and Katie Porter.
The layoffs were concentrated in a small number of departments. EMILY's List essentially disbanded its training and community engagement team, dismissing all five of that division's staff members, and moving the division's vice president to a new role. The group also laid off both of the dedicated digital team staffers who served the Run to Win candidate assistance program, officially ending the program, and cut another staffer who ran digital operations for the state and local candidate team.
In her remarks at a virtual all-hands meeting after affected employees were individually informed that they were being laid off, Butler attributed the layoffs to a decline in grassroots that has affected many Democratic and progressive organizations, according to three people familiar with the remarks. The layoffs would take effect on Oct. 2 at the earliest, giving the affected employees three weeks to wind down their work.
Seven out of the eight people who were laid off were either people of color, LGBTQ, or both.The one laid-off employee who was not either LGBTQ or a person of color was a first-generation college graduate.
To some Latina employees, the layoffs stung more because they were announced just before the start of National Hispanic American Heritage Month.
A second person familiar with EMILY's List's internal deliberations described how Butler's ascension to lead EMILY's List in September 2021 had convinced a close friend to accept a job offer there, but that Butler proved disappointing.
The friend was "excited to have a Black, queer woman at the helm" and "thought maybe this is a safe place, then was disappointed when Butler's leadership proved otherwise," the second person familiar said.
Like many progressive groups in the aftermath of George Floyd's murder in May 2020, EMILY's List strived to diversify its ranks and the range of its work. The decision to hire Butler, a Black lesbian who grew up in Mississippi, was clearly in line with that goal.
But gutting the training and community engagement team and the Run to Win program has led some people to question just how sincere the organization's commitment to intersectional justice is. (Run to Win's training center website and webinars will remain available online.)
EMILY's List's training and community engagement team ran the group's early-stage candidate recruitment and training programs, as well as its partnerships with activist groups and other nonprofits. And Run to Win was a starter-level set of training resources for candidates, or prospective candidates, for lower offices to whom EMILY's List lacked the capacity to provide more in-depth assistance.
The two programs' closer proximity to political novices and grassroots activists meant that they were often in contact with a less privileged set of people than those working with EMILY's List on congressional or gubernatorial runs.
"These departments that were in local communities were deep in grassroots organizing and building this pipeline of women candidates across the country," the second person familiar said. "The nature of that is that they were working with underrepresented communities."
Six out of eight of those laid off were members of EMILY's List staff union, which is affiliated with the Office and Professional Employees International Union, Local 2. The recently formed union ratified its first collective bargaining agreement with EMILY's List management this past April.
The collective bargaining agreement guarantees the laid-off employees who belong to the union two weeks of severance for every year or partial year worked. But the contract also entitles the union to negotiate additional severance terms.
The union and EMILY's List's human resources team were only able to meet to discuss the union's additional demands on Monday, which was most laid-off employees' last day on the job.
During that meeting, the union asked for EMILY's List to extend health insurance coverage for laid-off employees until the end of the year, a one-week increase in severance pay, and a lengthier period in which they would get priority for job interviews should EMILY's List post a job with a similar description to the one the ex-employee previously occupied. The outcome of those negotiations is still unclear.
For some ex-staffers, getting additional relief would have a significant impact on their lives. At least two laid-off young staffers recently moved to Washington and signed new apartment leases in order to work for EMILY's List. And one laid-off employee has a serious medical condition that exposes them to major risks during any gap in insurance coverage.
"They're really disorganized and bad at what they do," said the person close to employees affected by the layoffs. "It feels like they're very interested in senior staff, and they don't really care about junior level staff at all."
Support HuffPost
The Stakes Have Never Been Higher
Popular in the Community