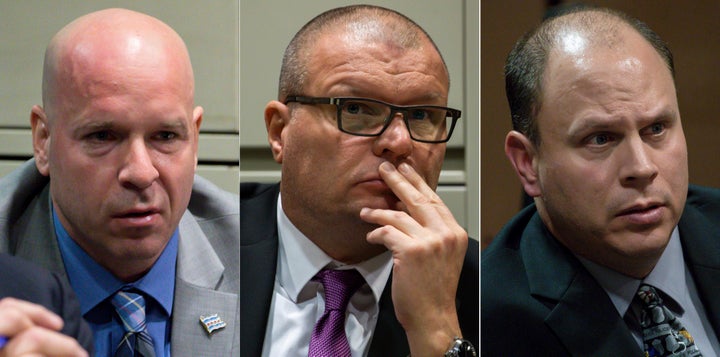 CHICAGO (AP) — A judge has acquitted three Chicago police officers of trying to cover up the 2014 shooting of black teenager Laquan McDonald to protect another officer who pulled the trigger.
Judge Domenica Stephenson said Thursday that after considering all of the evidence, including police dashcam video of the killing, she did not find that officer Thomas Gaffney, Joseph Walsh and David March conspired to cover up the shooting.
The prosecution's case centered on crucial discrepancies between what was on the dashcam video and what the officers wrote in their reports, contending that the reports' remarkable uniformity was evidence that the officers were trying to protect Van Dyke from criminal prosecution.
But the judge rejected that argument.
Police officers in the courtroom gallery clapped a little when Stephenson was done delivering her verdict.
Prosecutors allege that the three officers lied in their reports to try to protect Officer Jason Van Dyke, who fired all 16 shots that struck McDonald.
Van Dyke was convicted in October of second-degree murder and 16 counts of aggravated battery — one for each shot — and is due to be sentenced by a different judge on Friday.
REAL LIFE. REAL NEWS. REAL VOICES.
Help us tell more of the stories that matter from voices that too often remain unheard.