LaQuan Smith's daring and exquisitely tailored designs have been worn by the likes of Lady Gaga, Rihanna, Tyra Banks and Alicia Keys, to name a few. Beyond his celebrity clientele, Smith's eye-catching threads are rapidly becoming must-haves for fashion lovers everywhere.
So when we heard he was teaming up with The Joffrey Ballet to create a costume for Nardia Boodoo to perform Jeremy McQueen's "Black Iris" we were intrigued and had to get the scoop. What caused such an amazing collaboration? How did he turn his penchant for textiles like PVC, scuba neoprene and patent leather into a twirl-worthy tutu and leotard? We got the answers to those questions and so much more--check out our chat with the talented designer below.
How did this partnership come about?
I was referred by Emil Wilbekin from ESSENCE. I guess Joffrey was just looking for someone to take the job and create something unique. Because the whole idea of Joffery is modern ballet. It's not your typical old school, romance, 18th century ballet. Everything is modern, the whole concept of the dance--so I think they wanted to take that same technique with the costumes.
That's exciting! Did you accept the job immediately?
When I finally met the choreographers and the entire Joffrey team, I was so inspired. It felt right. I had never done anything like this before so I was totally out of my element. But in the end it was a perfect match.
What was the inspiration behind the dance choreography and costume?
The dance was inspired by the "Black Iris" painting by Georgia O'keeffe. I did some research on the piece, and it's a beautiful portrait of a flower that was so dark, edgy and romantic--all in one. The colors are black, eggplant and a stormy grey. So it's not a bright flower, which made it a challenge as well, because I didn't want it to look like a typical black dress. So it was a very cool challenge.
Did you encounter any other challenges or roadblocks during the design process?
I definitely did find some challenges in the conflict between the fit of the dress and the ballerina's movement. I'm known for scuba, but this was a very specific neoprene that I used to create the silhouette of that perfect A-line ballerina tutu, flowery pom-pom effect.
This dress/costume definitely looks like something she could rock off the stage!
Yes! She could easily twirl and do her dips on the stage and go "Oh! Let me go to the after-party in the same dress!"
So from start to finish how long did the costume take to complete?
It took 3 months to conceptualize the costume. Then two solid weeks on making the dress. But it took me 3 to 4 days to construct the petals. We got these beautiful black silk petals shipped in from Milan, and we also got some eggplant-hued roses. We have to deconstruct the flowers to make them Iris', which have 3 petals. We literally tacked them on by hand--there have to be over a thousand petals on that dress!
Wow! Sounds like a taxing but amazing experience.
It inspired me to the max. I started to get all of these inspirational concepts for my spring collection with petals and gardens.
We can't wait to see that! In the meantime, will you be collaborating with The Joffrey Ballet again?
I would totally do it again. They have definitely opened up the conversation about doing some more projects with them. I don't know what they have in store, but I don't think this is going to be the last time I work with them.
We agree, especially after receiving such a glowing review and endorsement from Alexei Kremnev, the Joffrey Academy Artistic Director.
"Working and collaborating with LaQuan Smith was a genuine pleasure. Not only does he organically feel the pulse of the modern world, but he also has a perfect sense of his edgy style while remaining timeless and classy. His colors and fabrics are beautiful and I'm certainly looking forward to work with him again very soon," Kremnev told The Huffington Post in an email.
Check out the slideshow below to see Smith's vision go from the first fittings to a showstopping creation.
Before You Go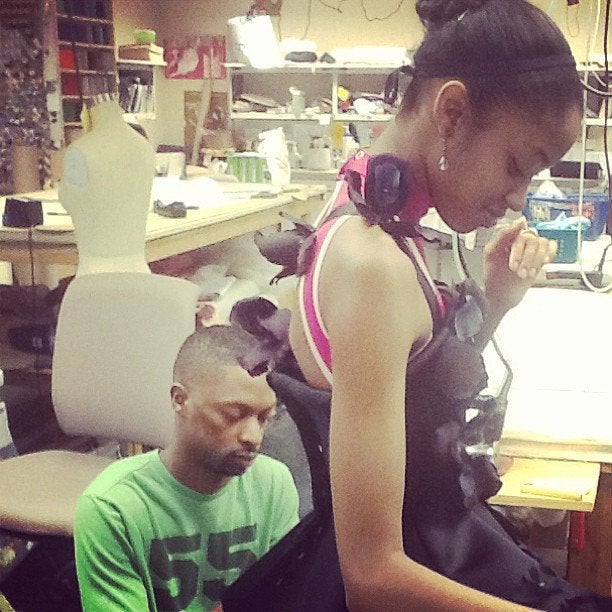 The Joffrey Ballet + LaQuan Smith
Popular in the Community