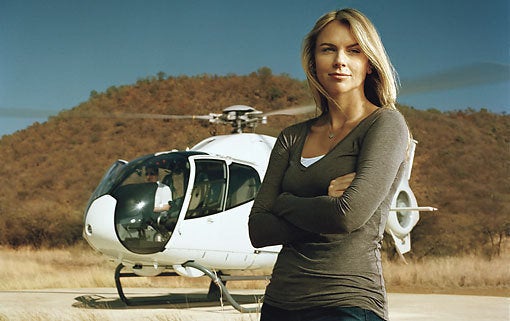 Lara Logan is pregnant and will marry the father of her baby, Joe Burkett, the state department contractor whose marriage she was accused of destroying. Rumors swirled around Logan's romantic life last month, including a love triangle involving CNN's Michael Ware. Now, Logan has told the Washington Post's Howard Kurtz that she is expecting a baby and will marry Burkett "eventually" (presumably once their respective divorces are finalized):
Now, having just moved to Washington with an expanded portfolio for the network, Logan finds her romantic life reduced to tabloid fodder. And there is a new complication: She recently discovered that she is pregnant.

"Nobody likes to read about themselves like that, especially the way it's been sensationalized," Logan says of the coverage that spread to the front page of the New York Post, which called her a "sexy CBS siren" and "in-bedded reporter." "I hated it. But I'm just going to rise above it and keep going." The baby is due in January, she says, and she is "looking forward to being a mom."

Logan, 37, says she and Burkett plan to get married eventually. Her divorce is slated to become final in two weeks, and Burkett's divorce trial is likely to end next month. But the case has turned decidedly messy, with Burkett's estranged wife Kimberly, the mother of their 3-year-old daughter, charging that Logan broke up her marriage.

Logan became pregnant shortly before leaving Baghdad in April, although she did not know it at the time, and flew to New York to sign a new contract that would compensate her for her expanded responsibilities in Washington. Logan had spent the previous two months involved in negotiations that freed a kidnapped CBS videographer, Richard Butler, and says she felt that Iraq had become too dangerous for her. But she still hopes to report from there in the future.

The pregnancy was unplanned. Logan says she lost one of her fallopian tubes during an ectopic pregnancy years ago and believed at her age it was highly unlikely that she could get pregnant.
Last year, about two years after Logan and her husband had separated, she began a relationship with Michael Ware, a CNN correspondent in Iraq. Shortly after that romance ended in November, she started dating Burkett, a friend she had met years earlier when both were working in Afghanistan.
Read the entire Washington Post article here.
Related
Popular in the Community