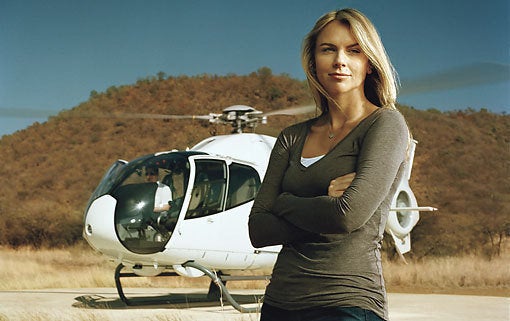 Update: For more details on the Logan's Baghdad love triangle — revealed to include CNN's Michael Ware — click here.
The ENQUIRER has learned exclusively that CBS Evening News and 60 Minutes foreign correspondent, Lara Logan, has been named as the "other woman" in a Texas couple Joe and Kimberly Burkett's bitter divorce.

Burkett's wife Kimberly, 32, was so distraught with his cheating that she took an overdose of Valium

Kimberly Burkett's attorney Susie Chmielowiec told The ENQUIRER, "Kimberly believes Lara stole her husband - and now they're trying to steal her little girl."

And in a twist that's as shocking as any story Lara has covered, sources are charging she also had another affair, and her two lovers got into a brutal battle over her in Baghdad!

Sources charge that the Emmy winning Logan began her affair with 36-year-old U.S. State Department contractor, Burkett in war-torn Baghdad.
The Enquirer further goes on to report that Logan was also involved with an unnamed "star CNN correspondent" and that Katie Couric, Logan's CBS News colleague, "blew a gasket" over the news of Logan's sex scandal:
"When [Couric] heard the allegations about Lara, she exploded," a source told The ENQUIRER.

"Katie's upset because it reflects badly on everybody at CBS, but particularly the women there,"
Full release on Logan's CBS News promotion below:
LARA LOGAN IS NAMED CHIEF FOREIGN AFFAIRS CORRESPONDENT FOR CBS NEWS
AND WILL BE BASED IN WASHINGTON, D.C. WITH EXPANDED DUTIES
She Will Continue as a Correspondent for 60 MINUTES
Lara Logan, whose bold reporting from war zones over the past 17 years has earned her a prominent position among the world's best foreign correspondents, will become CBS News' Chief Foreign Affairs Correspondent and will be based in Washington, D.C., it was announced by Sean McManus, President, CBS News and Sports. The appointment is effective immediately.
Logan will expand her international reporting responsibilities to include foreign affairs and international security issues, as well as U.S. policy as it is made across government departments and agencies. She will continue to travel internationally to cover major stories.
"Lara is among the most talented and respected journalists in our industry," said McManus. "She is extraordinarily determined and courageous, but never fails to see and report the human side of conflict, including some of the most horrific stories of our time. Lara's deep and varied experience around the world over the past 17 years positions her remarkably well for covering this expanded beat, which she will handle with the same fervor and dedication that our viewers have come to expect."
Logan has been CBS News Chief Foreign Correspondent since February 2006; she became a correspondent for 60 MINUTES the same year. Logan joined the Network in 2002 as a correspondent and a contributor to "60 Minutes II" (2002-04). She will continue to report regularly for the CBS EVENING NEWS WITH KATIE COURIC and will periodically appear on THE EARLY SHOW and FACE THE NATION, in addition to her 60 MINUTES duties.
Logan's daily reports have been an integral part of CBS News' coverage of the war in Iraq, both before and after U.S. troops moved into the country. She was the only journalist from an American network in Baghdad when the U.S. military invaded the city, reporting live from Firdos Square as the statue of Saddam fell. Since then, she has spent the majority of her time in Iraq and Afghanistan. Logan broke the story of the abuse of special needs Iraqi orphans on the CBS EVENING NEWS in June 2007, a report that made headlines around the world. Also last year, she reported from Pakistan on the death of Benazir Bhutto and its aftermath.
Logan's reports for 60 MINUTES have included a penetrating interview with Pakistani President Pervez Musharraf after the assassination of Bhutto; a rare one-on-one interview with Gen. John Abizaid when he was the Commander of United States Central Command; a report on the airport road in Baghdad, then the most dangerous piece of asphalt in the world; and a report on the U.S. military's strategy for retaking Tal Afar, an Iraqi city held by insurgents that became the blueprint for doing the same in other strategic towns.
Logan's reporting from the frontlines of Afghanistan and with the Green Berets searching for Al Qaeda and Osama Bin Laden appeared on "60 Minutes II" and on the CBS EVENING NEWS, THE EARLY SHOW and CBS News Radio, for which she served as a general assignment reporter. While reporting for a "60 Minutes II" story about the intense battle being waged at the Afghanistan-Pakistan border in 2005, Logan's vehicle, traveling with the U.S. military, hit a double-tank mine. The explosion seriously wounded two soldiers; she escaped with minor injuries. Her other "60 Minutes II" reports included an interview with the King of Swaziland, who was being sued by the mother of a girl who was taken to be his 10th wife, and a report on legalized assisted suicide in Switzerland.
Logan received an Emmy Award, an Overseas Press Club Award and an RTNDA/Edward R. Murrow Award for "Ramadi: On the Front Line," a powerful 2006 report on American troops under fire in Ramadi, Iraq, a piece Logan and her producer shot themselves while embedded with a U.S. military unit. She has also received five American Women in Radio and Television Gracie Awards: in 2008 for Outstanding Feature-Hard News for the Iraqi orphans story; in 2004 for Individual Achievement for Best Reporter/Correspondent; in 2003 for Best News Story for her CBS EVENING NEWS report on the attempted assassination of Afghan President Hamid Kharzi; in 2002 for Best News Story for her CBS News Radio coverage of the war in Afghanistan; and in 2000 for Best News Story for her CBS News Radio coverage of the Israeli-Palestinian conflict. She received the David Bloom Award in 2008 from the Radio & Television Correspondents Association for excellence in enterprise reporting and the 2007 Association of International Broadcasters' Best International News Story Award for her report on the Taliban.
Before formally joining CBS News in 2002, Logan already had 14 years of journalism experience, including 10 years in the international broadcast news arena. She served as a correspondent for GMTV, the weekday morning news program of Great Britain's ITV (2000-02), and as a freelance correspondent for CBS News Radio, from which she occasionally appeared on the CBS EVENING NEWS. Logan reported on the war in Afghanistan, Middle East violence, the Mozambique floods, the land invasions in Zimbabwe and the India earthquake. Previously, she served in a variety of freelance assignments, including as a correspondent for ITN and Fox/SKY, an assignment editor for CBS News and ABC News in London, and an editor/producer for NBC, CBS and the European Broadcast Union (1996-99). Logan also served as a freelance correspondent for CNN (1998-99), covering the U.S. embassy bombings in Nairobi and Tanzania, the conflict in Northern Ireland and the war in Kosovo, among other stories.
She got her start in broadcast journalism in Africa as a senior producer for Reuters Television (1992-96). Logan began her career as a general news reporter for the Daily News (1990-92) and the Sunday Tribune (1988-89), both located in Durban, South Africa.
Logan was born in Durban and was graduated from the city's University of Natal in 1992 with a degree in commerce. She also holds a diploma in French language, culture and history from the Universite de L'Alliance Francaise in Paris. In addition to French, Logan speaks Afrikaans and basic Portuguese.
Related
Popular in the Community