 This article is part of a Huffington Post series on the global impact of austerity -- "A Thousand Cuts" -- from affordable housing funds lost in San Francisco to increasing class sizes in New York, food inspector cuts in Canada, disability benefits taken away in the United Kingdom, decimation of France's solar industry, and more. Click here for information on how you can help people affected by these measures.
NEW YORK -- When Shania started third grade at P.S. 148 last fall, she was thrilled to be back at the Queens public school. An outgoing eight-year-old, she said she was happy to be among her friends again, and she had loved her class the previous year. Her second-grade teacher would take the time to explain tricky topics like addition and subtraction one-on-one. She had even been named "student of the month."
But since 2007, as the economy has tanked and expenses for public schools have risen, New York City has made principals cut budgets by 13.7 percent. When budgets are cut, teachers are fired and others aren't replaced -- including at P.S. 148, which has lost at least $600,000 and eight teachers since 2010. When teachers are lost, class sizes balloon. Shania had 31 classmates this past school year, compared to 20 the year before.
"Mommy, I want to change," Shania said a week into the school year, according to her mother, Laynory Loaiza. "There are too many kids in my class, and when I try to talk to the teacher, she doesn't pay attention to me."
Shania liked her veteran teacher, Joan Barnett, but with 32 eight-year-olds to teach, Barnett said she simply didn't have time to slow things down and repeat lessons on multiplication and division more than twice.
Loaiza watched, in pain, as Shania's enthusiasm ebbed away. She would make up excuses, like stomach aches, to avoid getting out of bed on weekdays. "There was always a fight to get her to go to school," Loaiza said. "She'd never fought me before."
When Shania came home, she couldn't concentrate on her homework. "Writing, math and reading was hard for me," Shania said. "I need help with division, multiplication and subtraction."
"It's the first time I've seen her struggle in school," Loaiza recalled. "She started doing bad in math. Everything was hard."
After consistently receiving B's in previous years, Shania finished third grade this year with C's and D's. She was almost held back and forced to repeat the year.
Unlike a shrunken police or fire department, the impact of school cuts isn't always obvious. There are no bodies in the streets, no charred evidence of harm done. That has made school systems attractive targets for austerity-minded politicians across the country.
Thirty-four states have slashed their K-12 education budgets since 2008, according to the Center on Budget and Policy Priorities. Making sure class sizes don't explode nationwide would cost $10 billion annually, according to a March report from the Southern Regional Educational Board.
But impact of these cuts is visible when you look at kids like Shania, and the ripple effects can last a lifetime. Earlier grades are especially important, because that's when students learn the fundamentals -- how to read, write, add and subtract -- that undergird the rest of their education. Studies have shown that students who don't learn to read proficiently by third grade are much more likely to drop out. Third grade is also the year students start taking standardized tests, which can alter their educational futures.
__________________________________________________________________________________
HuffPost readers: How many students are in your or your child's class? Do you face larger class sizes in your local schools? Email offthebus@huffingtonpost.com, and include a phone number if you're willing to be interviewed.
__________________________________________________________________________________
Even the strongest supporters of increasing class size acknowledge the strategy can be devastating in earlier years. In its recent report, the Southern Regional Educational Board advocated larger class sizes overall to save money in cash-strapped states, but cautioned against expanding classes at lower grades.
Test scores already show a growing chasm between rich and poor schools. If cuts continue, a whole generation of students may be left behind.
The Education Department's most recent data show that class sizes averaged 20 students in elementary schools and 23.4 in secondary schools in 2008, before the recession took its toll. While it's tough to nail down the number of teachers who have been laid off in the last few years, since the reporting of that information is delayed, school districts across the country are repeating Barnett's tale of class growth.
Two years ago, she had 20 students. Last year, she had 21. This year, she had 32 -- a 60 percent increase over two years.
"Next year, I might have 34 kids," Barnett said. "We didn't even have enough desks [this year]."
At the beginning of this school year, the United Federation of Teachers, the union representing New York City's educators, released a study of 900 schools showing that 61 percent of middle schools and 59 percent of high schools increased the size of their classes. Add in cutbacks in school supply budgets and textbooks, the study found, and 91 percent of New York City's schoolchildren felt the pain of belt-tightening.
Likewise, teachers in McAllen, Texas, reported having 50 students in their classes this year, and a Las Vegas kindergarten teacher had 41 kids. According to the National Education Association, there are as many school jobs now as there were in April 2005 -- but 300,000 more students.
The cuts nationwide would have been much worse were it not for a pot of money President Barack Obama inserted into the 2009 stimulus act that saved 250,000 education jobs. That money is drying up this year, leaving school districts scrambling to plug budget holes.
In recognition of this problem, Obama last year proposed the American Jobs Act, which would, among other measures, preserve teacher jobs -- but the legislation stalled in a gridlocked, hyperpartisan Congress. Without it, the administration projects that over the next four years, 280,000 more teachers will be laid off.
Mitt Romney, the Republican candidate for president, has criticized the president for sending money to the states for such purposes. "He wants another stimulus. He wants to hire more government workers," Romney said last month at a press conference. "He says we need more firemen, more policemen, more teachers. … It's time for us to cut back on government and help the American people."
Barnett said larger class sizes make it difficult to be an effective teacher, because it's harder to tailor lessons to so many students' specific skill levels. With 32 kids, working in small groups becomes the stuff of fantasies. "It used to be four to five in a group, but now it's eight to 10," Barnett said. Those groups are bound to grow, since her school lost another four teachers this year.
Shania's parents asked the school to switch her into a smaller class, but it didn't. "They told us the other classes were big, too," Loaiza said.
School officials at P.S. 148 did not respond to requests for comment.
Third grade was the worst possible year for Shania to be stuck in a huge class. The No Child Left Behind law mandates standardized tests starting in third grade, and if she failed the state exam, she'd have to repeat the grade. (New York Mayor Michael Bloomberg no longer allows the city's schools to promote students based simply on their age.) The stakes for Shania had never been higher.
Making matters worse, Shania had trouble at home. Her parents had separated over a year ago, and they would use Shania as a wedge in their fights, according to Loaiza. Since the split distracted her, Shania needed a teacher who could check that she was paying attention and understood the material.
"Some of these students needed more academic and emotional help," Barnett said. "They're only eight years old."
And Shania, Barnett recalled, needed more help than the teacher could give. "She has focusing problems. After I do anything, I have to spend a few minutes with her," Barnett said. "She didn't really get [math]. Whose fault is it? I think I could have given her more help, one on one, but I didn't have the time."
As the state exam approached, Shania racked up 60 hours with tutors, two provided by the school and another private one who cost her family $100 an hour. They might not have been necessary had her class size been smaller. She passed the test by a hair.
Next year, though, Shania won't be back at P.S. 148. The school is convenient because relatives who live nearby can take care of her after school. But third grade was so traumatic that Shania will be attending another Queens school closer to her home.
"I'm worried about what happens after school because I work at night, but I don't care," her mother said. "I don't want my daughter to go through that again."
Related
Before You Go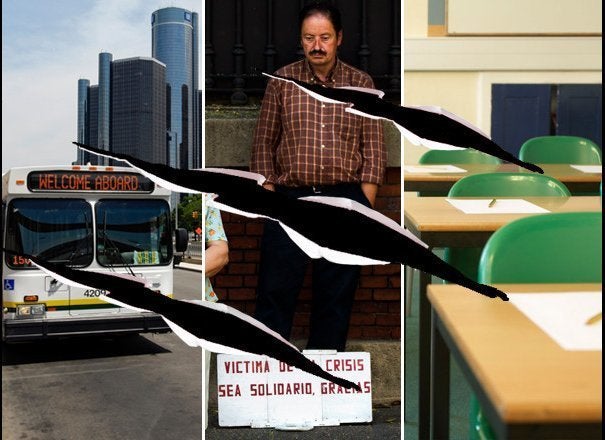 A Thousand Cuts: Life Under Austerity Measures
Popular in the Community