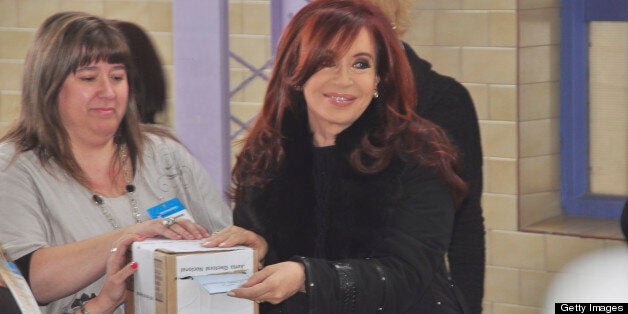 Like an aging boxer still climbing into the ring when past his prime, Argentina's President Cristina Fernández de Kirchner is on the ropes and staggering in response to the pummeling she is getting in the streets.
Kirchner's latest gambit to push through legislation allowing voters to pick and choose the magistrates who appoint and remove judges sparked a protest of hundreds of thousands in the most recent demonstrations in the country.
While Argentinians have historically been very supportive of the sitting government, the fact that people are protesting in numbers not heard of since the 2001 economic collapse is revealing.
The economic ship of Argentina has been floundering for some time now and it will be interesting to watch how Kirchner reacts to this latest backlash.
With Argentina on the bank of the bankruptcy river and membership in the IMF (International Monetary Fund) at risk, potential saviors in the form of international investors do not believe the financial data coming out of Buenos Aires.
With growing debt, runaway inflation and an economy which is on life support, there is nothing going on in Argentina to attract international investors.
The U.S. government is unwilling to offer any financial assistance and while allies such as Brazil and Mexico would prefer to see an economically stronger Argentina, the financial hole is too deep and getting deeper daily.
Argentinian public service employees have consistently been getting paid late and this is another bad omen for the country. If public services are allowed to come to a halt, the country would go into an economic free fall.
Many in the opposition feel it's time that Kirchner stop stepping around the economic failures by picking fights with other governments, concentrate on its own problems and start giving CPR to the national economy. However, Kirchner is allegedly busy laundering money and sending dollars to Switzerland by way of Venezuela and the Caymans.
You can reach the author here.
Related
Popular in the Community