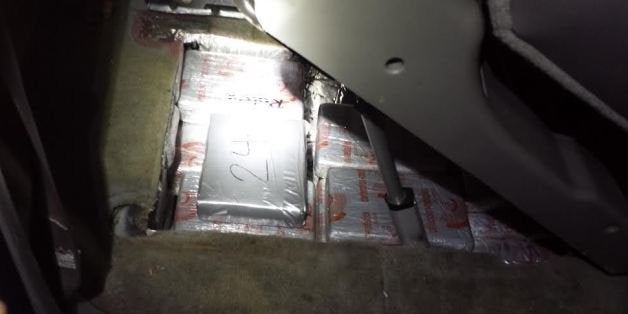 The Drug Enforcement Administration announced Tuesday that it has seized 154 pounds of heroin, worth $50 million, from a secret compartment in a vehicle in New York City, in addition to collaring two men believed to be running a massive drug ring along with a Mexican cartel.
It's the largest heroin seizure the state of New York has ever seen, and the fourth-largest ever in the United States, according to a DEA press release. Jose A. Mercedes (aka "Hippie") and Yenci Cruz Francisco were arrested Sunday in the Bronx after a yearlong investigation by DEA agents, New York City Police Department investigators and state police detectives.
"The $50 million street value of the heroin in this case is a conservative estimate. To put it in perspective, this load was so large it carried the potential of supplying a dose of heroin to every man, woman and child in New York City," DEA Special Narcotics Prosecutor Bridget G. Brennan said in the release. "While this important seizure stopped a huge amount of heroin from flooding our city, it also highlights the critical need to intercept heroin before it ever reaches our region."
Seventy kilograms (154 pounds) of heroin and over $2 million in cash were seized.
According to the release:
A court authorized wiretap investigation revealed that MERCEDES and his drug trafficking group received sizable shipments of heroin at least once a month from suppliers in Culiacán, Mexico, an area controlled by the Sinaloa Cartel. The organization is believed to have served as a main source of heroin for customers throughout the five boroughs, as well as Connecticut, Massachusetts, Pennsylvania and Rhode Island.
Over the weekend, agents followed Mercedes and Cruz Francisco as they drove a Chevy Suburban to an industrial parking lot in Montville, New Jersey. There, the pair allegedly picked up a large drop of heroin. When they got back to New York, agents maintained surveillance until Sunday morning, when the pair left a Bronx apartment in separate vehicles.
They pulled Mercedes over in a Kia Sorrento, and the DEA alleges that "Several large bags containing a tan powdery substance were recovered from the front seat of the car and from a hidden compartment in the center console."
Cruz Francisco was stopped in the Suburban, where officers found a hidden compartment under the floor that contained 70 "rectangular shaped kilogram packages of heroin" labeled "Rolex," as well as $24,000 in cash.
Officers found the majority of the heroin in a secret compartment of the Chevy Suburban, seen here.
Subsequent searches of New York City apartments connected to the pair revealed $2 million in cash underneath floorboards and a .38-caliber firearm.
$2 million in cash was seized under the floorboards of a Bronx apartment, seen here.
Mercedes and Cruz Francisco were arraigned in Manhattan Criminal Court on charges of operating as a major trafficker and first-degree possession of a controlled substance, and held without bail. They're scheduled to appear in court again on Friday.
Last month, the New York Daily News reported that heroin is making a big comeback on the East Coast. In New York City, fatal heroin overdoses have exceeded homicides over the past two years, and cops seized $300 million worth of heroin in 2014, according to the paper.
Popular in the Community