It's not often that science fiction and dystopian tropes are used to light-heartedly comment on the future of the Palestinian regions. "You expect Palestine to be political and talked about in such serious terms," says artist Larissa Sansour. "You don't expect humor."
Humor is but one of the tools Sansour employs in her two-part exhibition, "Science Faction," on view at Dubai's Lawrie Shabibi gallery now. Playing with American pop culture references, facets of futurism and a healthy dose of demure comedy, the Jerusalem-born, Palestinian artist tackles a subject sensitive to many -- the Israeli-Palestinian conflict.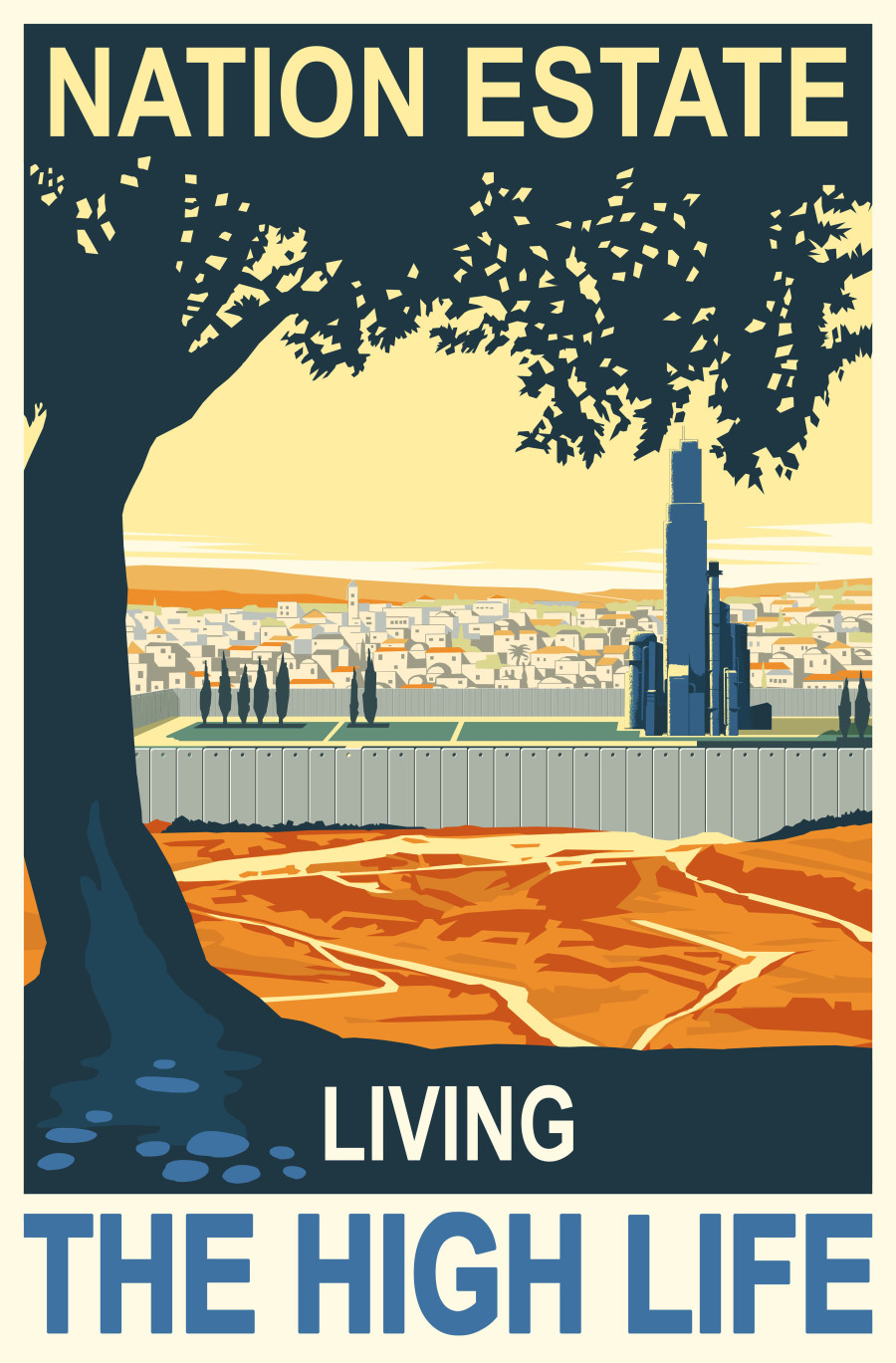 Larissa Sansour, Poster, 2012, 150 x 100 cm. Courtesy Lawrie Shabibi and the artist.
By nature, Sansour's take on a Palestinian future is fantastical. In "Space Exodus," one of of two video projects on view, the artist ventures to the moon as an astronaut, planting the Palestinian flag on the lunar surface. The victorious moment is brief, as Sansour is quickly unable to get in touch with her command station in Jerusalem to convey the news. "Jerusalem, we have a problem," she utters. A hopeful moment clashes with the realization that relations between Israel and the Palestine territories are still dismal, even in this parallel universe where a Palestinian astronaut conquers the moon.
"Read in a direct way, it's about saying it's easier to reach the moon than reach Jerusalem," Sansour explained.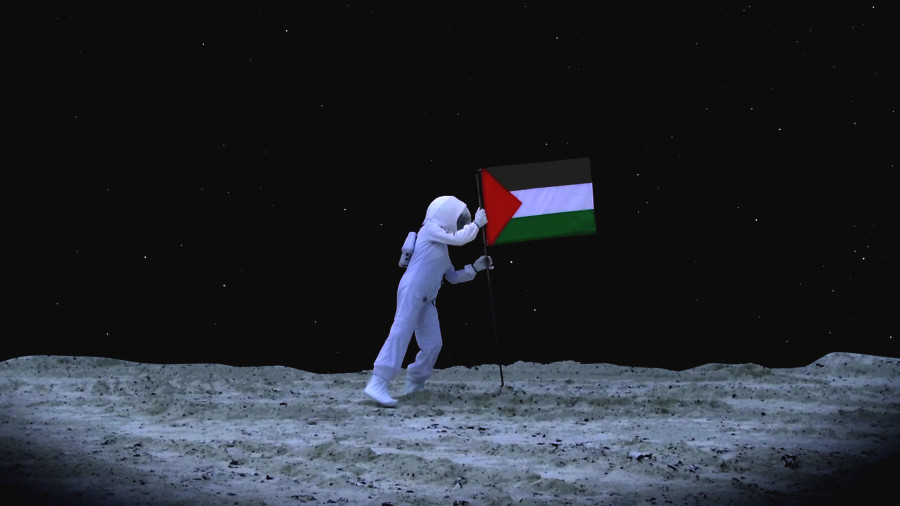 Larissa Sansour, Flag, 2009, 67.5 x 120 cm. Courtesy Lawrie Shabibi and the artist.
Unlike "Exodus," "Nation Estate" takes place on planet Earth, in a mammoth high-rise that houses the entirety of the Palestinian people in one easy-to-navigate complex. Blurring the lines between utopian and dystopian realities, she paints a seemingly peaceful, albeit unfathomably sterile future where walls cease to function as barriers to human interaction.
"In a way there's something positive about 'Nation Estate.' There are no check points and people can visit one city from another just by the use of the elevators. It's an easy life that questions progress in general. Certain things are becoming easier, yet this skyscraper environment is completely inorganic," Sansour stated. "It's actually really a mockery when you think about it -- living in a skyscraper. So it's completely dystopian in the end."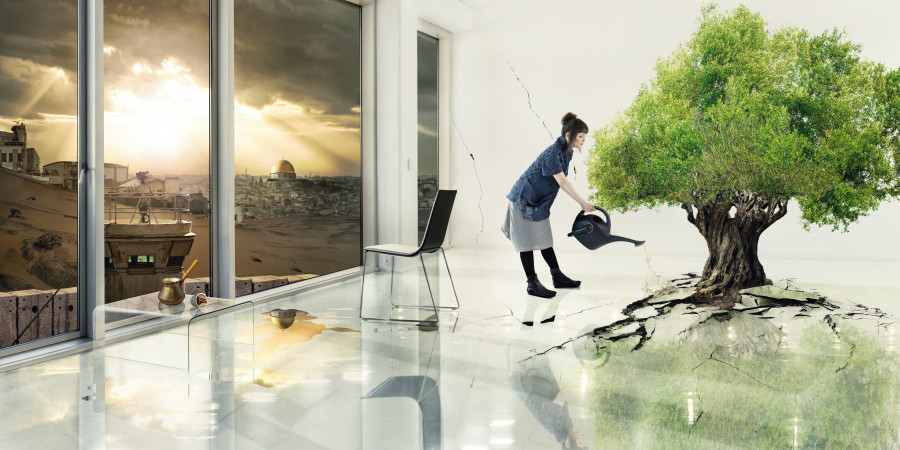 Larissa Sansour, Olive Tree, 2012, 120 x 240 cm. Courtesy Lawrie Shabibi and the artist.
"Nation Estate" has garnered attention in the past, particularly in 2011 when Lacoste deemed the work "too Pro-Palestinian" for an award administered by the Musée de l'Elysée. The scandal turned Sansour's quiet idea for a video project into an international talking point amongst both the intellectual elite and the internet's dedicated social media users.
"It wasn't just the art world that was angered. I received emails from all walks of life telling me that they had returned the products they'd just bought from Lacoste," Sansour recounted. "It's just incredible that you could get such feedback before you even started working on the project. Honestly, when I first suggested the idea, I actually did not see why it would be controversial. Only because of the scandal was I able to see a wide idea of the sensitive points and shape many of the details in the film based on them."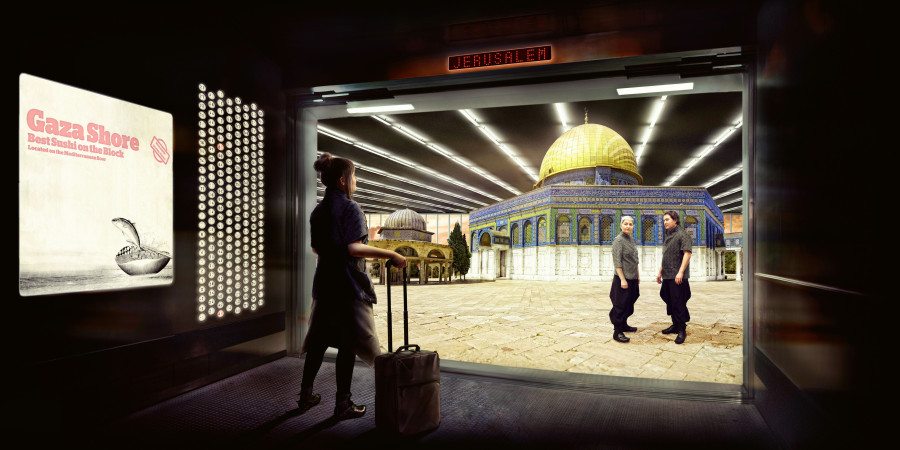 Larissa Sansour, Jerusalem Floor, 2012, 75 x 150 cm. Courtesy Lawrie Shabibi and the artist.
The details of the film that ended up in the final "Nation Estate" image oscillate between fact and fiction. Sansour created a new Palestinian state entrenched in over-used sci-fi cliches -- clinical living spaces, uniforms, futuristic food. Yet the world is strikingly familiar, incorporating issues faced by Palestinian and Israeli citizens today, such as the geographic separation of families and the inability to migrate from one space to another without coming head-to-head with decades of identity politics.
"When you are constantly in a documentary, and portrayed as victims and the object of analysis, you realize the position of the analyzer actually has a lot of power," said Sansour. "I thought, I have the right to claim tools that are being used in filmmaking just as the rest of the world does. I want to raise awareness -- that's it's one thing to sympathize with the Palestinian people, but it's more beneficial to create facts from the ground."
"It is quite amazing how fast [Israel] was built and how big the country is," she added. "Most importantly, Israel has been successful at creating facts on the ground. I'm interested in finding positive ways of dealing with this. How can Palestinians protest their rights by spreading facts on the ground. Why not create a parallel universe, using a language that's never been used."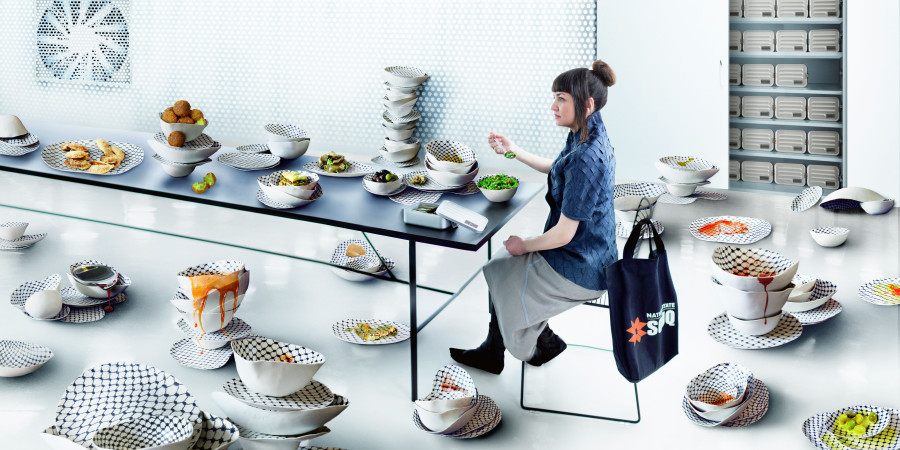 Larissa Sansour, Food, 2012, 75 x 150 cm. Courtesy Lawrie Shabibi and the artist.
"Science Faction" is nearing its close in Dubai, as the show is slated to end on November 12, 2013. But Sansour does have plans to continue the series, this time addressing the primary role archeology plays in the construction and reconstruction of Israel's history. She hopes to bury porcelain bearing the cultural marks of the Palestinian people in Israel, providing "artifacts" for future archeologists to discover.
"What's happening there is a huge break of human rights. But the fact of the matter is that audiences have become immune to what's going on," Sansour concluded. "Even me -- I can't watch the news and be really engaged. The world has become immune and the conflict has reached an impasse. We need to re-engage with the topic in a different way."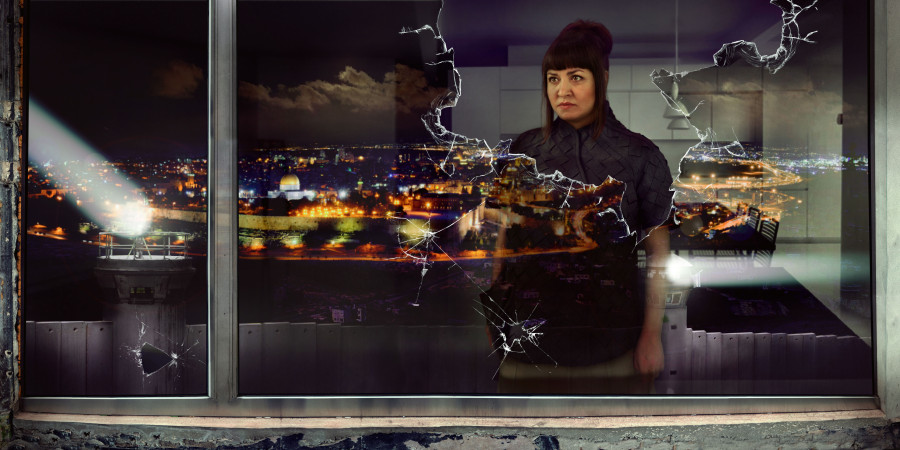 Larissa Sansour, Window, 2012, 75 x 150 cm. Courtesy Lawrie Shabibi and the artist.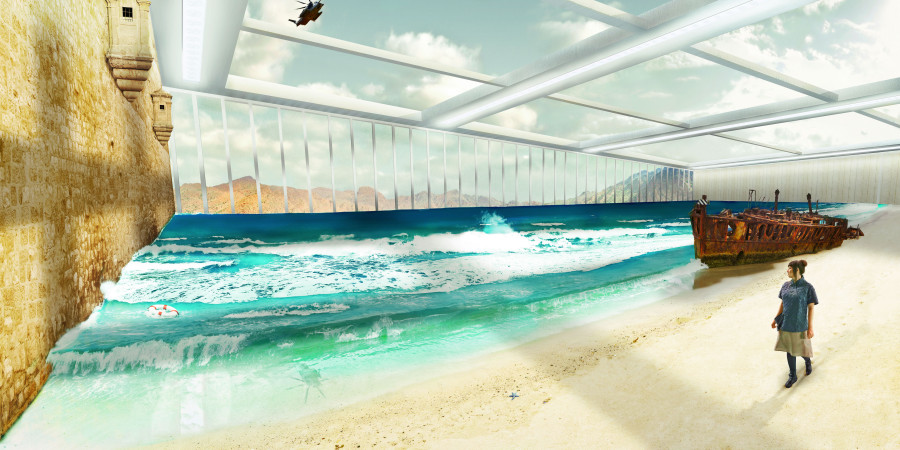 Larissa Sansour, Mediterranean Floor, 2012, 75 x 150 cm. Courtesy Lawrie Shabibi and the artist.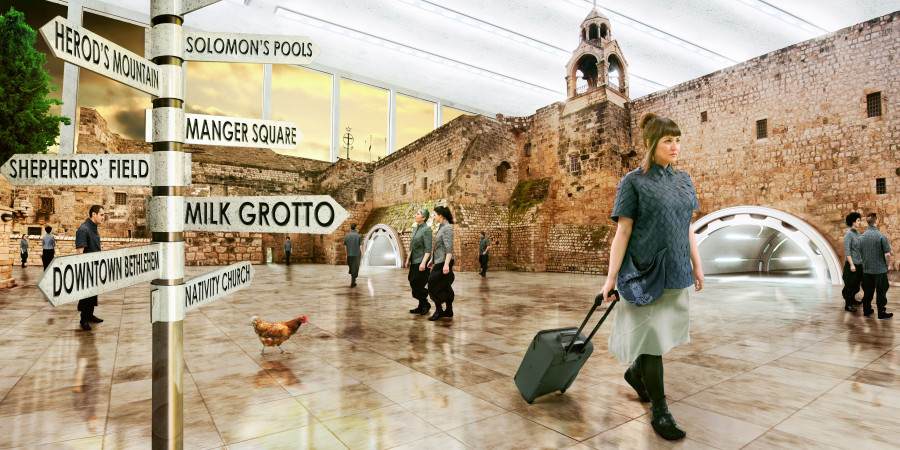 Larissa Sansour, Manger Square, 2012, 75 x 150 cm. Courtesy Lawrie Shabibi and the artist.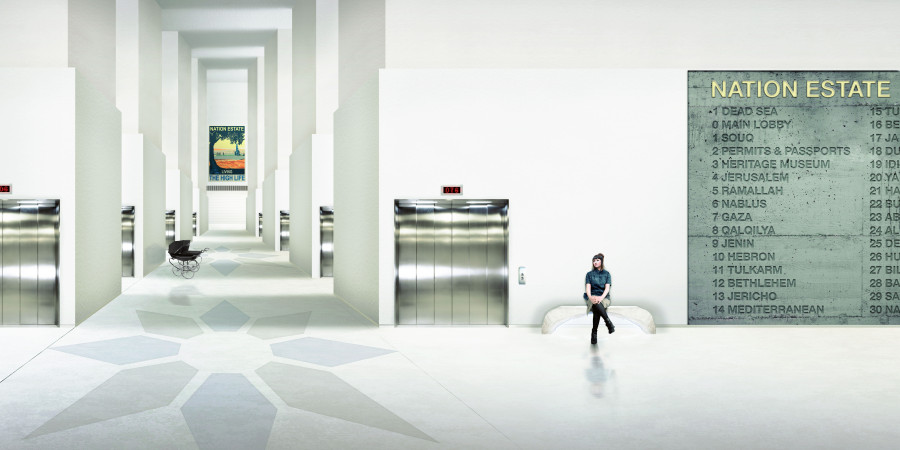 Larissa Sansour, Main Lobby, 2012, 75 x 150 cm. Courtesy Lawrie Shabibi and the artist.
Related
Popular in the Community