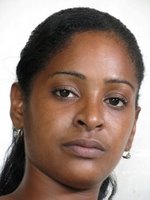 Today I would like to introduce as a guest blogger Laritza Diversent, a young woman who has been blogging for some time but only recently has had her blog, Laritza's Laws, translated into English. Laritza graduated from Law School at the University of Havana in 2007, and works as a lawyer and independent journalist. With other attorneys she has formed the Cuban Legal Association to educate Cubans about their legal rights under the country's Constitution and body of laws.

The Cops
By Laritza Diversent
At 100th Street and the Havana-Melena Highway, in the capitol municipality of Arroyo Naranjo, there is a landfill. The state companies dump their waste there. The rot, stench and birds of prey are a part of the environment. And then there are the "divers", people looking for anything, serviceable or not, who immerse themselves in the mountains of trash.
The authorities have banned entry to the site, but the population turns a blind eye to the prohibition. More than thirty or forty people a day visit this dump. Some are looking for food for pigs. Others, commodities to sell in state stores. They always find something.
From time to time someone yells "cops" and everybody runs. Some manage to escape the operation, others are put in the police van. They know they'll come out of it with a fine of at least 200 Cuban pesos.
"It seems easy to tell about it; what you never forget is the abuse of power the police used," said Diego Ramos, a young man arrested near the place for not having his identity card. It happened a while ago, but still leaves the bitter taste of impotence. At the time he was detained, Diego explained to the officer why he hadn't brought his ID card. He was living a kilometer away, and was headed to visit a family who lived near the entrance to the dump.
The policeman, a black man about six feet tall and weighing some 220 pounds, belonged to a specialized corps and repeated he didn't want to hear it. As the young man insisted, the agent slapped him in the face and threw him in the van. While recalling what happened, the anger rose in his face. "I had to stay with my arms crossed, I couldn't do anything, because I would lose," confessed Ramos.
They took him to the Cotorro Unit. After verifying his identity and that he had no criminal record, they let him go. He was detained for four hours. He wanted to report the agent. He asked his neighbor, a lieutenant colonel in the Ministry of the Interior, where he could make his complaint. The soldier said he was wasting his time if he didn't have witnesses. The other police officers would not support his version and the citizens who witnessed what happened would be nearly impossible to locate.
In Cuba it is not common to see a police officer beating a citizen in the public street, but that doesn't mean it doesn't happen. If you conducted a survey among citizens 16 to 35 years old, of one or the other sex, the results might surprise you. And we would discover that more Cubans than we imagined has been victims of some kind of abuse by the police. Like Diego Ramos. Or like the two young women in this graphic testimony from Robin Thom on Flickr.
Support HuffPost
The Stakes Have Never Been Higher
Related
Popular in the Community