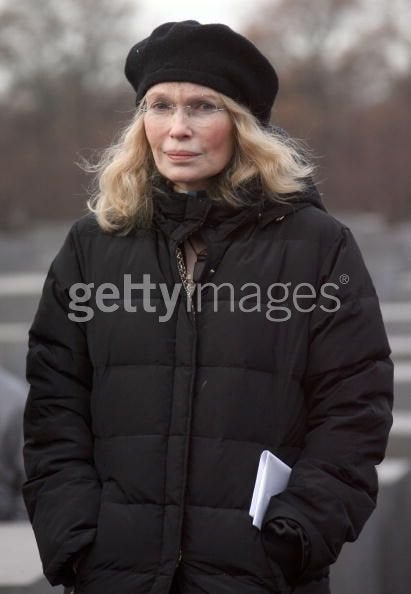 "Although the cause of her death was not disclosed, in1998, then-husband Christopher McKinzie claimed to Star magazine that Lark became infected with the AIDS virus from a tattooist's dirty needle." - NY POST on Lark Previn
Lark Previn, the Vietnamese-born adopted daughter of Farrow and musician Andre Previn, died on Christmas Day, the medical examiner said Monday.
Lark Previn, 35, a mother of two girls, had been ailing for a decade. A cause of death was not released.
Her two daughters, Sara, 13, and Christine, 12, sat in the front row at her wake last night at a Brooklyn funeral home.
Actress Mia Farrow sat in the front pew of a Brooklyn church Tuesday morning to bid a sad farewell to her adopted daughter Lark Previn, a mother of two who died Christmas Day after a long illness...

"She had dark moments in her life but she put one foot in front of the other and kept going," said the Rev. Timothy Tighe.

"She pushed herself deeply so that she might keep going [for her daughters.]"

The two girls - Sara, 13, and Christine, 12 - sat near their grandmother.
PLUS AN UPDATE: FROM THE AP:
NEW YORK - Lark Previn, a daughter of actress Mia Farrow whose sister Soon-Yi Previn was at the center of Farrow's messy breakup with Woody Allen, has died. She was 35.
Lark Previn died Christmas Day at New York Methodist Hospital in Brooklyn, the medical examiner's office said. No cause of death was given. A cremation was held Tuesday at Brooklyn's Green-Wood Cemetery.
Lark Previn was born in Vietnam in 1973. She was one of three children adopted by Farrow and her then-husband, conductor Andre Previn. The couple also had three biological children.
Representatives for Farrow and Previn didn't immediately return calls seeking comment.
Farrow adopted two children and had a biological son during her relationship with Allen. She starred in several of Allen's movies during their relationship, which ended in 1992 when she discovered that Allen was having an affair with her adopted daughter Soon-Yi, then 22.
The bitter custody battle that followed featured accusations by Farrow that Allen had sexually abused adopted daughter Dylan, 7. Allen was exonerated of the abuse charges but Farrow won sole custody of the children.
Soon-Yi Previn married Allen, who is 35 years her senior, in 1997. They have two adopted daughters.
The Farrow-Allen custody fight featured court testimony that Farrow favored her biological children over her adopted children, including Lark. A movie producer testified on Allen's behalf that Lark was viewed as a "scullery maid" who "did most of the chores." Farrow's supporters said she was a loving mother to all her children.