Activists are pushing for the release of body camera footage and the name of a local police officer who shot a 41-year-old black man in Paterson, New Jersey, this weekend.
Larry "Sincere" Bouie and Tasha Wade were in the car with their two sons when the vehicle's battery died near a police station on Saturday. Bouie tried to find help and ran into his brother, who was selling merchandise on a nearby street. His brother declined to assist the family because he was working.
Soon after, Bouie became emotional, Wade told the Paterson Times on Sunday.
"He was wilding and going crazy," she said. "We tried to call an ambulance and calm him down, but couldn't calm him. Then police came. She got out of the car, he was still acting crazy, she pulled out her gun, and she shot him."
Bouie was unarmed at the time of the shooting, his brother and Wade say. He is now in critical condition at St. Joseph's Regional Medical Center.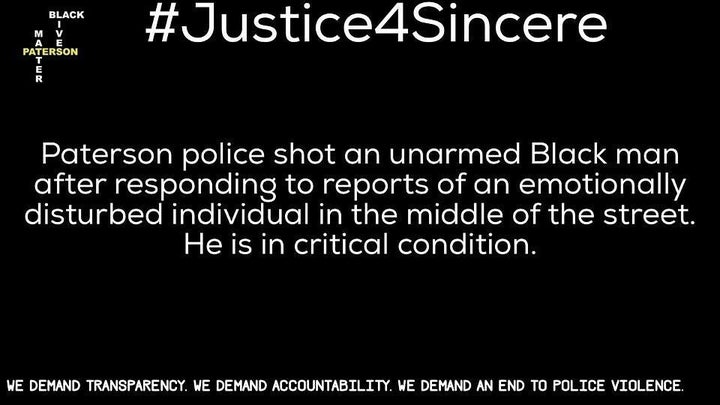 The Passaic County Prosecutor's Office launched an investigation into the shooting on Sunday. A spokeswoman for the office sent The Huffington Post a press release that contained very little information, and declined to comment further.
The lack of details has left Bouie's family and local activists demanding answers.
"This is not an isolated incident," Alexis Miller, a leader in Paterson's Black Lives Matter chapter, told The Huffington Post. "We want people to know that Sincere is not the only person this is going to happen to, or has happened. And that it's important to support all local organizations who are fighting this fight."
Black Lives Matter activists have started a petition asking investigators to release the name of the officer involved in the shooting, along with any police camera footage that's available. The group is also asking Paterson's city council to invest in training for officers on how to deal with people with mental health issues and to create a Civilian Complaint Review Board for greater transparency and accountability.
"As simple as that is," said Zellie Imani, another lead organizer for BLM Paterson, "we often see that it's the most difficult thing for a police department to give a community."
The Paterson Police Department has a history of police misconduct. In 1995, protests rocked the city after a white officer shot 16-year-old Lawrence Meyers, who was unarmed, in the head. In another gruesome case from 2013, Paterson police officers severely beat Alexis Aponte and Miguel Rivera after an altercation in a bar. An officer punched Aponte several times while he was handcuffed and then dragged him down the street.
According to Imani, members of Paterson's black community are distrustful of police not only because of these violent incidents, but also because there are few examples of investigations and justice. Police don't show up for instances of community violence, and when they do, they take a long time to report it, he said.
"People are realizing police are not needed for their safety and, sometimes, are a threat to their safety as well," Imani added.
Bouie's case echoes the recent police shootings of Renee Davis and Alfred Olango, who both needed help and instead became victims. Davis, a pregnant Native American woman, was fatally shot by Washington state sheriff's deputies who were dispatched to her home for a "wellness check" last month. Olango's sister contacted police in California for help in September because her brother was "not like himself," but they shot and killed the unarmed black man.
This story has been updated to include the Passaic County Prosecutor's Office's response to HuffPost.
Before You Go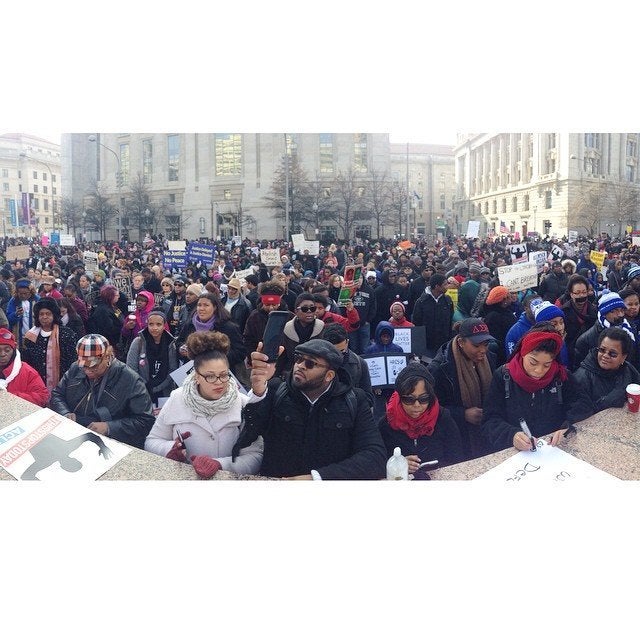 Powerful Black Lives Matter March In Washington
Popular in the Community