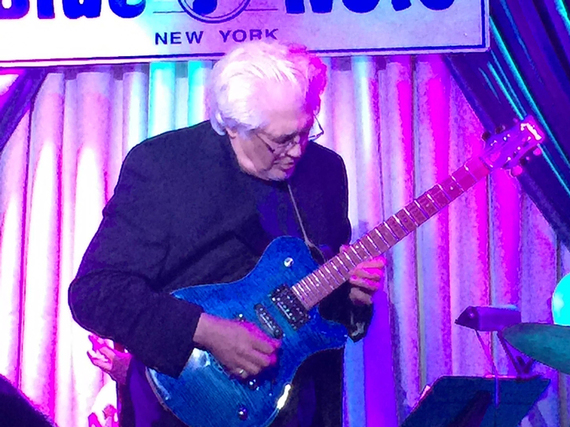 "This music still feels relevant," Larry Coryell, legendary Jazz guitarist and "Godfather of Fusion," said to the packed house at The Blue Note Friday night, "and if it feels good, then it is good."
Coryell and his old band, The Eleventh House, reunited for a string of dates at the New York club last week. Known for their high-energy blend of Jazz, Rock, and Funk, the band had gone through a number of personnel changes during its mid 70s heyday, and the line-up that took to the stage represented various eras with Coryell being joined by original members drummer Alphonse Mouzon and Randy Brecker on trumpet, along with long-time member John Lee on bass and Larry's son Julian, who has participated in several Eleventh House reunions in the last decade, on second guitar and guitar synthesizer.
Their performance consisted almost completely of material from their 1974 debut album, Introducing the Eleventh House with Larry Coryell (ironically, all of the promotional materials featured the cover image from their second album, Level One, from which virtually no material was played), focusing mostly on compositions by Coryell and Mouzon. However, it was clear from the beginning that the band was not merely attempting to recreate the old sound. They didn't want to pretend they were young. They didn't want to pretend that nearly 40 years hadn't passed. They certainly didn't want to pretend that they had not spent that time growing as musicians.
These were wiser musicians. Since his time in the original band, Randy Brecker went from being one of the young upstarts bringing soul and rock sounds into jazz trumpet playing (and vice-versa, as a founding member of Blood Sweat and Tears and ubiquitous session man) to his present status as one of the undisputed greats, a living legend noted for his ability to cross genres while remaining rooted in Bebop. His solos built from simple, sparse lines and melodies into powerful, angular statements.
John Lee, who had joined the band just prior to their 1975 album, Level One, added both funk and melodicism with his bass playing. Not content to merely sit in the groove, he frequently locked with the guitarists, exchanging phrases.
Larry himself played solos that were tasty and effective, pulling out a few of his famous fiery and blisteringly fast lines now and again for punctuation (and maybe to show any doubters that he still could), but was more often playing expressively, focusing on melodic invention, more about the notes he played than how fast he could play them. Throughout, his joy at playing with this group of old friends was palpable, and freely gave them space to work.
Larry's son Julian, the only member not from any of the seventies incarnations of the band, had his hands full filling the place of original member, keyboardist Mike Mandel. Mandel, who, aside from Larry, was the only consistent member of the Eleventh House in the seventies, had not only provided a solid rhythmic bedrock with his electric piano, but also flowing melodies and sonic experimentation with his use of analog synthesizers. Consequently, Julian spent a lot of the show busy with the role of filling that space with the use of using guitar triggered synths. Outside of that, he also played some tasty leads, including an elegant solo during "The Funky Waltz" which began with some beautiful, atmospheric playing, eloquently conversing with the bassist, and then building to a frenzy which seemed to surprise even his father, who proudly, and somewhat comically, started to fan him down with a towel.
In many ways, the strongest link to their old sound was in Alphonse Mouzon's drumming. Providing the power and relentlessness that originally drew me to their old recordings (particularly live recordings from that time, as the band's true energy was never quite captured in the studio), he sounded as funky and aggressive as he did decades ago, propelling the group while rhythmically reinventing pieces. Also, as in the past, he added that extra bit of hipness and flamboyance with unapologetic virtuosity.
The Friday and Saturday evening shows were advertised that a special guest would be joining the band. Though some hopefulls wondered if it might be another Fusion guitar god like John McLaughlin, there was more reasonable speculation that Mike Mandel, who sat out the last Eleventh House reunion two years ago due to illness, might be making an appearance. That belief was reinforced by the Nord keyboard sitting behind Randy that went un-played for most of the show.
Indeed, Mandel did take the stage three-quarters of the way though the set, and was met with enthusiastic applause. As the band began playing his composition, "Joy Ride," the reunion felt a little more complete. Though Mandel was relegated to an electric piano patch on the keyboard as opposed to his old electronic arsenal, and seemed to lack the dexterity of his younger years, his presence was warmly welcomed by band members and audience alike. It was nice seeing Larry showcase Mandel, who had been such a pivotal collaborator for years even before the Eleventh House band formed.
Concluding their show, the band kicked in with their old, swinging anthem, "The Eleventh House Blues" with all of the guys getting their last licks in and clearly just having fun playing with each other. The music felt fresh and classic at the same time, and the whole evening had a wonderful feeling of camaraderie, having shared the experience of working together at a special time when pushing musical boundaries was the order of the day. Seeing Larry's unbounded delight at working with these guys again made the music feel that much better.
Calling all HuffPost superfans!
Sign up for membership to become a founding member and help shape HuffPost's next chapter