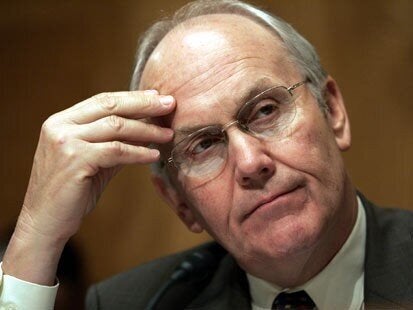 Mostly avoiding the political spotlight since his brush up with both the law and the bathroom stall, Sen. Larry Craig quietly created presidential campaign ripples on Tuesday by interjecting himself into the debate over a popular veterans education measure.
The Idaho Republican, who was famously made a pariah in his own party after allegedly soliciting sex in the Minneapolis airport men's room, announced that he would offer an amendment to the forthcoming Iraq war supplemental that would strip the legislation of Sen. Jim Webb's GI Bill.
The move reflects a somewhat marked change for Craig, who has generally demurred from high-profile battles since his toe-tapping episode. Indeed, Webb's bill is, at this point in time, perhaps one of the most pitched legislative disagreements between the likely Democratic and Republican presidential candidates.
The bill is, for all intents and purposes, a non-controversial measure offering veterans who have served three years educational benefits equal to the highest tuition rates of in-state public universities. Updating an antiquated system that was implemented during World War II, Webb's legislation took more than a year to craft and currently has 57 co-sponsors.
There are, however, Republicans with objections.
Sen. Lindsey Graham, working with Sen. John McCain, recently introduced competing legislation that modestly increases the monthly education benefits for active-duty and reserve personnel, adds incentives to stay in the army, and allows officers to transfer education benefits to their children. But veterans under their measure would have to serve 12 years before garnering the maximum, $2,000 a month, benefit.
Critics, such as Patrick Campbell, legislative director for the Iraq and Afghanistan Veterans of America, argued that Graham's bill was "simply an attempt to derail Sen. Webb and Sen. Warner's fast-moving Post-9/11 GI Bill." And indeed, on Monday, Sen. Barack Obama admonished McCain for not signing on to Webb's measure.
"He is one of the few senators of either party who oppose this bill because he thinks it's too generous," Obama claimed, "I couldn't disagree more."
On Tuesday, moreover, a step was made to resolve another McCain problem with Webb's bill. House Democratic leaders moved forward with a measure to pay for their version of the GI Bill by implementing a half-percentage-point tax on individuals who make more than $1 million in adjusted gross income annually. Should the measure pass, it would generate more than enough funds to pay for veteran education benefits.
And yet, there are hurdles still to come. President Bush, for one, has threatened to veto war-funding bills that exceed his request while Democrats are trying to squeeze the GI Bill and a 13-week extension of unemployment insurance into the measure. And then there is Craig. While the Idaho Republican's attempt to strip the war supplemental of Webb's language and replace it with Graham's might not make it through the Appropriations Committee, the issue could arise again on the Senate floor.
Popular in the Community