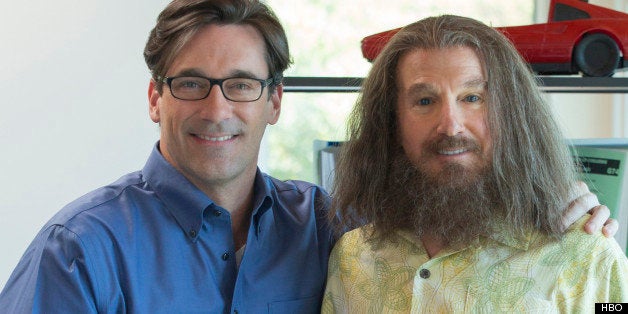 Larry David stars in HBO Films' "Clear History," the story of Nathan Flomm (David), a marketing executive at a start-up electric car company who sells his shares after a fight with his boss (Jon Hamm), and consequentially misses out on making a fortune when the company finds success.
David (who also served as the film's writer) joined director Greg Mottola at the Television Critics Association Summer 2013 press tour to discuss the project, which also stars Bill Hader, Philip Baker Hall, Kate Hudson, Michael Keaton, Danny McBride, Eva Mendes, Amy Ryan and J.B. Smoove.
When asked whether he's ever come close to making a billion-dollar mistake -- like threatening to quit "Seinfeld" -- David pointed out, "That wasn't a threat -- I did quit! Let's just say the show might not have been good ... I quit a couple of times, but the show was hardly off the ground at that point, so no, [not a billion-dollar mistake]."
David wasn't sure about the possibility of another season of "Curb Your Enthusiasm," admitting, "I have not [decided]. I don't know. I really don't know. I couldn't say. Ask me in six months ... I'm an indecisive fella -- it's a big decision to decide to do a season of that show. I don't take it lightly."
"Clear History" came out of that indecision, David said: "I was thinking about 'Curb' or thinking about doing a movie, and I thought, 'Perhaps it's time I try something else.' So I decided to do the movie ... I was thinking doing one or the other."
The project is David's first written feature since "Sour Grapes" (which he also directed) and when asked how the two experiences compared, David said, "First of all, I wasn't in 'Sour Grapes.' We had a much better director this time than we did for 'Sour Grapes,' and this was more like a 'Curb' experience in that we were improvising it, and I didn't have to worry about directing it, I could just act in it ... 'Sour Grapes' was scripted."
Mottola added, "This was entirely improvised. It was a 35-page treatment that outlined the scenes and what was going to happen in them, but no dialogue."
"Clear History" was Jon Hamm and Eva Mendes' first experience with improvisation, but David praised how quickly they embraced it. "Ninty percent of actors love to improvise -- everybody in the movie just took to it so easily," he said. "A couple of them had a little experience with it. Jon was great and so was Eva."
"After doing a couple of takes, everyone just let go," Mottola added. "They get to write their own lines -- it's very creative for them."
On the subject of the star-studded cast, David admitted, "We did sort of have a list, and I have to say, we got most of the people on the list, fortunately. Sometimes I would call, but generally, I think it went through the usual casting channels ... I could say great things about all of them. I didn't quite know that Eva Mendes could improvise as great as she was able to, so she was a really pleasant surprise and she loved playing that character."
The one "Curb" alum that David brought back for "Clear History" was J.B. Smoove, and Mottola explained, "J.B. and Larry together is pure gold. He was one of the few guys you'd decided on before I got involved. What kept me up at night was the worry that the movie would be too much like 'Curb' or not enough like 'Curb.' But how can you go wrong with J.B.?"
"Clear History" premieres on Saturday, August 10 at 9 p.m. ET on HBO.
PHOTO GALLERY
10 Behind The Scenes Shows You Must See
Calling all HuffPost superfans!
Sign up for membership to become a founding member and help shape HuffPost's next chapter