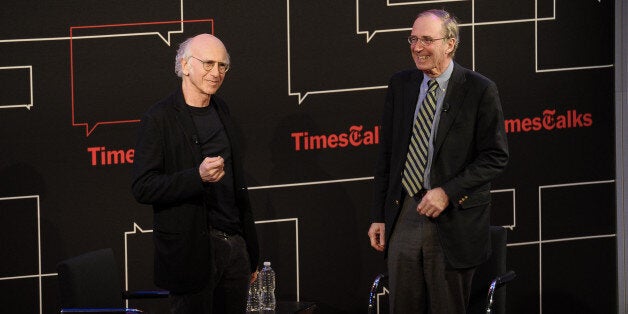 Larry David's been called a lot of things in his life -- brilliant, genius, funny, neurotic, offensive -- but never, has anyone thought the Seinfeld co-creator and Brooklyn-born Jew could be a catalyst for peace in the Middle East. At least not anyone not named Alan Dershowitz.
In the latest TimesTalk series from the The New York Times, Larry revealed to interviewer Charles McGrath that well-known U.S. attorney and Jewish activist, Alan Dershowitz, sent a copy of the "Palestinian Chicken" episode from David's HBO series, Curb Your Enthusiasm, to Israeli Prime Minister, Benjamin Netanyahu, with the hope he would share it with Palestinian President Mahmoud Abbas. David confirmed Netanyahu watched the episode, but did not know if it ever reached Abbas.
The landmark Emmy-nominated episode centered around a Palestinian restaurant that served amazing chicken; but, they also made it clear, they did not like Jews. When Larry attempted to enter the place with a friend (Bob Einstein) who refused to remove his yarmulke, Larry, not wanting trouble inside, forcibly tried to take it off. Larry's actions did not go unnoticed by one of the proprietors, one very attractive woman (Anne Bedian). Despite Larry still being a Jew, she was so turned on with his overture, she ended up having sex with him. Of course, Larry didn't care that the sex turned out to be more of a hate fuck, then true love. He just wanted to have sex with her.
Larry explained that the genesis of the episode came simply from him wondering one day was there anyone he would not have sex with. He thought, "Could I have sex with an anti-semite?" His answer, "Why not?"
Later in the episode, a second Palestinian chicken joint was set to open next door to a Jewish deli. Larry said this idea, was in fact, inspired by something much more political -- the controversy that surrounded a mosque being constructed near the former World Trade Center site.
Larry David's no stranger to tackling delicate subjects. Remember "The Contest,"Seinfeld's ground-breaking masturbation episode? No topic is too taboo for a man whose own mother "caught him (on the show)" and thought (in real life) he was "nothing special." Mrs. David wanted her son to become a postal worker.
No one is off limits for David's jokes and criticisms, especially his mother. McGrath hailed Larry as "a master of offending" and as an "equal opportunity offendist." It's something he revels in being able to act out through his character on Curb. "He (Larry on the show) lives the way I dream I could live. No bullshit. Completely honest." David pontificates further, "(In real life) we can never say the things we want to. It's a shame those are the rules that have been set up."
Last week, David appeared on The Howard Stern Show and suggested he could coach the New York Jets. "I use to draw up good plays when I was a kid." And remarking, "Teams don't go for it enough." His assertions sparked outrage and mockery from two former NFL players turned broadcasters, Boomer Esiason and Marcellus Wiley -- who, ironically, attempt to do Larry's job (be funny) every day on the air.
During Tuesday night's Q&A session in New York City, a man tried to direct Larry to speak directly to the camera because his sister was watching live via the internet in Los Angeles. Larry became agitated. "I hate you," he barked. "Can you believe the balls on this guy?"
When a Muslim-looking man approached the microphone, Larry inquired, "Are you Muslim? You look a little swarthy." The man in question turned out to be Jewish.
A black man asked Larry if he actually wanted to be "black" since he seemed to enjoy himself so much living with "The Blacks," a displaced black family he graciously welcomed to his home, post-Katrina on Curb. Larry laughed out loud at the assumption, and then shrugged it off. "Nah, I just thought it would be funny."
Larry added, "People who watch the show (Curb) love the show until you hit their specific target."
"The show" is currently on a long hiatus, with the odds being against it coming back, according to David. Although, he admits he loves doing it. "It's so cathartic. When I film it, I cannot stop laughing."
Part of the reason there's no more Curb in sight for the foreseeable future is because Larry David is set to make his Broadway debut next month in Fish in the Dark, a comedy he wrote and will star in, alongside Rosie Perez and Rita Wilson. David hasn't appeared on stage in a play since the 8th grade, which led him to bemoan, "This is insane. I don't know what I'm doing."
Producer Scott Rudin convinced him he had to do it, to which David confessed, "I had no intention of being in it when I wrote it. He (Scott) appealed to my massive ego. I caved. Not one day hasn't gone by that I regretted my decision."
Filled with promise, regret and laughter. Quintessential Larry David.
Popular in the Community