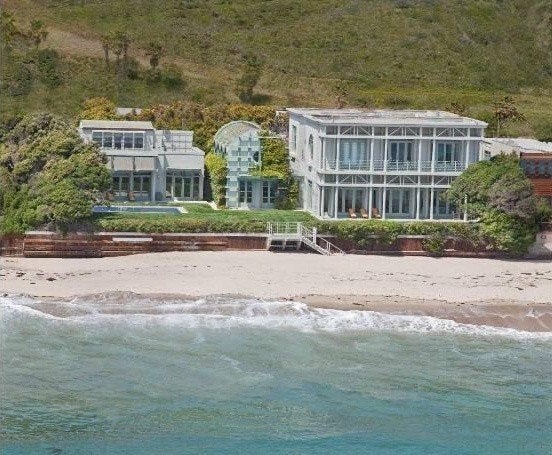 A few years ago, the peons-with-no-beach access used to marvel over who would wind up as the King of Carbon Beach -- an exclusive stretch of Malibu, Calif. oceanfront where (apologies to the nouveau riche who unwittingly bought in Malibu Colony) the real money lives. It's nicknamed Billionaires' Beach for good reason, and for a while back in 2008, Oracle CEO Larry Ellison seemed to be engaged in a battle of the checkbooks with media mogul David Geffen over who could own more of the 22000 block of Pacific Coast Highway.
It would now appear that the winner is Ellison, who Forbes says is the country's third-richest man. He just picked up his ninth house on the block for a tidy $36.9 million -- a three-building compound purchased from Yahoo CEO Terry Semel and his wife. Pocket change for Ellison, no doubt, whose wealth is estimated by Forbes to be about $41 billion. Local agents say the Oracle-meister owns up to a dozen properties elsewhere in Malibu -- including the Serra Retreat mansion once owned by actor Sly Stallone -- but Carbon Beach always has been the prized possession.
And here's the fun part: Back when Ellison and Geffen seemed to be involved in a real estate tit-for-tat, there was speculation that one -- or both -- was interested in turning the beachfront stretch into a uber-high-end luxury resort where rich guests would be helicoptered in. Just speculation, folks, although imaginations running wild even joked about a "Fantasy Island"-like greeter shouting "Ze plane! Ze plane!" as each new shipment of vacationers was delivered to the white sands of Carbon.
When Ellison bought the Hawaiian island of Lanai in July for an estimated $500 million, the speculation about his interest in owning a private resort for the world's wealthiest was reignited. Would this be where Ellison's fantasy island vision would play out -- in a place reachable only by plane or ferry, and that only has 30 miles of paved roads? It certainly would be easier than getting Coastal Commission approval for such a project in Malibu.
As for the ongoing Carbon Beach buying spree, it's more likely that Ellison's purchases just come down to keeping the riffraff out. Beach access has always been a sore spot for the billionaires who live along the stretch; Geffen spent the better part of a decade fighting to keep the public away.
Other Carbon Beach dwellers include former Dodgers CEO Jamie McCourt and business magnate and former junk bond king Michael Milken. Movie executive Jeffrey Katzenberg also hung his weekend hat in a house on Carbon -- located about 25 miles and a million light years away from Beverly Hills, but where it is said, more Hollywood deals are hatched than in conference rooms or at business lunches. In fact, there is an outcropping along the stretch that has been dubbed "Dealmakers' Rock," because of all the handshakes that occur there.
Ellison began his romance with Carbon Beach in the mid-2000s when he bought five adjacent homes for about $65 million. He also picked up a motel that has remained largely unremodeled and two restaurants at the end of Carbon -- one remade into the new home for the high-end Japanese eatery, Nobu, and the other still a work-in-progress.
For his part, Geffen owns five properties on the 22000 block and the Malibu Beach Inn -- which he paid around $29 million for in 2005 and has since remodeled into a luxury hotel. He also acquired a 1,400-square-foot house a few properties away from his main compound for $10 million in 2008 -- a purchase that real estate wags at the time said was made to accommodate beach access requirements and push the public farther away from his front door. This last home is something of a rich guys' hot potato game. He owned it in 1996, sold it to Creative Artists head Richard Lovett, who sold it to Hard Rock Cafe co-founder Peter Morton, who then sold it back to Geffen.
What to make of it all? As one HuffPost-er just quipped, "Why do these rich guys dream so small?"

Photos courtesy of Realtor.com.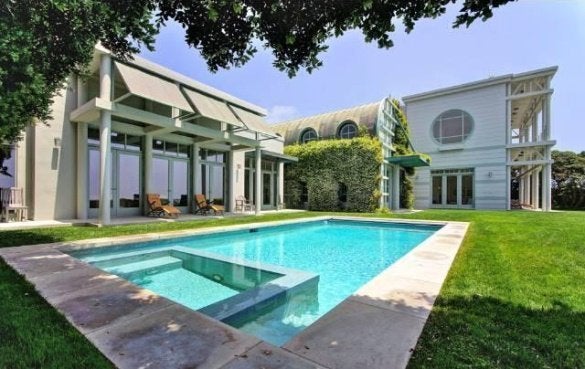 Larry Ellison's New Malibu Home
Related
Popular in the Community