When it comes to elite wide receivers, Arizona Cardinals superstar Larry Fitzgerald is in a small fraternity with guys like Calvin Johnson, A.J. Green and Julio Jones. Unfortunately for the four-time All-Pro, he has not had the good fortune of a quality quarterback since Kurt Warner during the Cards' Super Bowl year in 2009.
Fitzgerald, who will turn 30 before the season starts, caught up with The Huffington Post to discuss newly minted signal caller Carson Palmer, his friendship with Richard Sherman and his relentlessly healthy approach to life off the football field.

You have only missed three games during your nine-year career. What is your stance on nutrition and how does it impact you on a daily basis?
I kind of look at my body like a sports car. If you're a high-performance sports car, you can't run off diesel, so you have to be able to fuel yourself. And that's eating clean, that's making sure you're drinking lots of water, making sure you're recovering. EAS [Sports Nutrition] plays a huge part in my recovery. Every day, I'm taking my shakes, just to make sure that I'm able to bounce back and be in my tip-top shape that I was the day before.
Is there a specific protein-carb-fat ratio you try to follow?
No, I wouldn't say I break it down to the specifics of that. After I get done running and lifting, I know that the recovery is kicking in, but even more so with the 100 percent certification of all the products of EAS, I know that I am OK and that I'm not gonna be subject to foul play by testing for the NFL.
Sleep is obviously a key element to recovery as well, right?
I'm a nine hour-a-night sleep guy. [On game days], that night I will for sure get 10 or 11 hours. I always get my rest and I think that's one of the things that people don't talk often about. Your body heals and repairs itself better than anything. Being able to get some sleep really does a great cause for your recovery and helping you wake up with a renewed fresh, mental and physical outlook.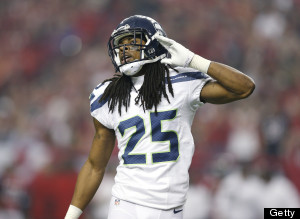 Seahawks cornerback Richard Sherman. (Getty Images)
What about power naps or yoga during the day?
I'm not much of a napper, but around 9, I'm finding my way toward the bedroom. I go to sleep pretty early and wake up pretty early. I do bikram yoga probably three, four times a month. That bikram yoga right there kills me though, man. You think it's gonna be easy because it is essentially stretching but man, by the time I get to the floor, I'm exasperated. Do you do bikram?
Come on, you gotta step up the challenge. You can do it.
What does that heightened challenge do for you?
I think the heat loosens you up even more and obviously with all the sweat, I'm burning calories. I have to play at my desired weight. I like to play at 215.
Do you enjoy any other rejuvenation components off the field?
I love to travel. It kinda clears my mind. It kinda refocuses, recharges my battery, so to speak. That really is a lot of fun for me and allows me to get away, get lost in the moment. ... I'm an adventurous type, I'm a spiritual type.
Okay, this is the question everyone wants to know. If I'm a fantasy football player, why am I drafting Larry Fitzgerald this season?
Well, that's a personal preference. If you believe in me, I think I'd be a good pick for you, but if you don't, then you gotta make a decision for you and your team. But I know that I'm gonna have a productive year.
On the field specifically, have you developed a rapport with your new quarterback, Carson Palmer?
Yes, me and Carson have been working hard together all off-season. I know he's gonna bring great things to the table and this offense is gonna be extremely productive because of him and his hard work.
When you have a new quarterback in a new system, what is the hardest thing for you adjustment-wise?
I don't think there's many adjustments, you know. The routes are the routes. The terminology is different, but in time we will all pick that up and be able to play fast. But football is football. It's all about going out there and making plays.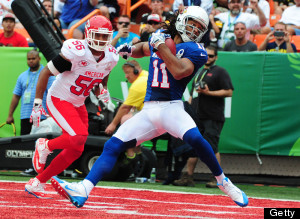 Fitzgerald making a touchdown catch in the 2013 Pro Bowl, his seventh selection in nine years. (Getty Images)
There are some terrific defenses in the NFC West, namely with Seattle and San Francisco. Is there a specific cornerback -- maybe Seahawks' All-Pro Richard Sherman -- that you love going up against?
Yeah, you obviously have Sherman and some talented guys. But I'm really fortunate to go up against Patrick Peterson every single day in practice. He's right there at the top.
When you see a guy like Sherman constantly yapping, does it make you want to go up against him even more?
No, I mean everybody says all these negative things about Richard. He's a good friend of mine. He's never said one thing distasteful to me. I have a lot of respect for him. We step in between the lines, it's time to go and we don't take it personally.
Speaking of corners, what have you noticed from the rookie Tyrann Mathieu?
He's extremely athletic and opportunistic. It feels like the ball always finds him. He's got high football IQ. He's gonna be a playmaker for us and I'm glad we were able to get him.
Certain football units, like an offensive line, for example, seem to really connect. Do you talk with your young receivers, like a Michael Floyd?
We always have communication. I think that's part of being a leader. You have to allow yourself to be coached and treated the same way as everyone else. We have a very open room. Guys come to me. They coach me and I think that's the way it should be. Andre [Roberts] and Michael come up to Minnesota with me to work out. The three of us are together every single day for six weeks. We're not only co-workers, but we're friends.
What does that off-season entail for you?
We have two workout groups; one that goes at 7 a.m. and one that goes at 8:30. We're usually on the field for an hour and 45 minutes. Then we go the weight room. After that, I'll get on the stair-climber and get my calories burned.
When you see other elite receivers who have had the good fortune of consistent quarterback play, is that hard to digest?
No, I don't think about that. It is what it is. You gotta make do with what you have. I'm not one to complain.

This interview has been edited and condensed for clarity.
Email me at jordan.schultz@huffingtonpost.com or ask me questions about anything sports-related at @Schultz_Report. Also, be sure and catch my NBC Sports Radio show, Kup and Schultz, which airs Sunday mornings from 9-12 ET, right here.
Calling all HuffPost superfans!
Sign up for membership to become a founding member and help shape HuffPost's next chapter