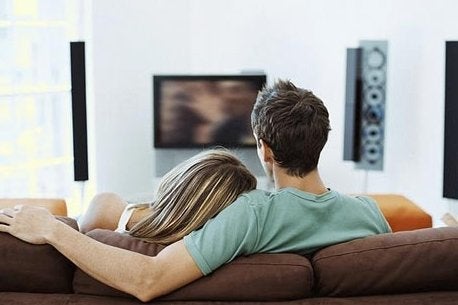 Some days, you wish you didn't answer the phone. Today was that day. It was a friend telling me that Larry Gelbart had died.
I can't do justice to Larry Gelbart, even if I had several months to write something about it. He was an amazing writer and probably a better person. There may have been more renowned writers in a single medium, but his versatility was breathtaking, and so he may have been the most successful and best writer ever in America who wrote in all three major media -- the theater, movies and television.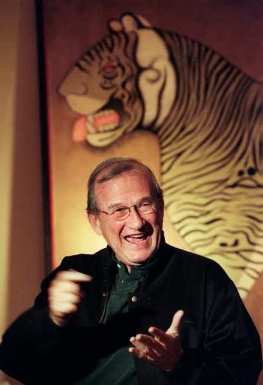 photo credit, Los Angeles Times
On stage, he won Tony Awards for his musicals, A Funny Thing Happened on the Way to the Forum and City of Angels. And he wrote the big hit play, Sly Fox.
For television, he had an amazing 12 Emmy nominations, and an additional one, wining the award for M*A*S*H, the series he developed. He wrote the HBO movies, Barbarians at the Gate, Weapons of Mass Distractions and ...and starring Pancho Villa as Himself (all three of which got Emmy nominations). And he was part of the legendary writing staff for the equally legendary series, Caesar's Hour.
And for movies, he got Oscar nominations for Oh, God!, and his co-written script, Tootsie.
And none of this gives a hint who Larry Gelbart was. None of that even gives a hint to all that he wrote, he was that prolific, and talented. Do yourself a favor and check out his film and TV credits on IMDb. As a friend said, describing Larry Gelbart would take Mount Rushmore.
Here's just a touch of who he was as a person, though. It's the best I can do.
Years back, we had never met, but communicated with each other regularly on what was called the Writers Guild BBS, a precursor of newsgroups or chat rooms. One day, I mentioned how I had seen a revival of his musical A Funny Thing Happened on the Way to the Forum, which played in Chicago with Phil Silvers in the lead role -- and there was a great song added to that version that never got recorded, because there was no cast album when the show finally got to Broadway. I said how I'd been looking for the number, The Echo Song, for over 20 years, and wondered if he knew whether or not it had ever been recorded. He didn't know, but said that whenever he next talked to Steve, he'd find out.
Fine, I thought, That's nice. Though I didn't have a clue who this "Steve" was, perhaps his assistant, I figured. Then I realized -- oh, he meant Stephen Sondheim, who'd written the score, and that new song. Again, I thought, geez, how really nice that was, but figured they wouldn't likely be talking to one another for a very long while, and when they did, I hardly thought it would be something he'd remotely remember to ask about. But still, you have to admit, it was a nice thought and nice thing to say. Little did I know.
One week later, I got an email from Larry. "I just called Steve and asked him about that song. He said he had a recording of it in a little revue that was done and will send me a tape. What's your address?" Now, remember, we had never met. I had done close to nothing in my career. I was not much more than a punk kid. He didn't know me from Adam, other than some email correspondence. And he did all this. And I today have the tape. The song is wonderful. But far better is knowing how I got it.
The first time I met Larry was not long after that. He was the guest at a Q&A, and I remember the moderator asking him if Larry had always been great with a fast quip (which was his famed reputation), or if it was something he developed. He thought a moment -- not trying to figure out the answer, but whether to be modest or honest. He chose honesty. He shrugged, "I've always been that way."
The quips at that event went flying past you so fast felt it like you had to duck. The afternoon was as hilarious as any comedy. But I most remember one quip said in private, afterward. As I said, we'd never yet met. We only had communicated by email on the WGA service -- and at that point, although your name was attached to your note, you contacted people by an identifying numeral. (Mine was 456). After the event, I went up to Larry and finally introduced myself after many months of emails. "Hi, I'm Bob Elisberg." He looked at me for no more than about one second and then a smile broke out across his face, and he immediately replied. "You look just like your number."
One of the most famous quips about the theater was his. He was writing the book for the musical, The Conquering Hero, based on Preston Sturges's film, Hail the Conquering Hero. It became a renowned flop, having huge problems during its tryout on the road and only lasted eight performances. The whole process was a legendarily difficult time and ultimate disaster. "I don't know if Hitler is still alive," Larry was quoted as saying, "but if he is, I hope he's out of town working on a musical."
But he was just as quick with a witty quip in a nothing private moment. About 15 years ago, we had been exchanging emails about the then-upcoming Writers Guild negotiations with the Alliance of Motion Picture and Television Producers (AMPTP) producers. One contingent was attempting to be conciliatory and was suggesting some loopholes that would be acceptable to the AMPTP. In a private email, amid just normal conversation he tossed off a simple phrase. He wrote, "Why give people loopholes, when history shows us they will only be used as nooses."
If you'd read that in Bartlett's Famous Quotations and were told it was from Benjamin Franklin, you wouldn't be surprised. To Larry Gelbart, it was just conversation.
As kind and thoughtful as Larry was, he was equally feisty and unbending when it came to his vision of right and wrong. Woe be the person who stood on the other side of what he thought was a moral issue. As wildly successful as he was, he always always always fought for the Little Guy. He always fought against leadership anywhere that he perceived as too institutional and what he felt was too overly-protective of private interests. He was, as a friend described him, formidable. If Ted Kennedy was the Lion of the Senate, Larry Gelbart was the Lion of the Writers Guild. But his roar sounded out loudly against any injustice, whether in the Guild or out.
One of his last screenplays was about the Bush Administration, S*** Happens. His last produced work (thus far) was a one-act play written for the Berkshire Playwrights Lab, Pull, a not very loosely-hidden story about a Vice President of the United States who shoots his friend in the face with birdshot and tries to cover it up. Its juggling of language made it a perfect companion to his great play, Mastergate about the Watergate Hearings and the twisting of language, subtitled, A Play on Words.
I said "thus far," because Larry Gelbart remained an active writer to the end. Though 81 years old (and writing for over 60 years, beginning as a professional at age 17, writing for The Danny Thomas Show on the radio), Larry was still being hired by studios and companies to write -- because there are happily enough smart producers (though far too few...) who recognized talent far transcended age.
In addition to S*** Happens and Pull, Larry Gelbart was actively working on a film
adaptation of his Tony Award-winning musical, City of Angels, with Barry
Levinson set to direct, and Bruce Willis to star. And he had also been hired by Warner Bros. to write a sequel to Oh, God, for which he wrote the original. And he was working on a stage musical version of his movie, Tootsie.
For that matter, he also had another project that was put on hold because he was so busy with these! It's a musical, N, about Napoleon and Josephine, written with Cy Coleman (music) and David Zippel (lyrics). When Coleman passed away recently, Larry mentioned that John Kander (Cabaret, Chicago) might come in and help finish the score.
Further more, about two years ago, he wrote a semi-autobiographical play, Better
Late, that premiered in Chicago at the Northlight Theatre, and last year it played at the Galway Arts Festival in Ireland. He was in the midst of trying to set it up for a Broadway run.
All this at 81. He was more busy than most A-list writers half his age.
But I keep going back to what a gentleman he was. When I had created an online mentor program for the Writers Guild, I received an email from someone desperately wanting to write to Larry Gelbart. I contacted Larry and offered to act as an intermediary, to protect his privacy. "No, that's okay," Larry said, "just give him my email address."
One time, I had a screenplay I was having a difficult time getting read. Larry asked the story of it -- and then (without having read a word) recommended it to a producer he was working with and also told me to send it to his agent, with his recommendation.
That's Larry Gelbart. He was a force. He was a dear, kind gentleman. He was crusty. He was a firebreather for liberals. He was hilarious. And he was a brilliant writer. He was just great.
I'm pissed off that he's gone -- he was diagnosed with cancer in June, and to say he will be missed doesn't do justice to the concept. But at least we will always have his works left behind for us to always remember him and be inspired by and be made better by.
There's so much more I want to say about Larry Gelbart, but none of my words will do him justice, so I'll leave it at that. What I'll do though is give him the last words. My very favorite thing he ever wrote. Not surprisingly, it's about writing.
It's from near the end of City of Angels. The main character, Stone, has just been told by the director's secretary that she helped rewrite a scene in his screenplay, and figures he should be grateful. Stone, the writer, replies:
"'Helped?' You'd need a divining rod to find the word 'grateful' in me. Jesus, where the hell is everybody when they first deliver the typing paper? Where are all the 'helpers' when those boxes full of silence come in? Blank. Both sides. No clue, no instructions enclosed on how to take just twenty-six letters and endlessly rearrange them so that they can turn them into a mirror of a part of our lives. Try it sometime. Try doing what I do before I do it."
Calling all HuffPost superfans!
Sign up for membership to become a founding member and help shape HuffPost's next chapter