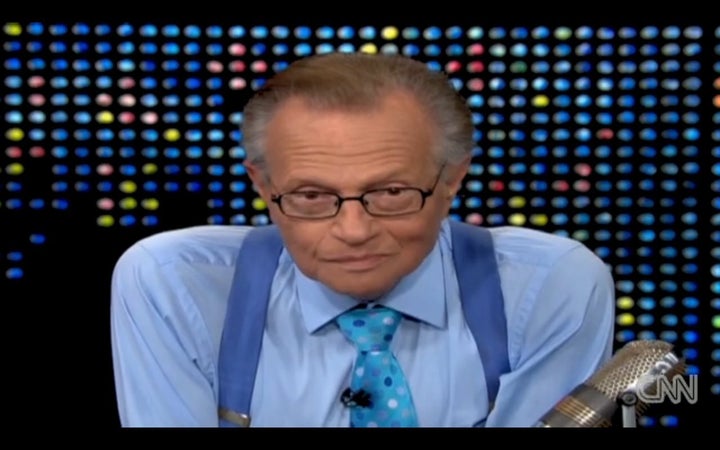 King will step down from the program in the fall, but remain with CNN.
"I talked to the guys here at CNN and I told them I would like to end Larry King Live, the nightly show, this fall and CNN has graciously accepted, giving me more time for my wife and I to get to the kids' little league games," he wrote on his blog. "I'll still be a part of the CNN family, hosting several Larry King specials on major national and international subjects.
"With this chapter closing I'm looking forward to the future and what my next chapter will bring, but for now it's time to hang up my nightly suspenders," he added.
WATCH King make the announcement on his show Tuesday:
Earlier Tuesday, the end-of-quarter ratings were released, and King saw his worst quarter ever in Q2 2010, averaging just 674,000 total viewers. In addition to ratings struggles, King's personal life has been in the news lately, with his on-again-off-again marriage/divorce with wife Shawn Southwick (who recently overdosed on pills in a possible suicide attempt) drawing attention to his off-camera life.
The network recently announced that Eliot Spitzer and Kathleen Parker will take over for Campbell Brown at 8PM.
Just as CNN redefined the news business, Larry King defined the art of the television interview. His candor, curiosity and compassion are legendary, and his ability to interview people from all walks of life--world leaders, celebrities and everyday people--has made him an icon. Having conducted nearly 50,000 interviews over 50-plus years in broadcasting, Larry deserves to take some time for himself and his family. After 25 years at CNN, he will conclude Larry King Live on his own terms, sometime this fall. We are proud and grateful that Larry will continue the next chapter of his storied career at CNN and will host several specials over the coming years.
CNN/US President Jon Klein's e-mail to staff:
Larry King has asked that I share with you a message to his audience that will be broadcast tonight at the top of his show. After 25 years, Larry has decided to take a step back from the nightly grind. He wants to take some time for himself and his family. So he will end his run with Larry King Live on his own terms, sometime this fall.

He is not leaving CNN. Larry is a beloved member of the CNN family and he will continue to contribute to our air with periodic specials.

Larry has been a giant in the industry for as long as most of us can remember. Anyone who ever mattered has sat for an interview on Larry's iconic set. They all know the man it is our privilege to call our colleague and friend--tireless and curious, respectful and inquisitive, caring, generous, influential, a citizen of the world.

We will celebrate his tenure in proper fashion over the coming months. Today is about Larry and about the beginning of a new chapter. It is not about good-bye.
More from the Associated Press:
King said he felt no pressure from CNN to leave. He said he began thinking about stepping down as his 25th anniversary week ended earlier this month, on the airplane home after interviewing basketball star LeBron James. During that week, he also spoke to Bill Gates, President Barack Obama and Lady Gaga - an apt example of the mix that he always sought on his show.

"I said, `I can't top this,'" King said in an interview Tuesday.

"I'm tired of the nightly grind," he said. "I do want to do other things but I want to stay at CNN in some way ... There's a case of great mixed emotions."

King told his staff during a conference call Tuesday that he called "one of the saddest 10 minutes of my life."

He's conducted an estimated 50,000 interviews during a 53-year broadcasting career.

He said he always tried to ask short questions, never come in with an agenda and "I left my ego at the door."

"I never learned a thing while I was talking," he said. "That would be my motto."

CNN is in the midst of remaking its prime-time lineup and last week announced that former New York Gov. Eliot Spitzer and conservative columnist Kathleen Parker would co-host an 8 p.m. EDT show on politics and current events.

CNN executives often have said that when "Larry King Live" ends, it won't necessarily be replaced by a similar show. Recent published reports have suggested that "America's Got Talent" judge Piers Morgan could be a candidate for a show in that time slot. CBS' Katie Couric has been considered a potential successor, although that talk has cooled lately.

King said if it was up to him, Ryan Seacrest would be the best choice to fill his shoes.

He dismissed a series of stories this spring questioning his future and speculating about possible successors.

"You can't worry about things you can't control," he said. "I can't control if a newspaper is going to speculate about something or if a blog is going to speculate ... If I let it get me, I'll go nuts. So what I try to do, and I'm not being morbid, I just try to do the best show I can. If it works, it works."

King said he was able to see the baseball all-star games of his sons this weekend. If it was during the week, he'd miss them.

"I'm never going to see these again," he said. "They're not going to repeat themselves. They're 11 and 10. They're not going to be 11 and 10 again."
Calling all HuffPost superfans!
Sign up for membership to become a founding member and help shape HuffPost's next chapter