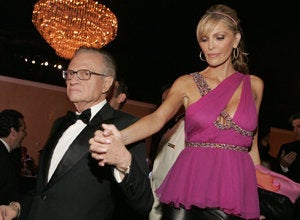 TALKMEISTER Larry King's stunning TV-personality wife, Shawn Southwick King, 48, has gone into rehab for addiction to painkillers. King, 74, has been married to Southwick, his sixth wife, for 10 years and they have two children together. A friend of King's confirmed to Page Six, "Shawn is in rehab for medication issues related to her chronic migraine problem." CNN declined to comment.

L. KING: Before we ask Susan, does Imitrex work -- does anything work for you?

S. KING: So far, we're still searching.

L. KING: None of the pain pills work for you?

S. KING: No. I mean, well, you've taken me to the hospital for morphine when it gets really, really bad.

L. KING: So none of the -- even the new ones?

S. KING: But you have to be really careful, because it can be a cycle where if you take too much pain medication, that can trigger another migraine.

L. KING: So the pain -- the cause -- the cure is the cause?

S. KING: Right.

SHAWN KING, SINGER, LARRY'S WIFE, MIGRAINE SUFFERER: I remember the very day, it was the day my brother got married. And I put the luncheon on, the brunch. And after my part of the brunch was over with, I started losing vision in this -- like a crescent shape. And I would hold up my hand, and I couldn't tell how many fingers I was holding up. And...

L. KING: What did you think it was?

S. KING: Well, I didn't have any idea, except I mentioned it to the fellow who was sitting next to me. He said, you're about to get a migraine headache. Because he was a migraine sufferer.

L. KING: Since then you get them how frequently?

S. KING: Oh, it depends.

L. KING: Average?

S. KING: Average, boy, I can get 10 in a month. I can get one or three in a month. You've seen me go through...

L. KING: What's the longest you've ever been without one?

S. KING: Oh, gosh.

L. KING: Do you think? You ever gone three months without one?

S. KING: No.
Popular in the Community