Local district attorney races usually get little attention. It makes sense - the race usually is about the nitty gritty of the DA's office and is not very inspiring. So what makes singer John Legend and writer/activist Shaun King tweet endorsements of a local DA candidate? The fact that one of the candidates is a champion of resistance in a moment when resistance is desperately needed.
The past week was rough on American politics and democracy, just as the past few months have been. The firing of James Comey as the director of the FBI (and previously of Sally Yates) left many feeling that the independence of the American justice system and law enforcement have been compromised. Also this week, the attorney general Jeff Sessions doubled down on a commitment to tough sentencing in a memo sent out to all federal prosecutors. That was after Sessions already stated in a previous memo that he does not believe it is the role of the federal government to review local law enforcement agencies. It's bad enough that the Trump administration is refusing to end mass incarceration, now they are actively working towards expanding it. But we will fight back, and one crucial way is local politics.
In Philadelphia, a champion of resistance decided to throw his hat to the ring. His name is Larry Krasner. In Philadelphia, Krasner is known as the attorney who represented protesters at multiple occasions: Dreamers, Black Lives Matter & Occupy Philly activists, and many others, mostly pro-bono. Krasner has filed more than 75 civil rights lawsuits against the Philadelphia Police Department for corruption and abuse. His platform is centered on changing the culture of the DA's office, a culture that he calls a "sports culture" that is more about pumping statistics than justice. He is the only candidate in the seven person democratic primary who from the beginning of the campaign promised to never pursue the death penalty. He stands against illegal stop-and-frisk, against civil asset forfeiture, and for the decriminalization of marijuana. Krasner believes that addiction should be treated as a medical problem, not a crime and that by ending the war on drugs police and communities can come together. Larry Krasner is the district attorney that Philadelphia needs.
Krasner's campaign has caught the interest of many progressive national actors. Progressive advocacy groups Our Revolution, Democracy for America, and Color for Change all endorsed Krasner. Following these national endorsements, celebrities such Susan Sarandon also tweeted in support of Krasner. Local progressives have supported Krasner, including Councilwomen Helen Gym, attorney/activist Michael Coard, Rev. Gregory Holston of POWER, Asa Khalif of Black Lives Matter PA, Rev. Mark Tyler of Mother Bethel AME, as well as organizations such as the B.L.O.C Party, Pennsylvania Working Families, Philly for change, and many others.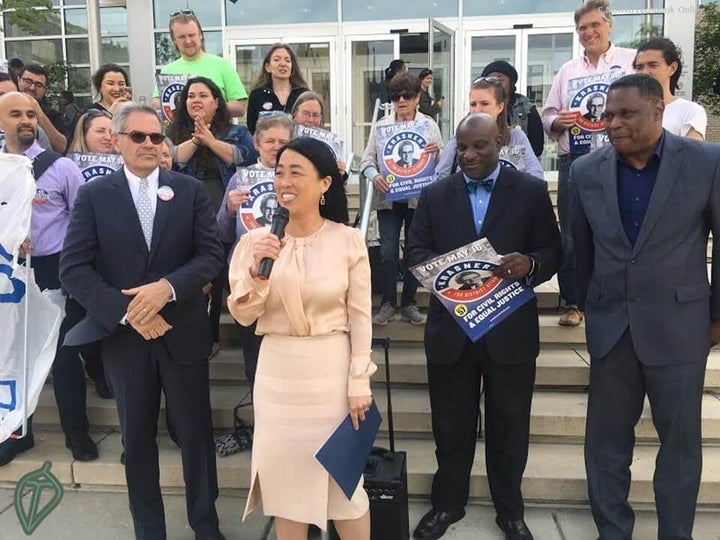 Throughout the nation progressives view the Philadelphia DA race as a case study. In the past, many people in the liberal left have pushed for an establishment candidate for pragmatic reasons. In recent years, on the local, state, and federal level, progressives are noticing that when we compromise our beliefs, we lose. Larry Krasner is the type of progressive candidate who doesn't only criticize but also offers solutions and has a full career to back his commitment to these solutions. He is exactly the type of candidate who deserves a chance.
Larry Krasner is a champion of resistance in a moment when resistance is so needed. Or perhaps, to quote Hamilton, "scratch that, this is not a moment it's the movement." For many progressives across America a Krasner victory will be a victory for the movement. It will be a chance to show that even in a Trump world, extremely progressive candidates can govern and lead.
As a green-card holder, I can't vote. I hope that fellow Philadelphians won't drop the ball on this one. National endorsements help but casting ballots gets people elected. With Trump in office, we can no longer afford the luxury of low turnout local elections. Casting a ballot for Krasner is resisting.
For more on criminal justice and the DA race in Philadelphia follow Abraham Gutman on Twitter @abgutman.
Related
Popular in the Community