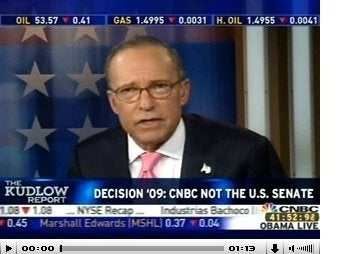 CNBC personality Larry Kudlow announced Tuesday evening that he is not running for the United States Senate.
But, he announced on air, he will not be mounting a campaign.
"Several weeks ago I was approached by the Republican Party to consider a run for the US Senate in the great state of Connecticut," Kudlow said. "It was a flattering conversation and one that I thought about, but to me it was never really a serious proposition," he said, adding that CNBC has fielded a number of inquiries on the topic of his potential Senate run.
"This evening, I'm letting the world know that I am not running for the US Senate, and here's why: in my heart I know that I belong right here at CNBC," Kudlow said. "This is my love."