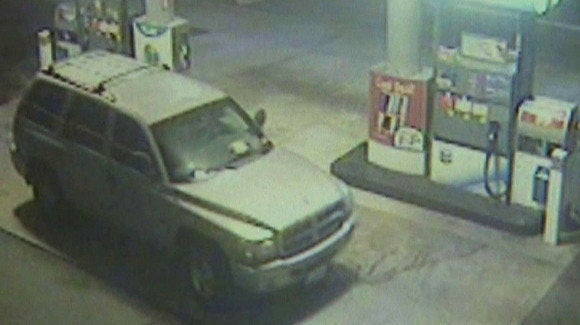 Police are seeking the public's help in catching the man suspected of a brutal gas station beating.
The victim is Larry Markin, a grandfather and father of two servicemen. Markin is in a medically-induced coma after being beaten at a Fullerton gas station on June 5. Every bone in his face was broken, and his brain is swelling, reports KTLA. Doctors are not optimistic about his prognosis.
Security footage from the gas station shows the suspect pulling up to the pumps in a light-colored Dodge Durango. The suspect gets out of the Durango, pulls Markin from his car, and hits him around the face before knocking him down and beating him. Authorities believe that the incident stems from road rage, as the victim and suspect did not know each other and eyewitness accounts indicate Markin had pulled into the back of the gas station to hide from him.
Fullerton police spokesperson Sergeant Andrew Goodrich spoke to HuffPost about eyewitness descriptions of the suspect. Several described him as having "a military demeanor," with a muscular build. Due to the way he carried himself and the violently efficient attack, Sergeant Goodrich also said the suspect could be "possibly off-duty law enforcement" or in the military. Sergeant Goodrich admitted, "we don't have a whole lot of leads," and hopes the public will come forward if they recognize the car from the video.
The suspect is described as either white or hispanic, 5-foot-8, with short light hair. Fullerton police are asking anyone with information about the attack to call them at (714) 738-6800 or (714) 738-6715.
Calling all HuffPost superfans!
Sign up for membership to become a founding member and help shape HuffPost's next chapter