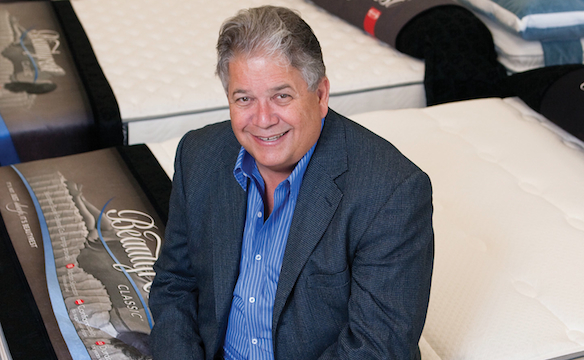 In person, Larry Miller, president of Sit 'n Sleep, is less "Crazy Eddie" (fast-talking, exuberant salesman) and more "Uncle Larry" (the gregarious, warmhearted, favorite family relative). When I went to visit him in his executive offices in Gardena, next to his 240,000-square-foot warehouse, he struck me, no kidding, as a man who sleeps well at night.
Larry Miller is proud, and justifiably so, of all that he has accomplished and all that is right in his world. His 28 stores in Southern California (and counting) sell more mattresses per store, according to their website, than any other retailer in the country. His son Andrew ("Drew") is coming into the business, starting on the advertising and marketing side. His daughter Danielle is going to be a doctor and is currently the project manager for a successful charity, Cell-Ed. He gets along well with his ex-wife, is happily remarried and recently went on the first real vacation of his life since he started his business.
Miller, along with his business partners and employees, is very charitable: He is a large donor to and honoree of Jewish Vocational Service (JVS), a nondenominational nonprofit that helps people find new careers and employment, and the Scott Newman Foundation, whose focus is drug education. Sit 'n Sleep has also partnered with Habitat for Humanity to provide families with new beds; his employees organized a charity golf tournament and, in general, where possible, as Miller recently said, "I try not to say no."
However, that was not always the case. As Miller recounted, more than 25 years ago, on the very day his daughter was about to be born, he found himself in trying circumstances.
Miller said he always had an interest in business. He was working even before he became a teenager, be it a paper route or selling something. However, after graduating from California State University, Northridge, he decided that he was through taking orders.
"My big sister told me what to do, my parents told me what to do, my principals at school told me what to do," Miller said.
He didn't like bosses who motivated through fear or who were mean. So instead, he went to work with his father, Phil, but that posed challenges of its own. At first, his father was tough. "He didn't want to give up control," Miller said.
They started a franchise business in Culver City that sold convertible sofas -- which, Miller recalled, "just didn't work." They ended the franchise and kept the single store, naming it Sit 'n Sleep. Miller and his father began the business with $10,000 each -- and they were soon stretched thin.
During a trip to Japan in the early 1970s, Miller had discovered the futon -- an inexpensive cotton mattress that could be used for bedding or folded as a couch. He felt that the time was right to offer them in the United States and persuaded his father to carry them: thus Sit 'n Sleep. And they sold, bringing in a younger demographic of students, teenagers and first-time buyers, which bought the business some breathing room. That small success accomplished something else: It helped Miller earn the respect of his father, who would now trust Miller in the direction of the business.
However, they still weren't making enough for Miller to live on. Often people would walk into the store and solicit them for a charitable donation. Miller had to say no.
"They thought because we had a business we could afford to be charitable," he said.
The futons, Miller said, were only "a short-term fix." To succeed, Miller realized, he would have to sell branded merchandise, such as mattresses, which he began to carry.
One day a salesman from a mattress manufacturer came to visit the store. He had to walk past all the futons to get to the mattresses stacked against the back wall.
"Maybe you should consider moving them further up front," the salesman suggested. "So maybe you'd sell more of them."
That was when Miller realized that he was in the mattress business. However, things would get worse before they got better.
The day his daughter was to be born, his business was $175,000 in debt; his personal credit card debt was $130,000. He owed the government money for taxes he couldn't pay. He needed $10,000 to pay for mattresses, and he knew the check wouldn't clear. It was a Friday, and he gave the mattress supplier the check, knowing that he would have to make it good by Monday. He left for the hospital hoping his partner, Nelson Bercier (who is also his brother-in-law), would make enough in sales to help them cover the check. Soon after, his daughter was born.
"The greatest gift I ever got," Miller said.
After he left the hospital, he called his partner: "What did we do?" Bercier told him there were no sales. Miller went home, and although he wasn't a drinker he opened a bottle of scotch. "What have I done?" he asked himself.
Monday the bank called, asking him about a $10,000 check. Miller promised he would bring the funds to cover the check by noon. From his credit cards he cobbled together $9,000. In the office lock box there was a $600 check. The bank manager asked him again whether there would be enough money to clear his $10,000 check. Miller promised there would be -- he just didn't know how. He explained that he was leaving to pick up his wife and new daughter from the hospital. The manager agreed to clear the check anyhow.
Miller then made a promise to himself. "If I ever became successful, I would give back," and that if he could, he would try not to say no.
How did he turn things around? First, he decided to run the business based on what mattered to him and what he thought would matter to the customer: selection, the largest selection of mattresses available; a knowledgeable sales staff who are all, in Miller's words, "mensches" (regardless of gender, race, color or creed); and price, which he is able to offer based on the volume of mattresses he sells.
Let me say this: Miller is a compelling salesman. As he put it to me, "Listen, you are born in a mattress, you die in a mattress. You make love; you give birth. You have romance; you have tears. You dream; you eat. You're on your computer; you're entertained. You spend more time there than anywhere else." Or in another words: "What's more important to your health than a good night's sleep?"
What turned around Miller's business, however, was advertising. At first, he advertised in the Herald Examiner, then in the LA Weekly. KABC talk radio offered to give him credit to run late-night radio ads. At first an announcer read the ads, but Miller's father thought they were terrible, and Miller complained.
"He said, 'Listen, smartass, why don't you come in and do it yourself?' "
At first, Miller said, "I was scared to death." By his own admission, he was terrible. However, L.A. sportscaster Stu Nahan was in the studio and he coached Miller.
Sit 'n Sleep advertised on more radio shows, and in 1991 Miller got a call that Howard Stern's show was coming to the L.A. market. Miller had never heard of Stern, but Sit 'n Sleep put its ads on his show. "They were hugely successful. Our business went from $1 million to $2 million in sales. It was a big deal. In 1993, we went on TV, our business went up 50 percent more. Then we built up the Culver City store to the highest-grossing mattress store in the country, which it still is. And since then we opened 27 more stores."
More sales meant more bargaining power with the mattress manufacturers, being able to hire and pay better salespeople and continue to deliver on selection, superior sales staff and price.
When the recession hit, Miller decided he needed to give the customer a better reason to buy a new mattress. At the same time, he visited his elderly mother and noticed that she was sleeping on a lumpy mattress. He offered to get her a new one. I haven't had this one that long, she said. He looked at the mattress tag and discovered it was 16 years-old. He did more research and discovered that a mattress doubles in weight over eight years, filled with dust mites, dead skin and other unmentionables. So he started a "replace every eight years" campaign, which Miller is quick to point out has been good for the entire industry, not just Sit 'n Sleep.
Over the past decades, many mattress companies have gone out of business and new mattress stores seem to pop up on corner after corner. Yet Sit 'n Sleep continues to grow.
"I try to take good care of the customers, like they are family. I do. I care," Miller said, reiterating that Sit 'n Sleep gives them "the best selection, the best knowledge, gives them technology -- nobody else has -- a body diagnostic computer that we have exclusively for Southern California... nobody does the business we do. I try to get deals that my customers will be thrilled with."
Did I want to scream, "You're killing me, Larry"? I did not. I was reminded about the story of Lyndon Johnson, who took the podium after receiving a lavish description of his attributes and accomplishments. "Thank you for that introduction," Johnson supposedly said, "I only wish my parents were here to hear it: My father would have enjoyed what you have so generously said of me -- and my mother would have believed it."
To spend time with Miller is to believe him when he says, "I actually think I'm doing people a favor -- I believe that and I'm proud of what we do. I'm a lucky guy. I never in my life thought that I'd have what I have or be able to do what I've done. I'm a lucky man."
The following article originally appeared in print in the Portfolio Tribe Media supplement
Related
Popular in the Community