Yet Nassar's name is not dominating national news. It doesn't have people protesting outside his home. It hasn't become a punchline for every late-night television host.
Days before his sentencing on Jan. 16, many of Nassar's victims are wondering the same question: Why does no one seem to care about their story?
"I remember when the Penn State scandal was talked about at length for months and months and even years. This is nearly five times the size and no one knows about it," sexual abuse survivor Morgan McCaul told HuffPost.
A dancer and first-year college student, McCaul is one of the dozens of plaintiffs anonymously named in lawsuits against Nassar, MSU and USA Gymnastics. The 18-year-old said that Nassar began sexually abusing her when she was just 12 years old in 2012. The abuse continued for three years.
McCaul described how she's repeatedly had to explain to professors why she needs to miss class or an exam because of an upcoming court date. Often times, she said, they have no idea about the Nassar case.
"It's been hard to reckon with, especially because these are people that I expect to be educated," said McCaul, who attends the University of Michigan in Ann Arbor, which is only an hour away from MSU. "Even people that are teaching at universities don't know that this went on."
'I Haven't Sensed The Outrage'
HuffPost spoke with six survivors who are suing Nassar, MSU and/or USA Gymnastics: McCaul, Alexis Alvarado, Jessica Smith, Christine Harrison, Larissa Boyce (who have all come out publicly since the lawsuits were filed) and "Jane Doe" (who wants to remain anonymous). All six women ― three gymnasts, two dancers and a soccer player ― shared a similar sentiment, that the country doesn't seem to care what happened to them.
"I haven't sensed the outrage," said Boyce, who alleges that Nassar began abusing her when she was 16 and continued from 1997 to 2001.
"A lot of people seem to believe it's only Olympians that this [abuse] happened to, which isn't true."
Alvarado believes the country has essentially ignored the trauma inflicted on her and the other women because they're not famous athletes. The 19-year-old said that Nassar sexually abused her for six years starting when she was 12.
"A lot of people seem to believe it's only Olympians that this [abuse] happened to, which isn't true," she said.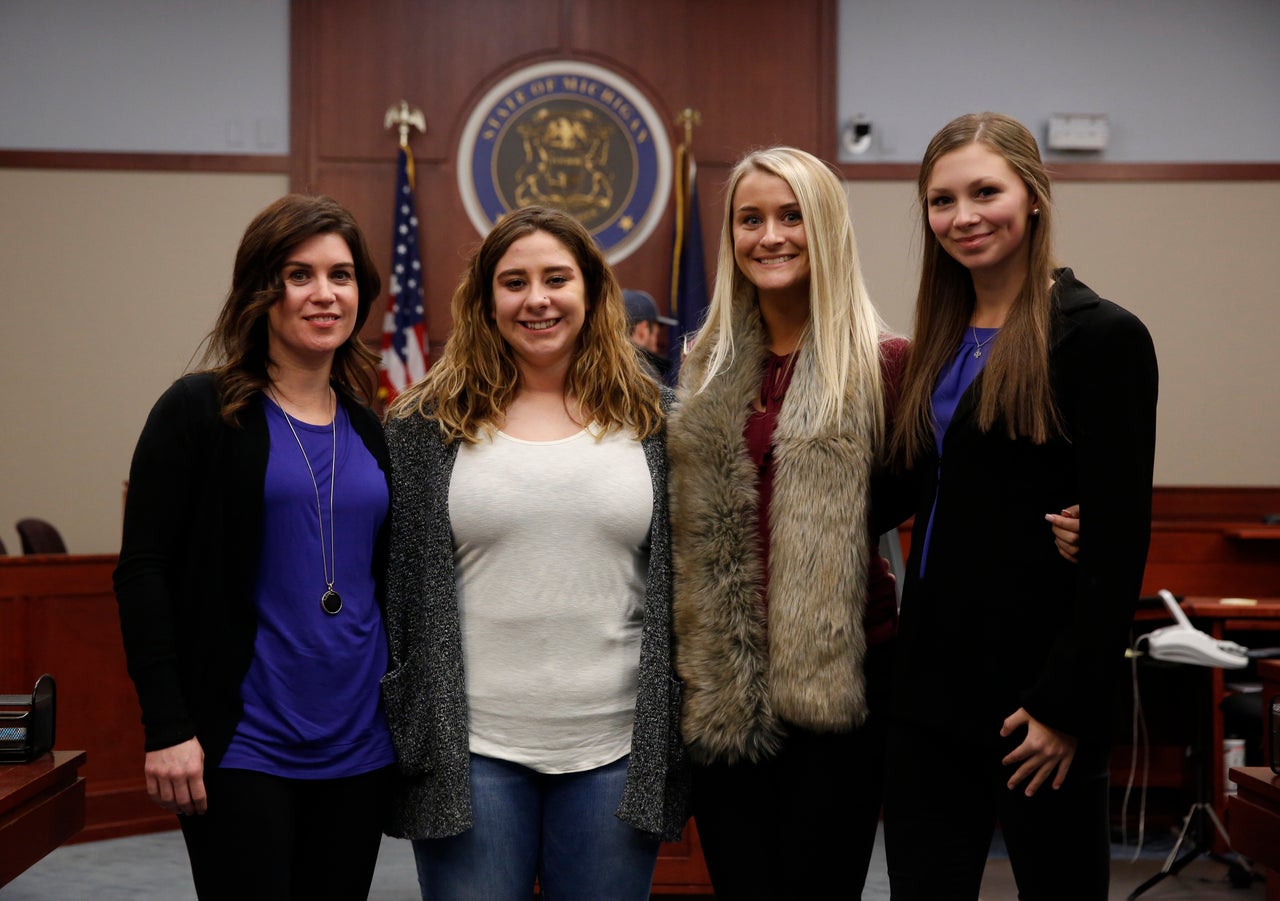 Other survivors believe their stories haven't made front-page headlines because they're female athletes.
"I think it plays into the importance that we put on male athletics versus female athletics," McCaul said. "This is a case of gymnasts and dancers and figure skaters, not football players or basketball players. I think it's sexism, to be honest. There's no other explanation for why this many women have come forward and it's not big news."
Smith, who said that Nassar abused her for a few months when she was 17, also sees a connection between the identities of Nassar's victims and the lack of public attention.
"It's hard to feel like, if I was an Olympic gymnast, maybe this would be different. If I was a football player at MSU or a basketball player at MSU, then maybe the public and MSU as an institution would care more," she said.
Decades Of Abuse By A Trusted Doctor
Nassar, 54, sexually abused young athletes ― many of whom were top-tier gymnasts and dancers ― for decades under the guise of medical treatment. According to court documents, he gained the trust of girls and their families, which then gave him cover as he used his exams to fondle and digitally penetrate the girls in the vagina and anus.
He treated many of these athletes for years during his tenures as the team doctor for USA Gymnastics, the doctor for various MSU sports teams and the sports medicine doctor at the Michigan gymnastics training gym Twistars.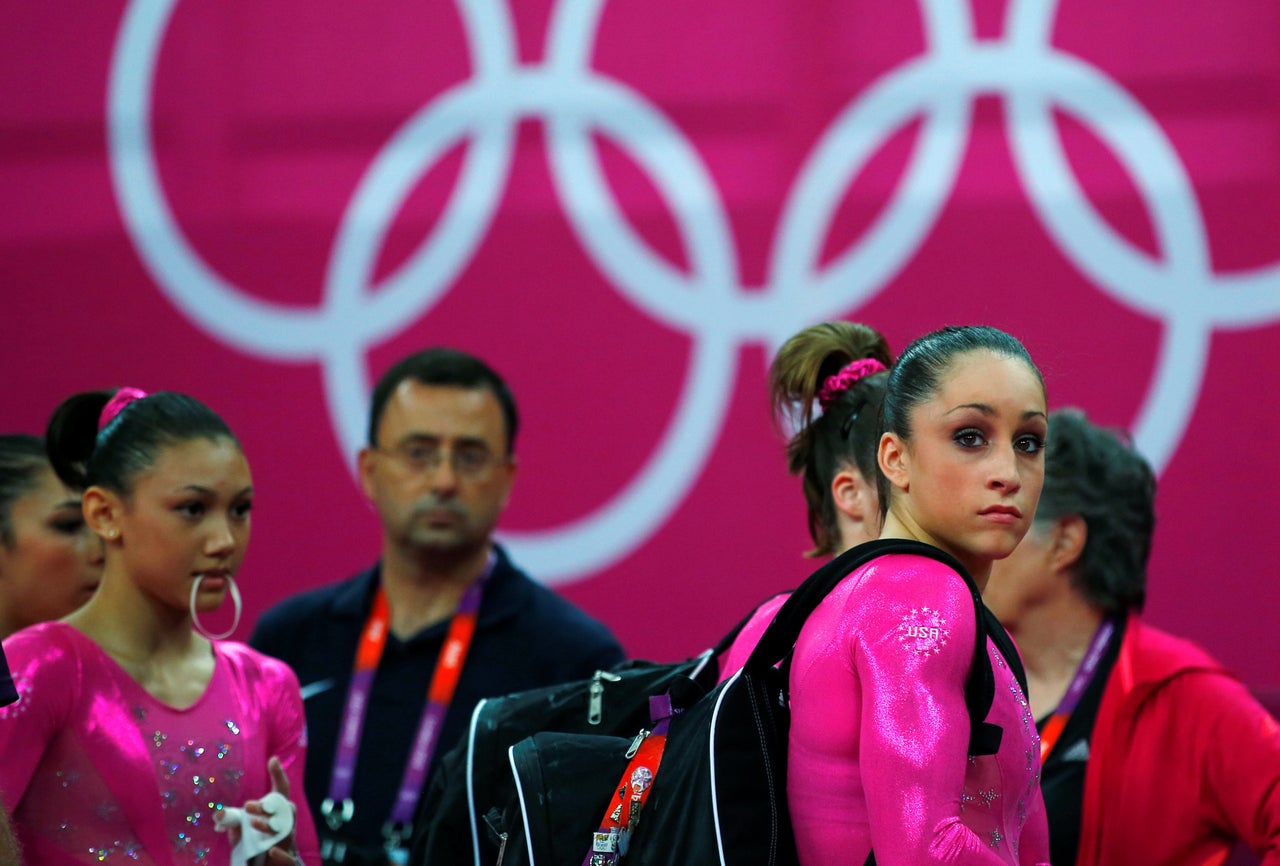 In November, Nassar also pleaded guilty to 10 counts of first-degree sexual misconduct and is awaiting sentencing for those crimes. He said in a statement to the court that he's "so horribly sorry" for what he did and he hopes the victims and the community can heal.
Nassar faces a minimum sentence of 25 years in prison for the sexual misconduct counts. The Michigan attorney general's office has reportedly asked the judge to sentence him to 40 to 125 years.
'Sick Of MSU Trying To Look Good Instead Of Be Good'
It's safe to say that Nassar has been condemned as a sexual abuser by both the law and public opinion, and will likely die in prison. But what about the institutions that enabled his crimes to go on for so long?
Many of Nassar's victims say they told parents, coaches, MSU trainers and even police what was happening behind closed doors. Time and time again, the girls' claims were allegedly disregarded or swept under the rug.
"I'm sick of MSU trying to look good instead of be good," Smith said.
None of them, Smith and the other women who spoke to HuffPost believe, have faced sufficient punishment for their failures.
"I think that everyone that either was reported to by victims, or that had knowledge that this was going on and didn't do anything, should have been terminated immediately, and that's not the case," McCaul said. "I feel like that sends a big message to victims that there are no consequences for what these people did."
"It's insulting as a victim to have to beg for answers as to why Nassar was enabled for as long as he was."
Boyce knows all too well the consequences of people in power not following mandatory reporting regulations. She said that she told Klages about Nassar's behavior in 1997 and that the coach told her she must have misunderstood the medical procedure. At 16, Boyce was so ashamed and confused that she continued seeing Nassar for years, during which time he kept abusing her.
Klages did not immediately respond to HuffPost's request for comment.
"It seems like MSU, USAG, and Twistars only see us as a financial burden that needs to be silenced and squashed, devalued and discredited all while trying to say they are sorry it happened to us and are on our side," Boyce said. "They are denying any responsibility, saying they didn't know a predator was among them. That is like a slap in the face to the seven girls who over the past 20 years told multiple MSU employees and [they] did nothing about it. How is that not showing their complete negligence?"
The university's response to the allegations has made an already grueling process that much more difficult, Harrison said.
"It's insulting as a victim to have to beg for answers as to why Nassar was enabled for as long as he was," she said. "MSU did not take ownership of what they let go on. ... The enablers should be charged and a thorough investigation should be set in motion, but we have yet to see any of those actions put in motion."
MSU has denied covering up Nassar's behavior in any way.
"Any suggestion that the university covered up Nassar's horrific conduct is simply false," MSU spokesperson Jason Cody told HuffPost earlier this month. "Nassar preyed on his victims, changing their lives in terrible ways. As [MSU] President Simon has said, MSU is truly sorry for the abuse all victims suffered, the pain it caused, and the pain it still causes."
MSU and Twistars filed separate motions on Friday to dismiss the lawsuits against their organizations. USA Gymnastics filed a similar motion last month, citing the statute of limitations.
"Nassar's conduct is disgusting, and USAG deplores Nassar's crimes. But Nassar, not USAG, is liable for Nassar's criminal actions," USA Gymnastics attorney Andrew Portinga wrote in court documents.
'We Aren't Just Jane Does ― We Are Individuals With Feelings'
McCaul and dozens of other Nassar victims plan to read impact statements at his sentencing hearing, which starts on Tuesday. In McCaul's impact statement, she grapples with her dream of becoming a doctor.
"I am studying pre-medicine, and I sometimes question whether or not I still believe physicians can be good people," she writes.
All six women who spoke to HuffPost talked about how hard it's been to come forward with their stories. More than one described the experience as an "emotional roller coaster." Many plan to use their impact statements to discuss the after-effects of Nassar's abuse: depression, anxiety, post-traumatic stress disorder, extreme migraines, panic attacks, stomach issues, shame, insomnia, nightmares, suicidal thoughts ― the list goes on and on.
All of them agreed, however, that they've found solace and comfort in one other.
Harrison said she hopes the public understands that behind every Jane Doe in these lawsuits, there is a young woman working through years of trauma.
"The abuse that happened to us survivors is something that will affect us for the rest of our lives," Harrison said. "I came forward to share my story and identity because others need to know we aren't just Jane Does ― we are individuals with feelings."
Now a dance teacher, Smith said that back in November she looked around at her students ― many of whom are young girls ― and realized she had to come forward with her story. The day her accusations went public, a 7-year-old student gave her a card decorated in glitter and hearts that read, "You're my hero."
"I just looked at her and held back tears, and she was beaming smiling," Smith said. "She had no idea how her small gesture gave me so much assurance."
Related
Popular in the Community