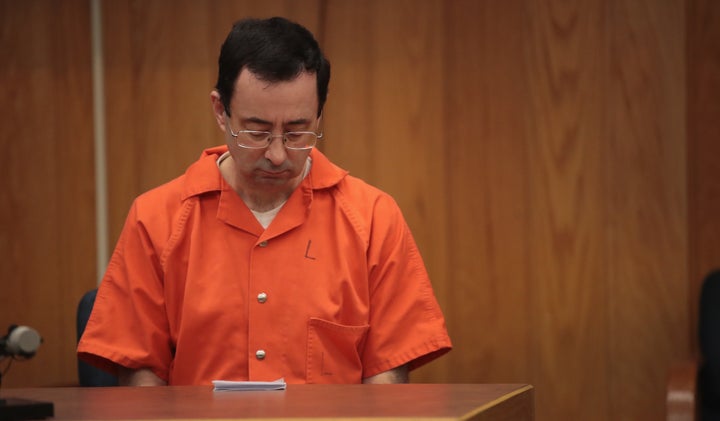 Larry Nassar and former USA Gymnastics trainer Debbie Van Horn were charged with multiple counts of child sexual abuse on Friday afternoon.
During a press conference in Walker County, Texas, prosecutors and city officials announced that Nassar, who is currently serving a life sentence, was indicted on six charges of child sexual assault and Van Horn on one charge of child sexual assault.
"This is an ongoing investigation. It is still an open investigation," Walker County District Attorney David Weeks said.
The charges stem from an investigation into six victims who say they were sexually abused as far back as the early 2000s by Nassar at the Karolyi Ranch, the legendary USA Gymnastics training facility owned by coaches Bela and Martha Karolyi.
During Nassar's January sentencing hearing, national gymnastics champion Mattie Larson named Van Horn in her emotional victim impact statement. She said that Van Horn was in the room "many of the times" that Nassar abused her. 
"If a trainer, a professional trainer, doesn't say anything about it, I should trust her. At least that's what I thought," Larson said. 
Assistant District Attorney Stephanie Stroud clarified that the Texas investigation found no evidence that the Karolyis committed any criminal behavior. 
"We do not believe that there is any corroborated evidence with regard to Bela and Martha Karolyi that they did anything wrong," Stroud said. "There are other individuals who may have fallen within criminal behavior, but they are outside the statute of limitations and those would be failure to report cases."
The Karolyis have been under intense scrutiny since several young athletes came forward with allegations of abuse at the ranch. Both have continually denied any wrongdoing. 
"I heard during the testimonies that some of the parents were in the therapy room with their own child and Larry Nassar was performing this, and the parent couldn't see," Martha Karolyi said during an interview with Dateline in April. "How I could see?" 
Walker County officials believe there was a "total failure" by USA Gymnastics to protect its athletes, Stroud said.
"Charging Larry Nassar with more crimes makes about as much sense as digging up Lee Harvey Oswald and charging him with JFK's murder," John Manly, an attorney who represents over 300 Nassar survivors, told NBC News.
He added that there "are at least five adults" who knew of Nassar's behavior at the time and failed to report it. 
"The message to people who were in charge of protecting children is that in Texas, if you fail to report molesters nothing will happen to you," Manly said.
When asked why Walker County is bothering to prosecute Nassar, Weeks said: "Because it's the right thing to do."
REAL LIFE. REAL NEWS. REAL VOICES.
Help us tell more of the stories that matter from voices that too often remain unheard.