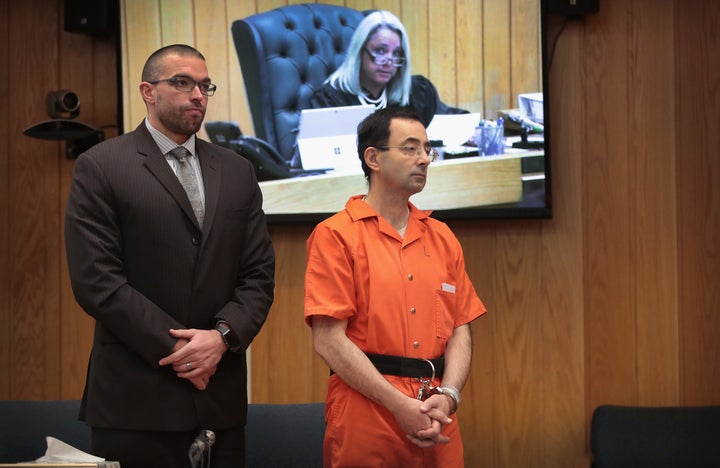 Former USA Gymnastics and Michigan State University team doctor Larry Nassar has appealed the last of his prison sentences for sexually assaulting female athletes under the guise of medical treatment.
Cunningham "was asked to impose the highest possible minimum term under the plea agreement not just based on the victims' and other speakers' emotional reaction to the sentencing offenses, but based on all sorts of factors beyond the individual circumstances of the offender and the offenses for which he was sentenced," Nassar's attorneys argued in the motion.
Nassar, who is accused of sexually assaulting more than 260 athletes, is serving three concurrent prison sentences of up to 175 years. Two of the terms are for sexual assault; one is for child pornography.
Nassar has now appealed all three of his sentences, including his 60-year sentence for possessing child pornography and his 40- to 175-year sentence on seven counts of child sexual abuse imposed in January. Judge Rosemarie Aquilina last week denied Nassar's appeal of his January sentence. The child pornography appeal is pending.
"I am not convinced that you truly understand that what you did was wrong and the devastating impact that you have had on the victims, their families and friends," Cunningham told Nassar before sentencing him. "Clearly you are in denial. You don't get it. And I do not believe that there is a likelihood that you could be reformed."
In addition to requesting a new hearing, Nassar's attorneys requested a different judge.
"Judge Cunningham having already been exposed to the improper factors can be reasonably expected to have substantial difficulty in putting these out of her mind," Nassar's attorneys argued, according to the Lansing State Journal. "Re-assignment is advisable to preserve the appearance of justice, and the reassignment would not entail waste and duplication out of proportion to any gain in preserving the appearance of fairness."
During the February sentencing, Randall Margraves, a father of three Nassar survivors, attacked the former doctor in court. It wasn't clear whether Nassar's attorneys cited the incident in their appeal.
A hearing on Nassar's appeal was scheduled for Sept. 6 in Cunningham's courtroom.