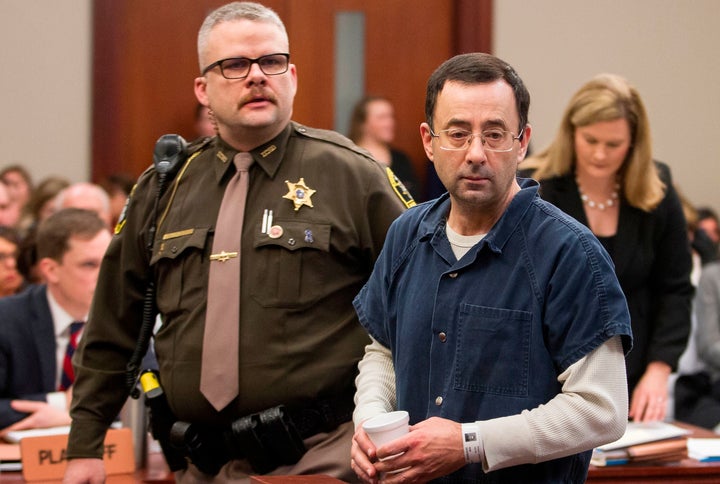 The Larry Nassar and USA Gymnastics sexual abuse scandal is coming to the small screen.
HBO Documentary Films announced on Monday that the cable company acquired the rights to the documentary "At The Heart Of Gold: Inside The USA Gymnastics Scandal." The film explores how Nassar, the former USA Gymnastics doctor who pleaded guilty last year to multiple counts of pedophilia, was able to prey on hundreds of athletes for decades under the guise of medical treatment.
"At The Heart Of Gold" reveals "a landscape in which women spend their youth seeking victory on a world stage, juxtaposed against a culture where abuse prevails and lives are damaged forever," according to HBO.
The documentary, set to debut sometime in 2019, is directed by Erin Lee Carr and based on years of research by producers David Ulich and Dr. Steven Ungerleider. Ulich and Ungerleider are well-known for their work covering Olympic scandals, including the East German doping apparatus and the 1972 Munich massacre.
Nassar survivor and University of Michigan student Morgan McCaul, who was interviewed for "At The Heart Of Gold," told HuffPost that she was honored to take part in the project.
"From the very beginning, my and many other survivors' goal in coming forward so publicly was to raise awareness about how this systemic tragedy failed hundreds of young girls and then to prevent it from happening again," McCaul said. "I was more than honored, no matter how painful or ugly it felt to speak about my abuse, to take part in this project because of the team involved and the platform it provides. I believe they will honor our stories. I believe they will help us make change."
Nassar, who also served as a sports physician at Michigan State University, sexually abused hundreds of athletes dating back to the 1990s. The story broke in September 2016 when former gymnast Rachael Denhollander went public with her allegations that Nassar vaginally and anally penetrated her with his fingers during routine medical exams. Since then, over 260 women have come forward accusing Nassar of the same type of abuse.