Larry Nassar was sentenced to 60 years in federal prison Thursday on child pornography charges. The former USA Gymnastics and Michigan State University doctor knowingly collected 37,000 images and videos of child pornography as early as 2003.
U.S. District Judge Janet Neff gave Nassar the toughest sentence possible. Nassar will consecutively serve 20 years for each of the three federal charges against him.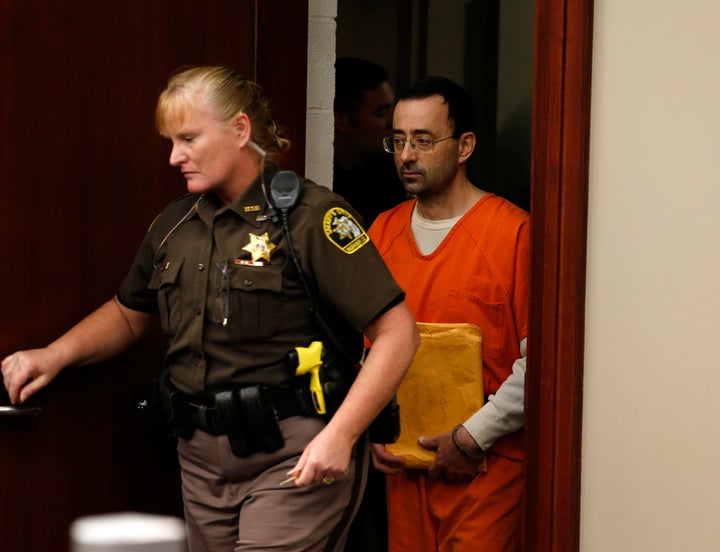 Nassar, 54, signed a plea deal in July agreeing to plead guilty to three federal charges in regards to his possession of child pornography. Police found videos and images of child pornography in Nassar's home in December 2016, and they reported he also attempted to destroy hard drives containing child pornography.
Nassar said in court that he "tried to improve" himself, adding, "I lost everything because of this. ... I chose wrongly."
According to allegations from former gymnasts, Nassar gained the trust of young athletes and their families and then continually abused the young girls by fondling and penetrating them with his fingers ― all under the guise of medical care. He treated many of these athletes, some as young as 12 years old, for years.
"Larry Nassar deserves to spend the rest of his life in prison."
Maroney sent a victim-impact statement to Judge Neff before sentencing on Thursday, urging the judge to give Nassar the maximum sentence.
″[Larry Nassar] abused my trust, he abused my body and he left scars on my psyche that may never go away," Maroney wrote in the letter, obtained by E! News. "Larry Nassar deserves to spend the rest of his life in prison. Not only because of what he did to me, my teammates and so many other little girls ― He needs to be behind bars so he will never prey upon another child. I urge you to impose the maximum sentence upon him."
"Realizing that you are a victim of sexual abuse is a horrible feeling. Words cannot adequately capture the level of disgust I feel when I think about how this happened," she wrote. "Larry abused his power and the trust I and so many others placed in him, and I am not sure I will ever come to terms with how horribly he manipulated and violated me."
In November, Nassar pleaded guilty to 10 counts of criminal sexual conduct in the first degree. Sentencing for the first seven counts of criminal sexual conduct will take place at 9 a.m. on Jan. 12, at which point victims will be allowed to give their impact statements. Sentencing for the three other counts of criminal sexual conduct will take place later in January.
Support HuffPost
The Stakes Have Never Been Higher
Popular in the Community