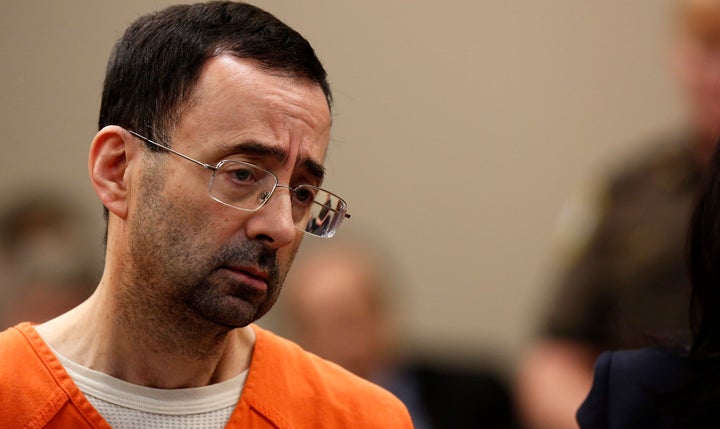 Former USA Gymnastics and Michigan State University doctor Larry Nassar pleaded guilty to seven counts of criminal sexual conduct in the first degree on Nov. 22 and three counts of criminal sexual conduct in the first degree on Nov. 29.
The 54-year-old Nassar pleaded guilty to the first seven charges in Ingham County court in Mason, Michigan, on Nov. 22. According to The Detroit News, four of the seven charges involved two victims who were under the age of 13; each of those four charges carries a minimum sentence of 25 years. The remaining charges each carry sentences up to life in prison.
Michigan Assistant Attorney General Angela Povilaitis said that all of Nassar's 125 victims were contacted and approved of the plea agreement, adding that the women were "ecstatic" and "very relieved" with the plea.
In a statement to the court, Nassar said he's "so horribly sorry" for what he did and he hopes the victims and the community can heal.
On Nov. 29, Nassar plead guilty to three more counts of criminal sexual conduct in the first degree during a hearing at Eaton County court in Charlotte, Michigan. Two of the victims were under 16 at the time the abuse took place, and the third was under 13.
Sentencing for the first seven counts of criminal sexual conduct will take place at 9 a.m. on Jan. 12, at which point victims will be allowed to give their impact statements. Sentencing for the three other counts of criminal sexual conduct will take place later in January.
According to the allegations, Nassar reportedly gained the trust of young athletes and their families and then continually abused the young girls by fondling and penetrating them with his fingers ― all under the guise of medical care. He treated many of these athletes, some as young as 12 years old, for years.
"I was very confused, trying to reconcile what was happening with the person he was supposed to be," Rachel Denhollander, one of the first women to accuse Nassar of sexual abuse that took place when she was just 15, told IndyStar in September 2016. "He's this famous doctor. He's trusted by my friends. He's trusted by these other gymnasts. How could he reach this position in the medical profession, how could he reach this kind of prominence and stature if this is who he is?" Denhollander was in court during the plea agreement on Wednesday morning.
John Manly, an attorney representing 105 Nassar accusers in civil lawsuits, described the case to The Detroit News as the "largest sexual assault scandal in the history of sport."
"[Nassar] can say whatever he wants. No word, no apology is going to make this better. Nothing," Manly said. "The victims are left with the wreckage in their lives. Some will get better, and some will never get over it."
This article has been updated to include Nassar's guilty pleas from Nov. 29.
Popular in the Community