Larry Nassar, the former USA Gymnastics and Michigan State University team doctor who treated some of America's best athletes, was sentenced to 40 to 175 years in prison Wednesday for sex crimes that have shaken the sport's governing body.
Nassar, 54, will spend the rest of his life behind bars as a result of Michigan Circuit Judge Rosemarie Aquilina's sentence on seven counts of criminal sexual conduct in the first degree.
"I've just signed your death warrant," Aquilina said after handing down the sentence.
The judge gave a lengthy and powerful explanation of how she viewed Nassar's apology and calculated his sentence. "It was not treatment what you did. It was not medical," she told Nassar. "You do not deserve to walk outside of a prison ever again."
She also called on federal authorities to investigate how Nassar's abuse was allowed to go on for so long. "Justice requires more than what I can do on this bench," Aquilina said.
Michigan Assistant Attorney General Angela Povilaitis called Nassar a "master manipulator" in her closing argument.
"The breadth and ripple of this defendant's abuse and destruction is nearly infinite," Povilaitis told the court. "The defendant is a twisted, beloved, renowned doctor who used his prestige to gain trust of these girls and exploit them."
Nassar, in his statement to the court, said he will carry his victims' words "for the rest of my days."
"Your words these past several days have had a significant emotional effect on myself and has shaken me to my core," Nassar said, turning to face survivors in the courtroom. "I also recognize what I'm feeling pales in comparison to the pain, trauma and emotional destruction you are all feeling."
Nassar, 54, pleaded guilty to the crimes on Nov. 22, and admitted that he sexually assaulted young girls under the guise of medical treatment. He's already serving a 60-year sentence on federal child pornography charges, and still faces sentencing for three additional criminal sexual conduct crimes in Michigan. Prosecutors had asked the judge to sentence Nassar to 40 to 125 years.
The judge allowed Nassar's victims to deliver or read impact statements in her Lansing, Michigan, courtroom. For seven days, Nassar was forced to listen as 169 survivors and family members read statements that were emotional, cathartic and powerful.
"Little girls don't stay little forever. They turn into strong women that return to destroy your world," Nassar family friend Kyle Stephens said in her impact statement last week. Stephens, who said Nassar began molesting her when she was 6, was the first woman to read her statement in court.
Over 140 women have accused the now-disgraced doctor of sexual abuse, including Olympic gymnasts Aly Raisman, Gabby Douglas, McKayla Maroney and Simone Biles. According to court documents, Nassar gained the trust of girls and their families, which then gave him cover for exams that allowed him to fondle and digitally penetrate the girls as team doctor for USA Gymnastics and various Michigan State University sports teams.
"Larry, you do realize now that we ― this group of women you so heartlessly abused over such a long period of time ― are now a force and you are nothing," Raisman said in her victim impact statement. "The tables have turned, Larry. We are here and we are not going anywhere."
"We -- this group of women you so heartlessly abused over such a long period of time -- are now a force and you are nothing."
Raisman revealed in November that Nassar sexually abused her during her time on the USA Gymnastics Olympic team.
"I was just so scared and nervous about what people were going to think," Raisman said in a November interview. "I was a textbook victim, brainwashed to believe I was fine."
Many of Nassar's victims told how the abuse has affected them, with stories of PTSD, family issues, anxiety, depression, eating disorders, intimacy issues, a distrust of men, a distrust of doctors, shame, guilt and suicidal thoughts.
"I was a carefree silly little girl until this happened, and afterwards there was a cloud and the cloud has followed me into every relationship in my life, especially the most important ones," survivor Lyndsy Carr said in her statement.
Dancer Jessica Smith told of debilitating migraines she experiences because of the trauma from Nassar's abuse.
"Since being victimized, I suffer from a rare form of extreme migraines that no neurologist has been able to fully understand or diagnose," Smith said in court. "... These migraines begin with half of my body going numb, including my tongue, causing me to be unable to speak. I also lose basic functioning skills such as fine motor and even gross motor. The effects of my migraines can cause me to be confused and unable to think straight for up to days after the initial searing headaches. This in addition to my anxiety and inability to sleep leaves me in an unhealthy state both physically and emotionally."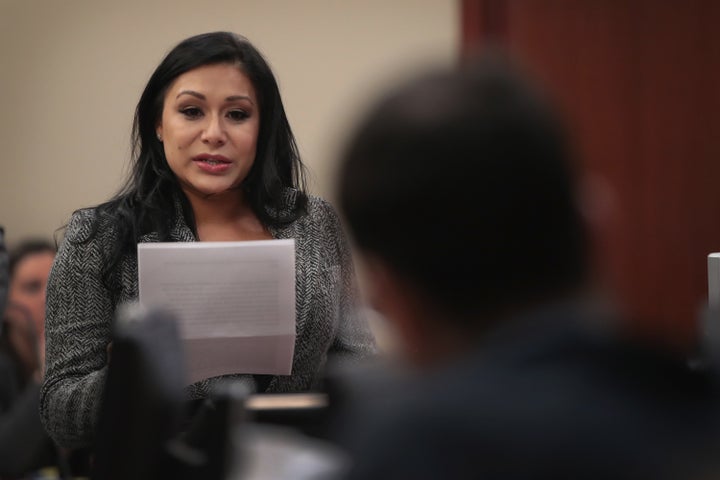 Many of Nassar's victims said they told coaches, parents and trainers about the abuse, but it continued. The Detroit News reported that at least 14 Michigan State University staffers and representatives were warned about Nassar's abuse over the course of two decades, and failed to stop it.
Dozens of victims called out the university and USA Gymnastics.
"A simple fact is this: If Michigan State University, USA Gymnastics and the U.S. Olympic Committee had paid attention to any of the red flags in Larry Nassar's behavior, I never would have met him, I never would have been 'treated' by him, I never would have been abused by him," Maroney said in her impact statement.
"Michigan State University had the audacity to tell me I did not understand the difference between sexual assault and a medical procedure."
"I knew that he abused me. I reported it," Nassar victim Amanda Thomashow said in her impact statement. "Michigan State University had the audacity to tell me I did not understand the difference between sexual assault and a medical procedure."
Emma Ann Miller, 15, in an emotional impact statement this week, said that after Nassar's case, she and other survivors will be coming for the school.
"The best part of my story, titled Miller vs. MSU, is I know I'm not alone," Miller told the judge. "You see, Your Honor, we are just getting started."
CORRECTION: Due to an editing error, a previous version of this story said Kyle Stephens was a gymnast. In fact, she was a Nassar family friend.
Support HuffPost
The Stakes Have Never Been Higher
Popular in the Community