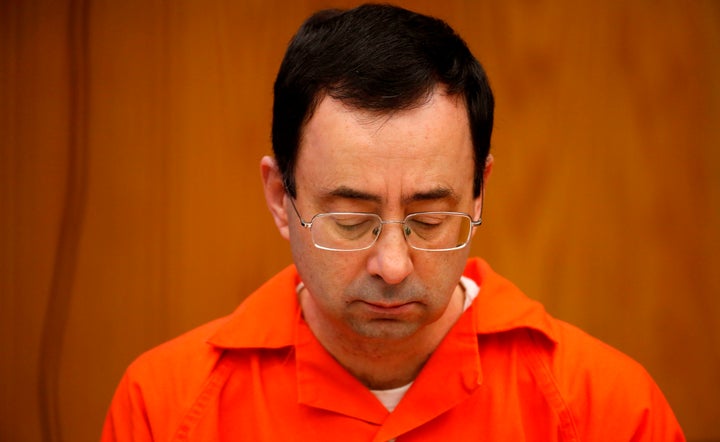 Former USA Gymnastics and Michigan State University team doctor Larry Nassar on Monday was sentenced to 40 to 125 years in prison for sexually abusing young athletes under the guise of medical treatment.
Nassar, 54, was sentenced in a Charlotte, Michigan, courtroom on three counts of criminal sexual conduct in the first degree, adding to long prison terms he already faces for additional sex crimes.
"I am not convinced that you truly understand that what you did was wrong and the devastating impact that you have had on the victims, their families and friends," Judge Janice Cunningham told Nassar in court before handing down the punishment. "Clearly you are in denial. You don't get it. And I do not believe that there is a likelihood that you could be reformed."
Nassar read a statement in court before he was sentenced.
"The words expressed by everyone that has spoken, including the parents, have impacted me to my inner-most core," he said. "With that being said, I understand and acknowledge that it pales in comparison to the pain and trauma and emotions that you all feel. It's impossible to convey the depth and breadth of how sorry I am to each and everyone involved."
Assistant Attorney General Angela Povilaitis, in her closing argument, reminded the judge how far-reaching Nassar's abuse was.
"The breadth of the defendant's abuse and destruction is nearly infinite," the prosecutor said. "... Few sports were saved from his predatory behavior, over a dozen different sports brought athletes to him who he abused."
Povilaitis also applauded the bravery of survivors who spoke against Nassar.
"We are taught to trust. We have to trust ... We are, above all, taught to trust doctors, especially those who appear to be world-class doctors," she said. "I truly believe we've seen the worst humanity in the last few weeks and we've also seen the best."
The disgraced former physician, who is accused of sexual abuse by more than 265 young women, pleaded guilty to the charges on Nov. 22. He is already serving 40 to 175 years in prison on seven counts of criminal sexual conduct in the first degree, and an additional 60 years on child pornography charges.
The sentencing comes after more than 60 survivors delivered powerful victim impact statements in court to Nassar.
Former gymnast Tiffany Dutton said during the sentence hearing that she came forward with her story because of the "courage and bravery" of the other women who have already accused Nassar.
"It takes a monster to sexually assault a child," she said. "But it takes a monster backed by ego, experience and power ― fueled by multiple institutions ― to sexually assault a child in front of their own mother."
Among Nassar's victims are Olympic gymnasts Aly Raisman, Gabby Douglas, McKayla Maroney and Simone Biles. According to court documents, Nassar served as team doctor for USA Gymnastics, various MSU sports teams and at a local Michigan gym called Twistars. As such, he gained the trust of girls and their families, which gave him cover for exams during which he fondled and digitally penetrated the girls.
Larissa Boyce, the first woman to report Nassar's abuse back in 1997, ended her impact statement on a powerful note.
"My sisters, they have risen up and they have spoken their truths," Boyce said, referring to the hundreds of survivors. "Don't forget. Don't forget these truths. Don't forget me. Don't forget my story. Don't forget the 265 'me toos.' Don't forget us."
The hearing became violent on Friday morning when Randall Margraves, a father of three girls who were abused by Nassar, attacked the disgraced doctor in court.
"I would ask you to, as part of the sentencing, to grant me five minutes in a locked room with this demon. Would you do that? Would you give me one minute?" Margraves asked Cunningham before he lunged at Nassar.
Several officers escorted Margraves out of the courtroom in handcuffs, but Cunningham did not hold Margrave in contempt of court. The father later apologized, telling the judge: "I lost control and I apologize a hundred times... I'm not here to upstage my daughters, I'm here to help them heal."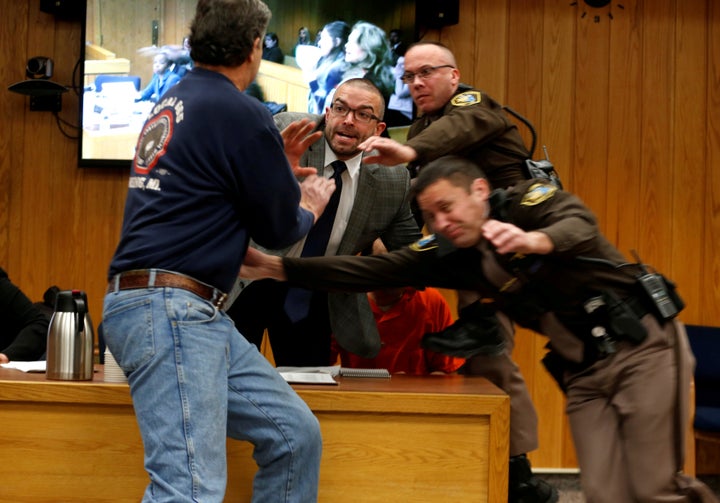 In January, Nassar sat through a weeklong sentencing hearing where 169 survivors and family members read impact statements. Raisman, along with fellow Olympians Maroney and Jordyn Wieber, read statements.
"Larry, you do realize now that we ― this group of women you so heartlessly abused over such a long period of time ― are now a force and you are nothing," Raisman said. "The tables have turned, Larry. We are here and we are not going anywhere."
Former gymnast Rachael Denollander was the first woman to publicly accuse Nassar in September 2016, a year before the #MeToo movement took off. USA Gymnastics then announced that they had previously relieved Nassar of his duties in 2015, and he was subsequently fired from his faculty position at MSU. He was arrested for possessing at least 37,000 images of child pornography in December 2016, and in July pleaded guilty to three federal counts relating to child pornography.
Although Nassar will spend the rest of his life behind bars, many are wondering if the institutions that employed him for so long will be held accountable. Dozens of survivors have called for an investigation into USA Gymnastics, the U.S. Olympic Committee and MSU.
"I knew that he abused me. I reported it," said survivor Amanda Thomashow in her statement during the earlier sentencing hearing. "Michigan State University had the audacity to tell me I did not understand the difference between sexual assault and a medical procedure."
The Detroit News reported that at least 14 MSU staffers and representatives were warned about Nassar's abuse over the course of two decades, and failed to stop it.
Several officials at USA Gymnastics, MSU and the U.S. Olympic Committee have resigned in the face of harsh criticism. MSU President Lou Anna K. Simon resigned last week. The entire USA Gymnastics board resigned, and former Olympic coach John Geddert retired. The NCAA has also opened an investigation into how MSU handled the case.
At the end of January, Congress passed a bill that aims to protect young athletes and regulate governing bodies of amateur athletics.
"[This bill] goes across all amateur sports, not just gymnastics, not just swimming ― it's all amateur sports to protect all kids," Nassar survivor and former gymnast Jeanette Antolin said at a news conference about the bill. "Because all kids should be able to go and do sports without having to worry about adult predators."
Support HuffPost
The Stakes Have Never Been Higher
Popular in the Community