Twenty years ago, Larissa Boyce says, she confessed to a gymnastics coach at Michigan State University that the school's lauded sports medicine doctor, Larry Nassar, had touched her inappropriately.
Boyce, who was 16 at the time, was seeing Nassar for lower back pain. But during many of her appointments, he inserted his fingers into her vagina, she says. She was only a teen, but her gut told her the treatment didn't make sense. So she told Kathie Klages, one of her instructors, about what was happening.
But Klages downplayed her concerns, Boyce said in a recent phone interview with The Huffington Post. She told Boyce she must have misunderstood the procedure. Boyce, paralyzed with shame, concluded it must all be in her head.
For two decades, that's what she continued to believe. Then, in September 2016, news broke that two former gymnasts, including an Olympic medalist, were saying they'd been sexually abused by Nassar.
In the months since, more than 100 women have come forward with horrifying allegations of being molested by Nassar under the guise of medical treatment. The abuse is alleged to have occurred over the course of two decades, with some of the earliest reports dated in 1997, and the most recent in 2016.
More than 80 women are suing Nassar, MSU, USA Gymnastics and other parties for failing to protect them from sexual abuse. (Both MSU and USA Gymnastics employed the doctor for about 20 years while the abuse is alleged to have occurred.) Nassar also faces criminal charges in state and federal courts, and is currently incarcerated on child pornography charges. His lawyer did not immediately respond to a request for comment.
As the complaints against Nassar pile up, they have revealed a disturbing pattern. In most cases, according to the allegations, an underage girl would come to Nassar with back or hip pain. She would be asked to lie facedown on the table. Nassar would penetrate her vaginally or anally with his fingers, without the use of gloves. For some patients, the alleged "treatments" occurred weekly, over long stretches of time.
Boyce, now 36, is a mother of four and lives a 20-minute drive from MSU, where the alleged assaults took place. It appears she was among the first of Nassar's victims at that location.
When she first heard the news of what Nassar had allegedly done to other girls, she was in denial. Then, she says, she got sick.
"I got shingles and I started losing all of my hair," she said. "I think my body was reacting to all of this stuff that I had shoved down. Gradually, the more that I thought about it, the more things I remembered."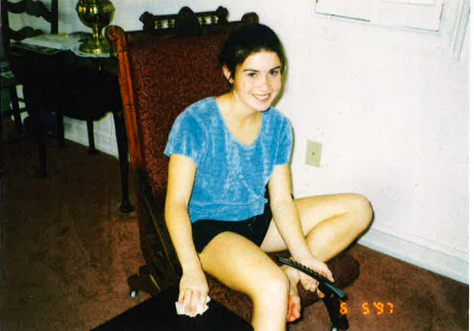 In January, she joined a federal lawsuit against Nassar, MSU and USA Gymnastics, under the pseudonym "Jane BMSU Doe." But on Monday, she came forward with her name, shedding her anonymity in an effort to reduce the stigma around sexual assault.
"This should not be something that we are embarrassed of, because we didn't do anything wrong," she said. "I want people to stand for the truth, and just be able to feel comfortable enough to come forward and say 'This happened to me.'"
Boyce started gymnastics when she was 5. As an adolescent, she trained in a youth gymnastics program at MSU, working out 16 to 20 hours a week.
She loved it ― especially floor routines, where she got to incorporate dance.
"When you do gymnastics, you get this sense of accomplishment, because you are overcoming your mind ― how your mind tells your body you can't do something," she said. "It was pretty much my everything."
When she was 16, she slipped off a springboard and injured her back. Klages, who was the head women's coach at MSU, recommended that she seek treatment with Nassar.
His reputation as a world-class gymnastics doctor preceded him, and Boyce was excited about the prospect. She knew he had treated Olympic athletes, and that any gymnast who was anyone went to him. "He was kind of an idol to everyone in the gymnastics world," she said.
Her mom accompanied her on her first few visits, and they were both impressed by how friendly and professional Nassar was, and by the photos on the walls of him with famous gymnasts. But once she started going alone, she says, the treatments changed. Nassar would allegedly ask her to disrobe and lie on her stomach. Then, she says, he would penetrate her with his fingers.
"It felt like it was sexual, but I remember justifying it in my mind ― he's an Olympic doctor, he must know what he was doing," Boyce said. On some occasions, she says, Nassar would take off his belt, make grunting noises and appear visibly aroused. She recalls the lights being turned off at times.
While she is unclear on the exact date, at some point in 1997 or 1998 she worked up the courage to tell Klages about what was happening. Instead of getting help, she says, she was humiliated.
Boyce says that Klages brought her teammates into her office and asked them if they had ever been uncomfortable around Nassar, singling Boyce out. She told Boyce she could file a report, but that both Boyce and Nassar could face serious consequences.
"She said that she had known him for years, and couldn't imagine him doing anything questionable, that I must be reading into what he was doing," Boyce said.
Klages was suspended by MSU in February amid mounting allegations that she'd downplayed athletes' concerns about Nassar's alleged behavior. She has since resigned. When asked to comment on Boyce's claims, her lawyer, Shirlee Bobryk, said Klages would not be making any statements while litigation is pending.
A press release from her lawyer in February said that Klages "is extremely distressed by the accusations that have been made about her creating any sort of impediment to gymnasts reporting complaints of criminal sexual conduct or sexually inappropriate behavior."
"We tried to speak, we tried to stop it from happening, and we were silenced."
The next time Boyce saw Nassar for an appointment, he knew about her allegations, she said. He reassured her that what he was doing was a legitimate medical procedure, and proceeded to sexually abuse her again, she said. But this time, he was rough, and it hurt more than usual. "It seemed like he was mad at me," she recalled.
After the encounter with Klages, Boyce says, she stopped going to gymnastics as much.
"Everyone thought I was a liar," she said. "I was intimidated, and I was afraid to do anything."
She says the sexual abuse occurred on an almost weekly basis, and continued for two years. In the years afterward, she said, she convinced herself there was something wrong with her. Now, she is wracked with pain at the sheer number of girls who were allegedly abused. She wonders what would have happened if her own complaint had been taken more seriously.
"MSU, USA Gymnastics, they ignored the signs," she said. "All of us girls who came forward to coaches and trainers ― we tried to speak, we tried to stop it from happening, and we were silenced."
No one from MSU has reached out to her since Nassar has been embroiled in lawsuits, she said. A spokesperson for MSU did not immediately respond to a request for comment.
"I think that either they can try to cover up what happened, or they could become a leader across the nation and show that they are going to accept and own up to their failures," Boyce said. "I want to see them have integrity to make it right, and show that they care more about the survivors than saving face."
For her part, Boyce says she is still coming to terms with having been betrayed by an adult whom she considered a formative part of her adolescence.
"There was such a loyalty that I felt towards him, because he was this godlike person in the gymnastics world," she said. "He built a relationship that I thought was real. He gave me the feeling that he really did care about me as a person and not just as a patient."
Coming forward has started that healing process, she said.
"I felt like I had this dirty little secret, and it kind of eats at you," she said. "I don't have that anymore."
Melissa Jeltsen covers domestic violence and issues related to women's health, safety and security. Tips? Feedback? Send an email or follow her on Twitter.
Popular in the Community