The Detroit Free Press on Thursday dedicated its entire front page to honoring the 155 "courageous" women who have accused the now-disgraced Dr. Larry Nassar of sexually abusing them over the last two decades.
"These women bravely came forward with their heartbreaking statements making sure no one would forget what the monstrous doctor who worked at Michigan State University and for USA Gymnastics did to them," read a short piece of text on the page.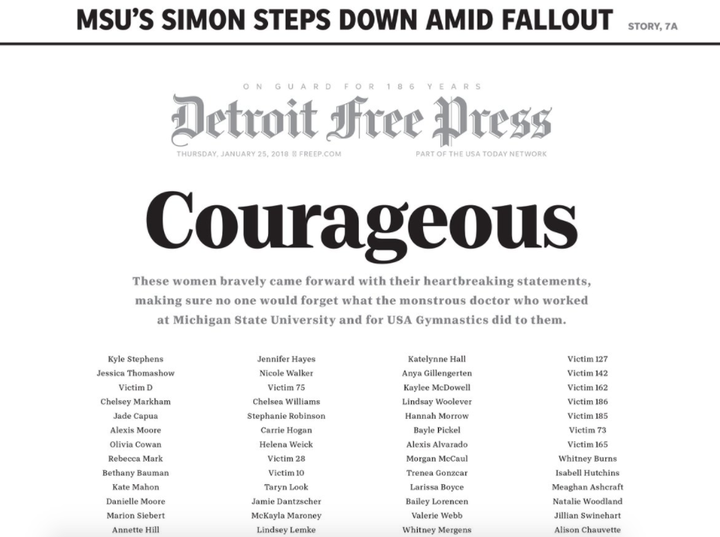 Nassar, a former USA Gymnastics and Michigan State University team doctor, was sentenced on Wednesday to 40 years to 175 years in prison for molesting young girls under the guise of medical treatment. He is currently also serving 60 years on child pornography charges and awaits sentencing on three more counts of criminal sexual conduct in the first degree.
The Free Press on Wednesday also tweeted out the names of all the women who read impact statements during Nassar's week-long sentencing in Lansing, Michigan. The publication used big, bold letters to thank them for their bravery.
Former gymnast Jeanette Antolin faced Nassar in court as she said, "Those little girls that you took advantage of so easily have now come back to haunt you, all the days of your life."
Judge Rosemarie Aquilina, who presided over the sentencing, thanked each young woman for her powerful impact statement.
"You are worthy," she told survivor Danielle Moore. "This was done to you. It was not done by you."
Popular in the Community