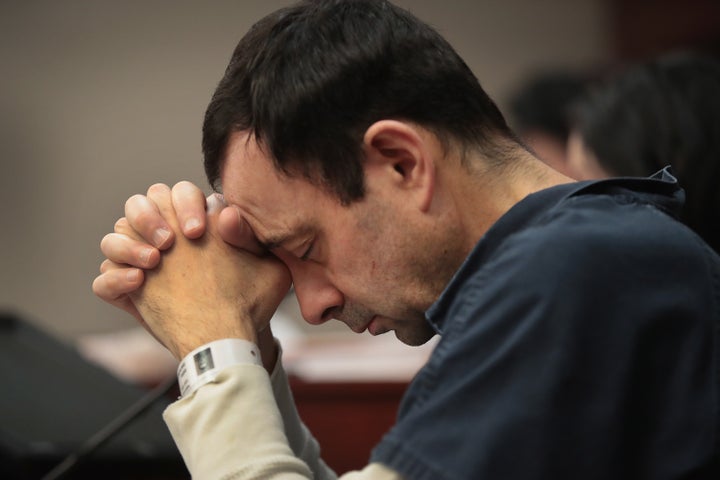 Michigan State University paid a public relations company $517,343 to monitor and track social media activity surrounding the recent Larry Nassar sexual abuse case, the Lansing State Journal reported on Wednesday.
Many of the social media accounts the New York-based firm Weber Shandwick monitored included accounts of survivors, their families and notable celebrities, journalists and politicians. The Lansing State Journal included screenshots of Weber Shandwick's report to MSU that quoted specific survivors' tweets, retweets and commentary. The PR firm also outlined news articles that created spikes in conversation surrounding the Nassar case.
MSU's Office of Communication and Brand Strategy had initially been collecting and tracking the information, but handed the majority of the work over to Weber Shandwick in December.
"Michigan State University hired Weber Shandwick in December 2017 to provide crisis communications counsel as well as additional media staffing to handle the high volume of communications tasks related to the Larry Nassar matter," a spokeswoman for the university told HuffPost. "The relationship ended in early March and we are no long working together."
Although this type of monitoring is not uncommon in criminal cases, the explosive report garnered intense media attention and prompted many Nassar survivors to criticize the surveillance as invasive and triggering.
Weber Shandwick responded to the criticism in a press release provided to HuffPost.
"The majority of our work involved crisis counsel to address the tragedy. We were not hired to monitor victims' social media accounts. As with any assignment, we forwarded to our clients traditional media and publicly available social media pertaining to the horrible tragedy at MSU, including statements made online by the victims," the statement reads. "The victims were and continue to be the most important voices in the conversation."
Criminal defense attorney Stuart Slotnick, who is not affiliated with the Nassar case, told HuffPost that while MSU's move may appear to be borderline unethical, it is not unheard of and usually doesn't violate any laws.
"Monitoring social media accounts is not uncommon in the world of litigation. Although it may appear to be unseemly, when monitoring the accounts of victims of the crime, MSU could have been being proactive in addressing complaints by hearing them directly the source," he said. "There are no legal implications to monitoring social media accounts, so long as they are public accounts and not private."
"I was absolutely disgusted to learn that MSU was using such an invasive tactic. I felt violated all over again."
Still, many survivors feel the university unjustly invaded their privacy. Finding out that MSU was surveilling them the entire time they were screaming for justice has made many survivors feel they're being targeted yet again ― and by the very institution that so horribly failed them in the first place.
"I was absolutely disgusted to learn that MSU was using such an invasive tactic," former gymnast and Nassar survivor Larissa Boyce told HuffPost in an email. "I felt violated all over again."
Boyce, who says that Nassar began abusing her when she was 16 years old in 1997 and continued until 2001, told then-MSU gymnastics coach Kathie Klages of the abuse the year it started. Klages, who has since retired, told Boyce she must have misunderstood the medical procedure and sent the teenager back to Nassar.
After everything Boyce has endured at the hands of MSU, she said she's not surprised by the university's most recent move.
"Sadly, I'm not surprised, as this is yet another example of how [MSU is] more concerned about protecting their brand than survivors," she said. "They've been saying that they are on our side but this proves once again they are re-victimizing us and trying to find ways to attack our character. Time to start looking at their own house! That money should have been used to check all of their employees computers & social media!"
"If MSU wanted to know about me and other survivors, they could have just talked to us. We had outstanding offers [to] meet with them," she wrote.
Nassar served as the team doctor for USA Gymnastics and for several different sports teams on MSU's campus. Over the course of two decades, he sexually abused over 260 young girls and women under the guise of medical treatment. He recently received three concurrent sentences of 60 years, 40-125 years and 40-175 years in prison for child sexual abuse and child pornography.
Although Nassar will spend the rest of his life in prison, many survivors have called for heads to roll at USA Gymnastics, the U.S. Olympic Committee and specifically MSU, claiming those institutions enabled Nassar's abuse.
Attorney John Manly, who represents more than 100 Nassar victims, tweeted his disappointment as well: "Michigan State paid $500,000.00 in January to spy on Nassar survivors and their families on social media. The MSU Board was copied on these reports. Not one Board member had the moral courage to say this is wrong. Stop it. Not one. Shame on MSU. Shame on each and every Trustee."
Morgan McCaul, a Nassar survivor and current first-year student at MSU, explained to HuffPost how invasive it felt when she found out the university had been tracking her social media all along.
"While MSU tracked our social media cries for accountability and justice, they ignored and enabled yet another predator ― and they did it at an incomprehensible cost," McCaul said, referring to Nassar's longtime boss, William Strampel, who was recently arrested on multiple sexual misconduct charges for allegedly sexual harassing and assaulting female MSU students.
McCaul told The State News, MSU's student newspaper, that she believes this is possibly the worst thing the univeristy has done.
"They're trying to weaponize our own grief and trauma and self-expression against us, and truly, this might be one of the worst things that I've seen them do yet," she said.
Kristen Houser, the chief public affairs officer for the National Sexual Violence Resource Center, told HuffPost that this is a tough situation to unpack, because what MSU did is not uncommon ― but it doesn't change how it affects survivors.
"It's totally legal and common to monitor social media and comments on news stories; it's all out there in the the public purview, and that's something that any agency in crisis may want to do," Houser said.
"On the flip side, when victims who have already experienced an institution not responding to them in a helpful way find out that this institution has also been monitoring their social media accounts specifically, it's easily understandable why that would feel like an intentional invasion of privacy, even though it's in the public realm," she continued. "It can leave a person feeling targeted."
Support HuffPost
The Stakes Have Never Been Higher
Popular in the Community