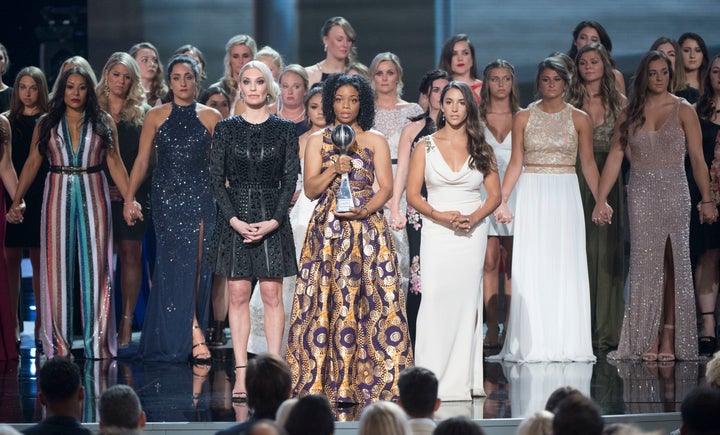 "To all the survivors out there, don't let anyone rewrite your story. Your truth does matter, you matter and you are not alone," Olympic gymnast Aly Raisman said as she accepted the award on behalf of the 141 Nassar survivors who stood on stage with her.
"1997, 1998, 1999, 2000, 2004, 2011, 2013, 2014, 2015, 2016. These were the years we spoke up about Larry Nassar's abuse," Raisman said. "All those years we were told, 'You were wrong. You misunderstood. He's a doctor. It's OK, don't worry. We've got it covered. Be careful. There are risks involved.' The intention? To silence us. In favor of money, medals and reputation, but we persisted, and finally someone listened and believed us."
There was barely a dry eye in the room during the emotional moment. As actress Jennifer Garner introduced the award, the entire audience stood to give the survivors an ovation.
"Abuse, silence, victory. Abuse, silence, victory," Garner said during a short video that played before she gave the award. "The cycle was repeated over and over for generations, but finally in 2016 it was disrupted."
"If one more victim of sexual abuse feels less alone tonight, then our suffering has meaning," Thomas Lopez said Wednesday night. "The amount of loss that we've endured over the years is almost immeasurable, but tonight we stand here and it feels like we're finally winning."
Klein added that the U.S. Olympic Committee, USA Gymnastics and MSU "all placed money and medals above the safety of child athletes."
"Speaking up and speaking out is not easy. Telling our stories of abuse over and over and over again in graphic detail is not easy," she added. "We're sacrificing privacy, we're being judged and scrutinized, and it's grueling and it's painful, but it is time."
ESPN gives the award every year to people "whose contributions transcend sports." Past winners of the Arthur Ashe Courage Award include boxer Muhammad Ali, former South African President Nelson Mandela, tennis player Billie Jean King and trans activist and Olympic gold medalist Caitlyn Jenner. Last year, the founder of the Special Olympics, Eunice Kennedy Shriver, won the iconic award.
During two sentencing hearings earlier this year, hundreds of survivors and family members gave riveting victim impact statements. Several of the athletes who read impact statements during Nassar's hearings were present at the ESPYs to receive the award.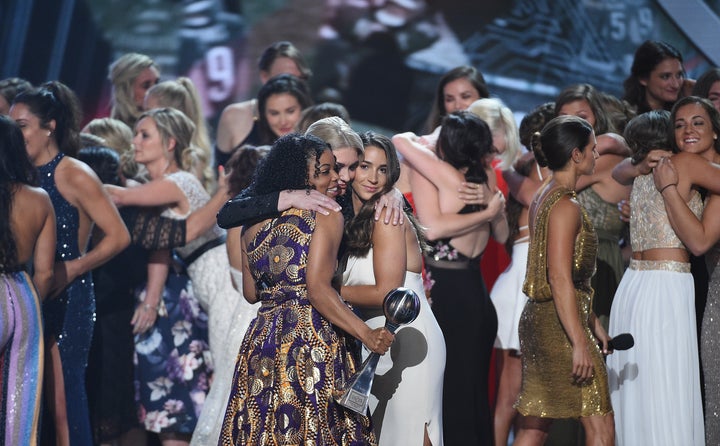 "Larry, you do realize now that we, this group of women you so heartlessly abused over such a long period of time, are now a force and you are nothing," she said. "The tables have turned, Larry. We are here and we are not going anywhere."
When the recipients of this year's Arthur Ashe award were announced in May, Alison Overholt, vice president and editor of ESPN The Magazine, said she hoped this award would honor the bravery of all victims of sexual abuse.
"They have shown us all what it truly means to speak truth to power, and through their bravery, they are making change for future generations," Overholt said. "By honoring this group who spoke out, we aim to honor all of those who are survivors of abuse."
ESPYs producer Maura Mandt said in May that ESPN hopes "this tribute will reflect the awe and admiration these individuals deserve," adding that "the future will undoubtedly be different because of the actions of these heroic women."
In another emotional moment, ESPN awarded the Best Coach Award to the three high school coaches who were killed during the Feb. 14 shooting at Marjory Stoneman Douglas High School in Parkland, Florida. The coaches, Aaron Feis, Scott Beigel and Chris Hixon, died shielding students from bullets during the attack that left 14 others dead.